Last year we filled you in on our 2017 by doing a big round-up post. And our clients and site visitors read it! Which really is kinda what you want from a blog post. So, we decided to do it again. Here's everything you ever wanted to know about Buffalo 7's 2018…and then some.
2018 was the year that Buffalo 7 took over the world. Seriously, it's an epidemic. Nowhere is safe. We expanded our reach globally, sharing our creativity and our knowledge with more people than ever before. 2018 was also the year that we worked with our 500th client, reinforcing that the takeover is in full effect.
The Mancunian Way
Keeping it local and not forgetting our roots, we offered up lots of opportunities for our Manchester kin to talk with us and learn some PowerPoint hints and tips from the talented Buffalo 7 team.
In February, we launched 'Improve your presentation skills over breakfast'.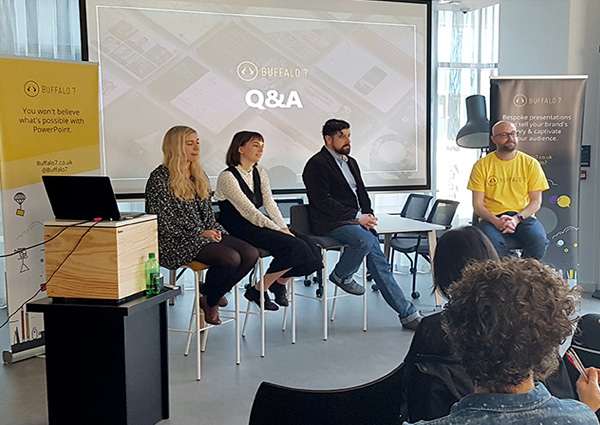 The events were a series of free early-morning events (sponsored by caffeine and bacon butties) that focused on actionable steps to liven up presentations, hone messaging and improve delivery.
We drew in a collective crowd of around 300, each learning how to include heroes and villains to make stories more powerful, how to make PowerPoint work harder for you, and how to create a stage presence that would make Sasha Fierce pay attention.
Re-inventing storytime
When was the last time you heard a truly great story? If you attended one of our 7 Stories events, it wasn't that long ago.
We wanted to give people across Manchester a platform to share their stories. Stories of success. Of hope. Of triumph through adversity. Stories of real local characters and their extraordinary lives. Stories that give Manchester its strength.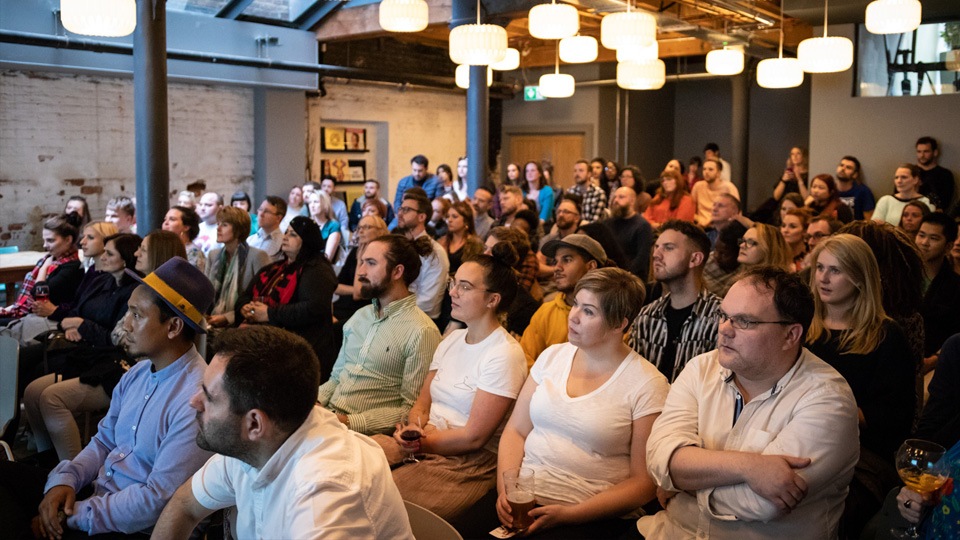 This wasn't about promoting Buffalo 7 or selling PowerPoint, this was about the power of stories, and taking some time out from spreadsheets, selfies and sales to listen to them.
Between June and August, over 200 people reconnected with storytelling and heard tales of overcoming crisis, moments of clarity, powerful partnerships, gaining perspective and showcasing vulnerability.
The response was so much more than we had hoped for:
"7 Stories was a journey into facing the unknown, of fighting to find inner peace. It was a celebration of how the worst situations can be turned into a positive." – Jamie Ryder, The Comic Vault
"Somewhere between a stand-up night, a TED talk, and a support group." – Rob Cowen, Director at UNTOLD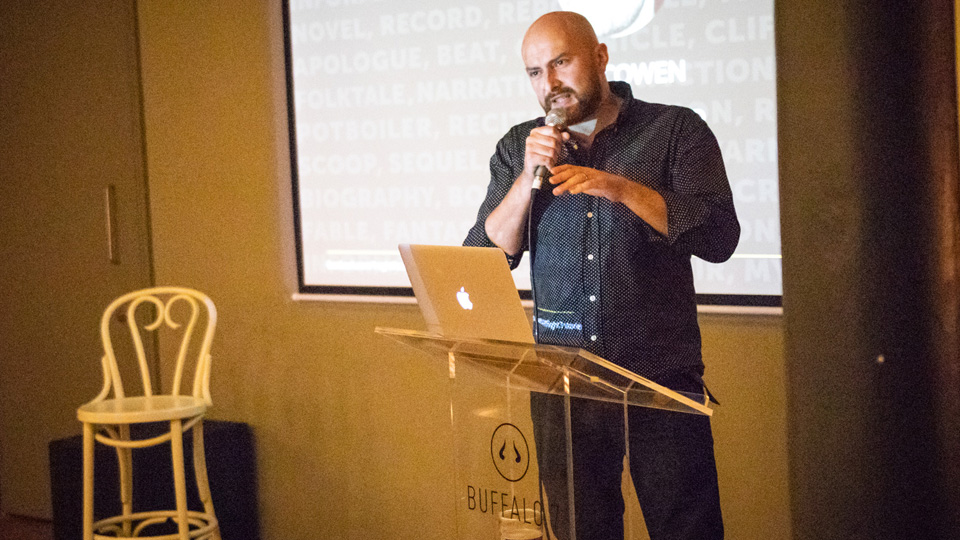 Stories are about strengthening human connections, and the brave, unfiltered 7 Stories speakers brought us all together on account of our shared humanity.
Charity begins at home
Continuing in the spirit of humanity, we were proud to announce our partnership with Manchester Mind this year.
The work this incredible charity does to support and improve the positive mental health of over 5,000 people across Manchester completely relies on donations.
We set about doing what we could to raise awareness, and money, to support this cause and, of course, we did it the Buffalo way.
Fight the good fight
Mental health issues can be especially important among young men, who tend to suffer alone in silence, not wishing to appear weak or emotional. And so, to help raise awareness of the problem, Buffalo 7 Developer Chris Jones signed up for a gruelling 12 weeks of preparation for the Ultra White Collar Boxing Event that ended with a bang (and a few bruises) on the 21st September 2018.
After three closely-matched rounds, our Chris was robbed of a win by the judges, but they couldn't take away all the good work he'd done.
He raised £764 for Manchester Mind, and got our charity partnership off to a (skull) cracking start.
Cortextual Healing
As a creative bunch, it was only right for us to put our guys to work for a good cause.
We organised 'Cortextual Healing', an art exhibition featuring the works of the talented Buffalo 7 family, where every penny was donated to Manchester Mind.
As well as buying the individually numbered and signed limited prints, art fans also got the chance to get their hands on postcards of the work on show, which made for great keepsakes for what was a wonderful night in aid of a great cause.
More than just raising money (£284.14 to be exact), we wanted to amplify the voice of people struggling with their mental health, and further the discussion.
Our artists were on hand on the night to discuss their motivations for supporting Manchester Mind, bravely sharing their own experiences and battles.
A gifted bunch
To bring our first year of partnering with Manchester Mind to a festive close, we all bought some extra gifts for Santa to put under the tree of those that may not be so fortunate.
It seems like Santa looks quite a lot like our Communications Director Chris:
Thank you @Buffalo7 for dropping off some donations for our #xmas gift appeal pic.twitter.com/0pDJH9oTTG

— Manchester Mind (@ManchesterMind) December 3, 2018
We hope that we've helped to raise a few smiles across the faces of our Manchester friends this year, but the efforts from the Buffalo army won't end here. Look out for more fundraising in 2019.
A country mile
Manchester is our creative home, but we can't deny those not lucky enough to live in our beautiful city a chance to work closely with us. In May, we expanded our Client Services team and moved them into their new base right in the iconic centre of Soho Square, London.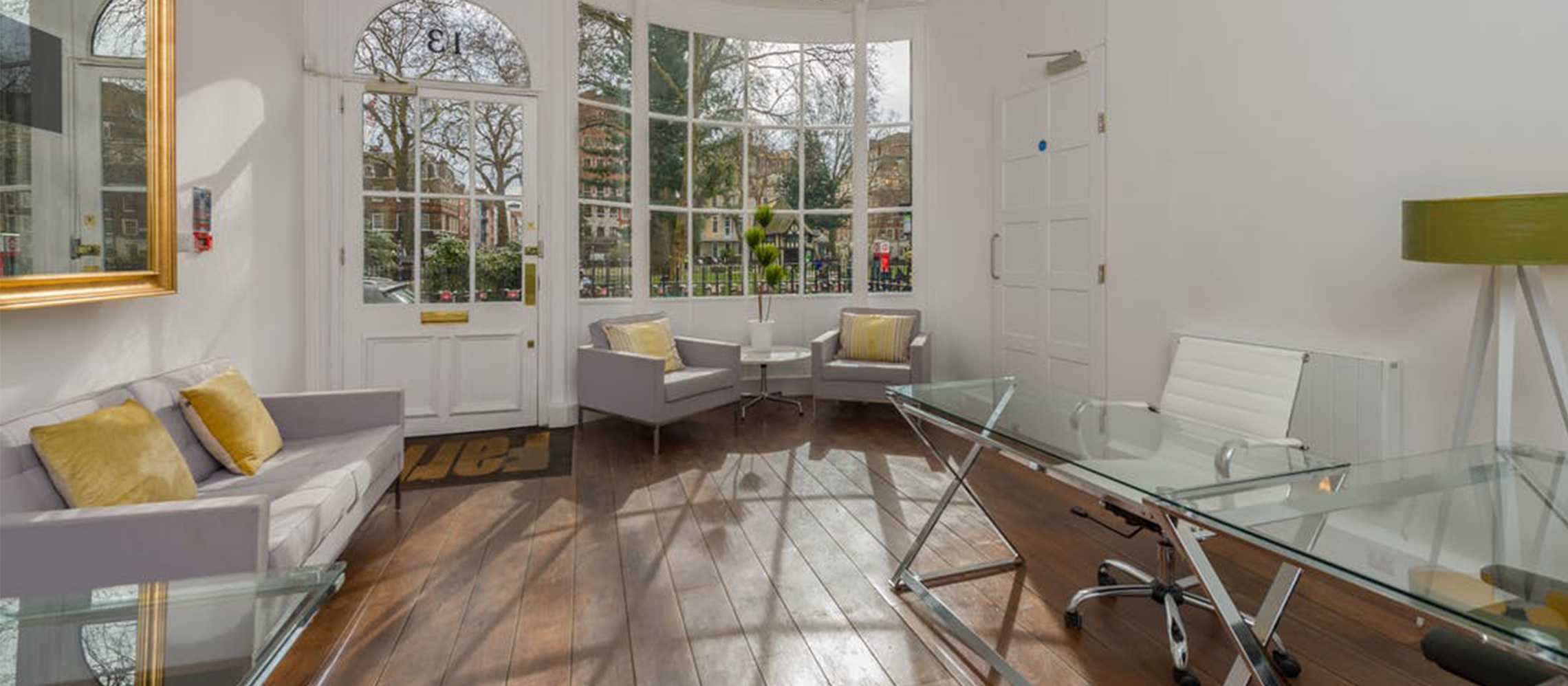 The new office is a converted Georgian townhouse that oozes character, yet still feels very modern on the inside.
There is a palpable buzz in Soho Square, a glance out of the window can reward you with a glimpse of a budding juggler or one of Rick Buckley's noses, if you're lucky.
What's more, our lovely London clients have no trouble finding us for a quick chat or a workshop with our expert team.
We've always had a presence in the capital, but by growing our London team, we can be sure to always have a Buffalo on hand, wherever there's a PowerPoint emergency.
Exposing ourselves
There was nowhere in the UK that was safe from Buffalo 7's influence this year as we hit the road again, attending more events and exhibitions than ever before.
To kick off the 2018 season, we were out in full force at Prolific North Live on February 28th and March 1st, taking place at Event City right on our doorstep in Manchester.
Prolific North Live is the biggest marketing expo outside of London, and brought together 120 exhibitors and over 3,000 visitors.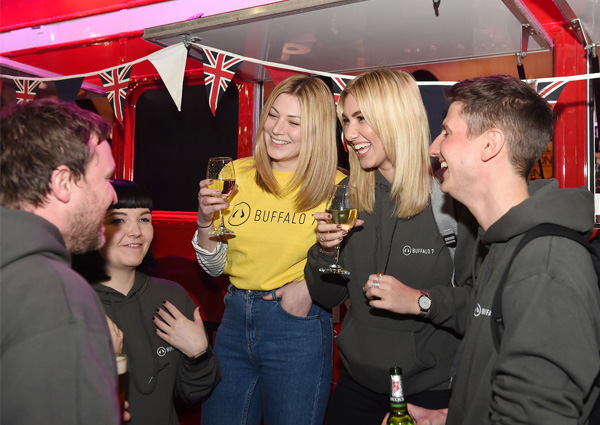 Following that, the team had a little further to go in the 'Bus-alo' for Marketing Week Live at Olympia in London. The two-day event kicked off on March 7th and brought together a real mixture of marketeers showcasing their solutions and services.
Back in London again, and the team pitched up at the B2B Marketing Expo on March 22nd and 23rd at ExCel London. This is Europe's biggest marketing event of its kind, and we brought our A-game before letting the guys have a little rest. What goes on tour, stays on tour for quite some time it seems, but what we sent on tour was very tired by this point.
They weren't given too long to relax though, as Technology for Marketing came around quickly. The annual conference is the UK's only dedicated event for marketing technology, something close to Buffalo 7's heart as a presentation design agency.
The positive interactions we have, and the response we get from showing you what we do, is why we love attending these events every year. We'll see you on the road again next year.
Globetrotting Buffalo
We are a small design agency with huge aspirations. And this year, we went international.
Over the years we've worked with loads of clients all around the globe, but this year L'Oreal invited us out to the US and we were on the plane quicker than a New York minute.
We've had the privilege to work on all types of presentations and how the presentation is delivered is often just as interesting and important as what it looks like. With L'Oreal, we got to see the project through from start to finish, which was a rare and fascinating experience.
Alongside Wolf & White, we had the pleasure of helping four different L'Oreal brands deliver their annual keynote showcase at a fancy Chateau in France.
We sent a crack team of four Buffalo, including Managing Director Rich, Senior Designer Hannah and Senior Developer Liz to spend eight weeks abroad working round the clock with the production agency and the client teams in New York. They each played a crucial part in creating and delivering truly individual and epic presentations on a giant screen to the top executives at L'Oreal.
Despite working 3,334 miles away, the team always had the full support of their Buffalo family back here in the studio. It was the strength of our team that shone through. Reflecting on the project, the feeling of collaboration, despite the distance, is so apparent.
"Having the opportunity to work closely alongside Hannah gave us both creative freedom in our roles, whilst being super productive." – Liz Booth, Senior Developer
There were many late nights, challenges, and – as always – our amazing team showed a huge amount of grit and positivity to blow the bloody doors off. Our presentations were easily head and shoulders above the other brands that presented on the day, so much so that we've already been asked to get involved again next year, this time for all nine brands.
It wasn't all hard work though; they took full advantage of their time in the Big Apple…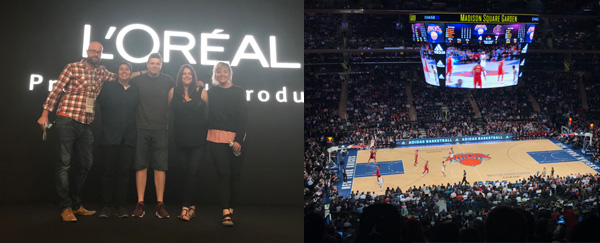 It's a small world, after all
We don't need to be there physically in order to communicate further afield than the UK. 2018 saw a push in our efforts to talk with the whole globe.
We held our first open Q&A session, accessible anywhere in the world, with our Creative Director Michelle at the helm.
Over the course of seven days, Michelle answered 79 design and PowerPoint questions, ranging from how to get unstuck creatively, to remaining positive and focused when your brief changes, to what makes Buffalo 7's presentations stand out from the crowd.
Despite this being a completely open forum, you were all very gentle with her and Michelle enjoyed talking all things design with a like-minded audience.
There will be plenty more opportunities to pick our brains next year, but you don't need to wait another minute for incredible tips that will instantly add oomph to your presentations.
Throughout 2018, we have been drip feeding you delicious design and PowerPoint tidbits in the news & views section of our website.
We've delivered a total of 35 blog posts across the last 12 months; giving you 16 instructional articles, covering everything from the latest presentation technologies to a PowerPoint drinking game that will spice up any company event. Judging by the numbers, your favourite post this year was 'How to insert a GIF into a PowerPoint presentation'.
Home sweet home in the treehouse
We haven't forgotten where we came from amongst all this jet-setting.
Things up at Manchester's Portland Street Treehouse Suite refuse to stay still, and we have made the development of our beautiful team a priority in 2018.
We launched the We are Buffalo 7 section of our website – an online space which heroes our incredible designers, devs, storytellers and project managers because, let's face it, we'd be pretty stuck without them.
We celebrated them in loads of social posts across various platforms, embarrassing them for everything from having a birthday (who do they think they are?) to getting their Lindsay Lohan on for Mean Girls Day.
And yes, most of them do seem to involve booze, you keen-eyed thing, you.
It wasn't just our people that we showed a lot of love to this year; our beautiful studio got a moment in the spotlight too. Whittled down from hundreds of applicants, we were incredibly proud to be shortlisted for the Inspiring Spaces award.
Over five hundred of you voted for us to win but, unfortunately, the votes were just one piece of the puzzle, and the Treehouse Suite came in a very respectable 4th on the night.
We've come a long way from the first shared office above a Wetherspoons so, even though we didn't pick up the trophy, being able to work in this unique environment every day makes us feel like winners.
"To be recognised for creating an inspiring place to make the magic happen is an awesome feeling." – Richard Barnes, Managing Director
Not forgetting what we do…
With all of this inspiration circulating around us, it's no wonder we created some of our best work this year. Among the 469 presentations that went out of the door at 127, these were just a few of the team's favourites:
Net-a-Porter
Fashion Week is a big event in the Net-a-Porter calendar, but the weeks following Fashion Week are even more important. The team process and evaluate everything they witness in London, Sydney, Dubai, LA and New York, and it all comes together in their annual Trends presentation.
While the trends themselves are key, how they display the information can be the difference between holding their influence in the fashion industry and moving aside for someone else to come through. That's why they came to us. To create a presentation that will have their audience on the edge of their plastic, fold-away seats.
As a team, we recognise that "I will never know as much as us", so we relish any opportunity to collaborate. This project allowed us to not only work closely as a team internally, but also for our talented developers to spend two weeks in London at the Net-a-Porter offices, strengthening our relationship with the client.
"Net-a-Porter was a great project as we had such impressive imagery to work with – images that were definitely created to be the talking point of the presentation. This left us to devise an animation style that would complement, not detract from, these images." – Lewis Nolan, Developer
AG Barr
AG Barr needed to showcase some performance statistics in a way that best represented them as the dynamic, vibrant and cutting-edge brand they are. The presentation was to be shown at the iMax in the Trafford Centre so needed to have the cinematic impact to boot.
This project was completely different from the average, and boy, do we love a challenge. The brief was to go big, and we delivered. Integrating video game footage with data visualisation and animations that looked like they'd had a few cans of Rockstar, we're now patiently waiting for our Oscar nomination.
"[Ours] stood out as the best part and presentation of the day! Lots of food for thought for the future on how we communicate the brands and portfolio." – Gordon Donald, Senior Sponsorship & Promotions Manager
Sky
Sky asked us to push the way that they were presenting information internally. We drew on our collective experience to plan out how to rethink their content and showcase exactly what a world-class presentation looks like.
We jumped at the chance to bring in 3D assets, by utilising the skills of our motion team and developers, in an effort to create the most seamless end product.
"Working with Sky's gradients and colourful accents was a lot of fun. I wanted to push this project as far as it could go while still meeting the brief." – Jaz Isherwood, Senior Developer
Les Mills
Video has become an essential tool on social media and brands across the world are taking full advantage of this. But traditional video can cause problems for evolving campaigns, as editing is restricted to those with the skills and software available to do so.
One of the things we love most about PowerPoint is that is it accessible to everybody.
Les Mills also recognised the flexibility of PowerPoint, and asked us to create an animated presentation, no longer than one minute, that we exported as a video for all their social media platforms.
Making a presentation look like a video is precisely the sort of challenge we love. We know that PowerPoint has capabilities far beyond anything people expect, and we love showcasing what it can do when in the right hands.
"Working with a big brand that already has incredible assets, imagery and design guidelines means that we can focus on bringing out the story and making the final product as punchy and exciting as possible." – Emily Robinson, Designer
"This was a challenging brief that forced me to step out of my comfort zone. It tested and pushed my knowledge and experience with motion design." – Liz Booth, Senior Developer
Ending on a high
If that were everything that happened this year, we would've been pretty chuffed, but we just had to go and knock it out the park at the very last minute.
In December we were incredibly proud to announce Buffalo 7 as the Amazon Growing Business Awards 2018 'Creative Industries Business of the Year'.
Winning this award reinforced everything we've believed from the very beginning. We do things differently here. We challenge the norm and think upside down and back to front.
And it reaps real rewards. Not just in this recognition for our team but in the work that we put out every day and in the incredible response we have from our clients.
This award is a confirmation that every risk we've taken and every time we've dared to go against the crowd, we've been taking one step closer to truly taking over.
The big boss, Rich, said it best:
"How wonderful to receive this award for all our hard work. For thinking different. For not seeing PowerPoint as a hindrance, but an opportunity. For re-shaping client thinking into storytelling, not presenting. For having fun with creative, and constantly innovating in how we bring that to life through an expert understanding of one piece of software that most people see as 'crap'."
And what a week it was for Rich, not only seeing his first 'baby' growing up and winning awards, but welcoming the newest member of Buffalo 7 into the world. Welcome to the team, Jessica Barnes.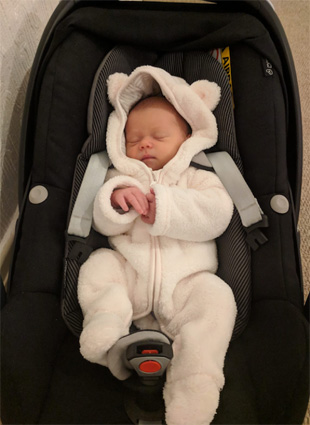 Phew! After all that we are going to treat ourselves to a big party and a few mulled wines but there's not much time for our team to relax. We've barely even begun.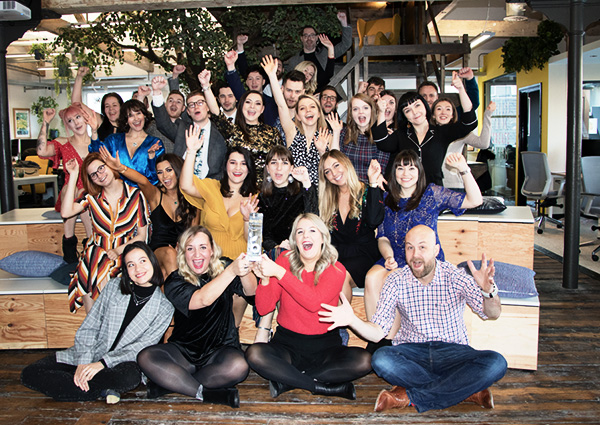 #WeAreBuffalo7