Meet the Buffalo 7 Board of Directors
We make no secret of the fact that our success as a presentation design agency can be traced back to the incredible team we've built here.
The culture of Buffalo 7 is more important to us than anything else. It's the reason we can deliver amazing work every single day. It's the reason we continue to push what is possible with presentation design. It's the reason there is a palpable buzz in the Treehouse Suite.
We are Buffalo 7 and it's our people that make us.
2018 was a huge year for our studio and, once the adrenaline had diluted, we decided to turn our attention to the longevity of this special thing we've got.
It is so important for us to nurture our people and protect the future of Buffalo 7.
It was with this in mind that we made the decision to appoint our brand new Board of Directors.
2018: a vintage year
In case you haven't read our 2018 round up yet (you need to, it's brilliant), here are the headlines:
We shifted our focus and reimagined our mission statement to truly encapsulate the evolved, bigger, better Buffalo we are today.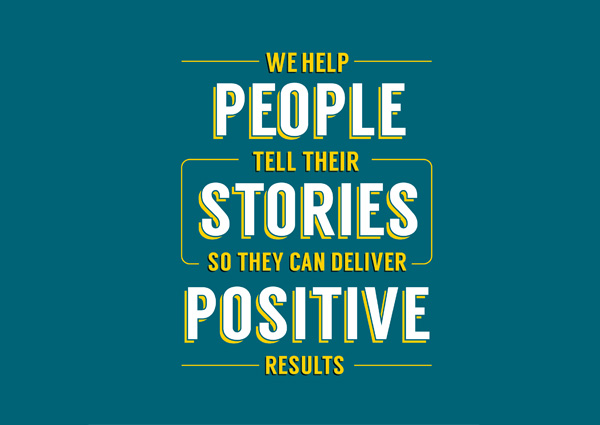 We introduced Manchester to the Buffalo 7 way of perfecting presentations.
And we gave its people the chance to laugh, cry and share their own stories at our pioneering '7 Stories' events.
We did our bit for our fellow Manc, with some major fundraising in aid of Manchester Mind.
We don't want to sound too big for our boots, but we became too big for our London office, so 2018 was the perfect time to move to the heart of Soho Square.
We also got out and about, making new friends and clients at more exhibitions and events than ever before.
From our very first client (UEFA, fact fans), Buffalo 7 has always been an international company, but 2018 was the year that we sent some of our best and brightest to work with L'Oreal in New York City.
All of this hard work was recognised by the Amazon Growing Business Awards, who kindly announced Buffalo 7 as 'Creative Industries Business of the Year'!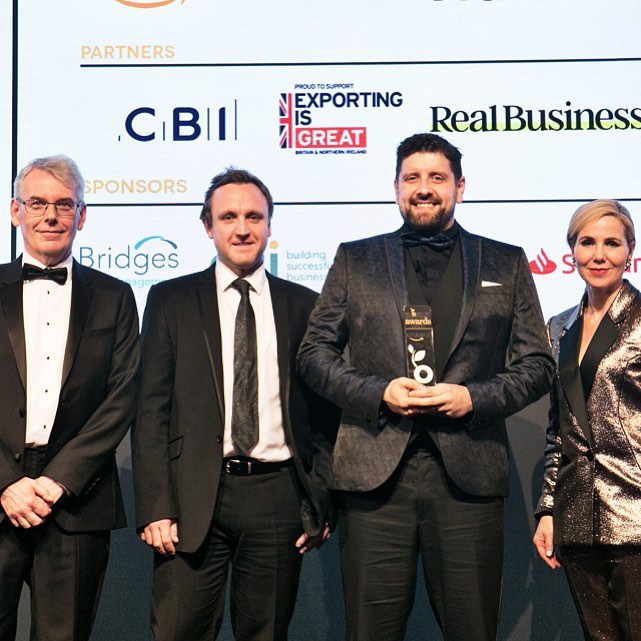 And on top of all this, we continue to work with the best clients in the world.
Space ships, robot butlers and Buffalo 7
To sum it up, we pretty much have this presentation design thing down.
It's really easy to get caught up in the excitement of the day to day, but we're taking a step back and thinking about the bigger picture. We need to make sure Buffalo 7 is future proof.
We have major plans in place to continue to grow, and even expand internationally. In order to keep the momentum going, and focus on the growth of our team, we decided to promote from within the company, to form our Board.
Each of our new Board members brings their own expertise, drive and ideas to the conference room table. The diversity of backgrounds allows us to have every angle covered.
Enough talk, it's time to….
Meet the team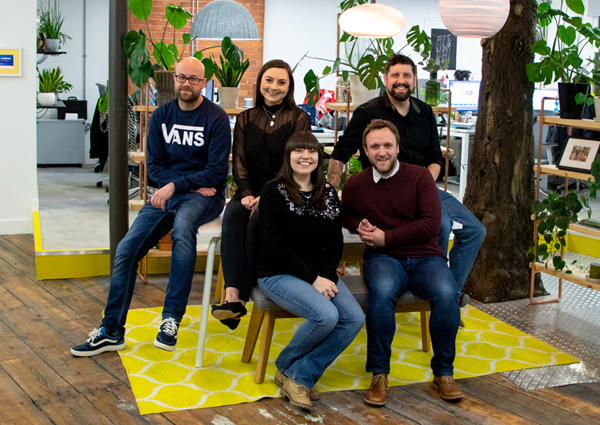 From top left to bottom right: Richard Barnes, Felicity Chivers, Chris Tomlin, Michelle Sussams and Gary Corrin.
Richard Barnes, Managing Director, is not only the founder of Buffalo 7, but the heart as well. He left a multi-disciplined design agency in London to start Buffalo 7 because he saw a niche in the market. His passion for what we do, along with his innate ability to see a spark in his employees and nurture that spark until it becomes blinding, is the foundation that our company is built on. It's why we are the agency we are today.
Rich leads by example and continues to nurture us, his first baby, despite now having two more (real ones) at home.
Richard said, "Following a really successful year for Buffalo 7, it was time to look to the future. To ensure success continued, and to enable Buffalo 7's transition into growth opportunities, we introduced a new Board of Directors that would deliver balance, structure and proven expertise across the business.
"We have strong ambitions to grow into new markets, to broaden our services, and develop and grow our wonderful team. With the Board in place, we are looking forward to a strong and healthy future for the business."
Terry Barnes, Finance Director, is the strong yet silent type. Designers are terrible at maths, we all know it, so it is integral to the company that we have Terry working hard behind the scenes. He keeps us in check, and also in cheques. Following his previous role in computer programming, he actually retired momentarily, but you can't keep a good Buffalo down and we're not planning on letting him leave us any time soon.
Michelle Sussams, Creative Director, has a story or two of her own to tell. Having worked in every area of design you can think of, from print to art direction to web, and social media, her knowledge is second to none. Having such a young team of designers and developers here means that we have no end of energy or ideas, but Michelle keeps us grounded with her incredible eye for detail and the 'how' behind our grand plans. It's the perfect partnership.
She said, "Becoming a member of the board at Buffalo 7 is an exciting opportunity. We have a very talented team of creatives, and to be given the opportunity to help shape the agency's creative direction is a rewarding challenge."
"We are always challenging the designers to explore creative solutions that are aesthetically pleasing and effective. I look forward to seeing the great work the team produce this year."
There isn't a single piece of work that leaves this studio door without passing the Sussams test. If it's anything less than perfect, we won't send it out.
We aren't only interested in evolving internally, we are keen to make sure our clients' voices are also heard. This is where Client Services Director, Gary Corrin comes in.
Gary has a unique knowledge of Buffalo 7 from the client's point of view, as this is how we met him. We were introduced to Gary when he was coordinating a campaign for Budvar, that we were lucky enough to work on. Now that he's on the other side of the treehouse door, he's dedicated to smashing client's expectations every single day.
His focus is on providing the studio with a solid pipeline of projects to keep their thumbs from twiddling, and making sure we blow our client's minds with everything we deliver.
"As a business, we have some major plans in store for the near future," said Gary. "But that only comes when we know that we have a secure framework of clients – both new and those coming back for more. The appointment of a Board means that together, we can focus on the future, continuing to deliver amazing projects, time and time again."
And once Gary has secured these exciting clients, we want to make their experience of working with us smooth as silk.
Felicity Chivers, Account Director, has shifted her laser-sharp focus to this very task. In 2018, Felicity developed the Project Management team and oversaw its impressive growth. Now, her new position on the Board allows her to concentrate on evaluating every tiny project process, from brief to delivery, to ensure it is as efficient as possible. Felicity is set on improving the client journey more and more every day, building stronger, longer-lasting relationships along the way.
Felicity said, "We're committed to clear, open and meaningful communication with clients – it's what our Project Management team has been founded on. My new position within the Board gives me the opportunity to develop our relationships with wonderful clients, and develop the team to help make sure we're doing it in the best ways."
In a gloriously slick call back to our new mission statement (if I do say so myself), everything we do here comes back to storytelling. It's only right that our communications team is represented through Communications Director, Chris Tomlin. Chris is not only dedicated to making sure we tell your story in the most impactful way, but his direct involvement in our Marketing ensures the wow factor extends to the Buffalo 7 story as well.
"Communications are an essential part of the Buffalo 7 package," said Chris. "We've worked hard in the Storytelling team to transpose our clients' messages into clear, compelling narratives, so it makes perfect sense for us to apply this to our own stories within Marketing too."
"From delivering my own presentations, to seeing others tell their stories at some of our events, I've seen first-hand how personalised stories can have a monumental effect on audiences. The Buffalo 7 Board gives us the opportunity to tell more stories, and reach an ever-increasing audience."
Despite all the success we've had, all the big clients we've delivered jaw-dropping presentations for, and all the incredible feedback we've received, we remain proudest, overall, of the team we've built.
These promotions not only cement Buffalo 7's intention to evolve and future proof our business, but indicates to anyone paying attention that #WeAreBuffalo7, and we're here to stay.