With a new year already underway, we're getting reflective about the one we've just left behind. But before we kick on with our 2020 plans, we want to look back at the many reasons we have to celebrate 2019.

We kicked off 2019 with the formation of our board of directors and redirecting our focus to defining, in concrete terms, who we are as a brand. This birthed a fresh mission statement and a set of seven core values that capture what we're all about as an agency.

Our culture is shaped by these principles and what we did last year really articulates how we live these values every day. So, to give you a more intimate look at life within the Buffalo 7 studio, we're going to take you through our 2019, value by value.
Value 1: Clarity
Squads lock n' load
Last year, we wanted to give our clients the chance to work with a team they know, to build stronger relationships and become completely in sync. We split the creative teams into two squads, which were christened Lord Farsquad and Squad Stewart following a lengthy pun battle.

All of our clients are now assigned to a squad of dedicated team members who work on every one of their projects. This has helped us build an even stronger rapport with our clients because, over time, each Buff develops a level of expertise and familiarity in that client's line of work, as well as the deep understanding of the brand, allowing them to push the work further each time.

The advent of squads has made it easier for us to bring consistency, personalisation and clarity to every project and, from a studio perspective, fostered even more cohesion and collaboration, which is what we thrive on as creatives.
Flexible working hours
Our board regularly evaluate our processes to make sure staff are getting the support they need to produce the best work for clients. Different people work in different ways. It was important for us to recognise this because the autonomy and independence of our staff really matters to us. So, we came to the conclusion that it should be up to each Buff to decide where and how they keep producing the same incredible work. This year, we gave them that self-determination.

After weighing up the pros and cons, we agreed it was time to embrace flexible working hours and introduce the option to work from home. When we looked into it, helping staff better balance their work-life schedule by reducing our core working hours just made sense. And we're not only producing the same quantity of work as before, but the quality has skyrocketed. Happy Buffs are simply more creative. You need only step foot in the Treehouse Suite at 127 Portland Street to feel the vitality and passion.
View this post on Instagram
Redefining customer experience
Customer experience is an area that a lot of untapped potential within our business. A significant proportion of our clientele are repeat clients, so nurturing them as best as we can was a big part of last year's strategy. To do this effectively, with a customer-focused mindset, we knew we needed to bring in a specialist.

Last year, Lisa Clennell has helped sharpen our understanding of the client experience. After evaluating every customer touch point, Lisa has taken the lead in identifying the gaps in our customer journey, offering valuable guidance to help refocus our efforts on what matters most to our clients. Thanks to Lisa's expertise, we're able to enhance the client experience to deliver even more value.
Value 2: Respect
Investing in development
We're lucky to have such a talented bunch of people who each bring something unique to our culture. It's important for us to give them the opportunity to build on their passions and grow in the areas that they want to grow in, which is why we've been helping them take charge of their personal development through a variety of training options.

Harry and Paul, Senior eLearning developer and Lead Creative respectively, have embarked on a 2-year leadership course to learn all about – yeah, you guessed it – leadership. Moving from creative roles into management doesn't always feel natural, but we want our guys to succeed and, in turn, we want their teams to succeed under the new leadership.

Continuing in the spirit of bettering ourselves, our board went on a mental health course to strengthen their understanding of workplace wellbeing, minimising stress and promoting self-care. This deeper understanding of the signs of stress and ways in which workplaces can boost mental health will only improve the lives of everyone at Buffalo 7.
Finally, all the buffaladies have signed up for some new-year training courses with Total People in a variety of different areas, ranging from managing daily activities to building stakeholder relationships. We have a fierce tribe of gals in the Treehouse Suite, and we want to help them on their way to an industry takeover.
Each of these professional training opportunities will help our team reach their full potential, and we'll continue to explore further professional training this year.
Value 3: Positivity
Youth work
The positive atmosphere of our office is one of the reasons why we love coming to work. In 2019, there were lots to feel positive about. Courtesy of Social Chain's Find Your Avenue programme, the marketing team has welcomed an apprentice, Will Baker, who'll be building his skills in all things marketing and working towards permanent residency in our studio. He's already breathed new life into our social media channels and we're super excited to help him grow into a marketing maestro. We'll try to hide our horror at the fact he was born in 2001.
View this post on Instagram
The main event
We love a good industry event. If you attended a big Northern expo or marketing conference last year, you probably noticed a group of wild, yellow-clad, wide-eyed Buffalo, fervently chatting about PowerPoint. That'll be our Business Development team. This year, we graced Hypergrowth, Brighton SEO, Marketing Show North and Marketing Week Live with our effervescent presence.

Hypergrowth threw us right into a hub of industry leaders, each inspiring us in a unique way. It was totally different to any conference we've attended before. Graffiti artists and photo booths added a fun, quirky element to the vibe, but what we really loved was the logistics of the event. There was only one stage so our Communications Director and Marketing Manager didn't have to speed walk from presentation to presentation. They're not as young as they used to be.
BrightonSEO is the biggest search marketing conference in the world and really brings together the best in the business. SEO is a massive part of our marketing strategy, so it's important to stay up to date, as it changes so fast. For us, high rankings result in busy traffic which, in turn, results in lots of leads. Good, valuable content – that people actually want – is the bedrock of our strategy's success, and is something we're going to ramp up going forward into the new year.
But we can't let all these conferences monopolise the expo season, we've also got our own skill-sharing and thought leadership events going on. And ours are all-year-round. Our breakfast event at NEO consistently brings in a full house (free breakfast, while getting expert PowerPoint tips, is an appetising offer few professionals can refuse). A lot of planning and thought goes into making these events as valuable as possible for attendees, so it's always nice to hear that people are finding them useful.

A blog to be proud of
Speaking of good content, one of our pieces about presentation fonts generated over 70,000 views this year. Our blog is full of PowerPoint and presentation-related expertise, straight from the experts themselves. Going into 2020, we'll be listening to searcher demands and bringing out even more free resources.
Client feedback
The feedback we get from our clients makes all the brain labour, late nights and long idea-generation meetings worth it. Here's one of our favourites from this year:
"We engaged Buffalo 7 to prepare the slides for a keynote presentation our CEO was giving at a large industry conference. This keynote presentation is a premier event for both our us and the industry and we wanted to make sure our presentation was delivered with a strong impact. Buffalo 7 absolutely helped us achieve this goal and overall we were impressed with the whole working process.

The Buffalo 7 team were quick to understand our needs and very quickly grasped the key points not only within our speech but also in the overall message we wanted to convey. Throughout the whole process the team kept us up-to-date with the presentation's progress and while we had very tight deadlines, the project was managed extremely well. The customer service was excellent and any questions and queries were answered quickly and helpfully. We wouldn't hesitate to recommend Buffalo 7 to anyone who wants to make a real and significant impact with their speech and presentation."

Sarah Eames, Mentor Europe
Scoring a Hattrick
We're looking to invest much more in our overall marketing strategy, so we decided to call on some professional help. After getting to know a number of agencies, we teamed up with Hattrick. Hattrick stood out to us because they really understood what we're trying to achieve, bringing some awesome ideas on how we can deliver on our ambitious plans to the table. We're really excited to see what heights they can help us get to. Watch this space.
Value 4: Grit
Following our passion
On top of the long, late nights overcoming technical glitches in programmes that're beyond our control (not complaining #Grit), our team show tenacity in their personal lives too. We've created a space where people can follow their professional passion, but following your personal passion is just as important.
Ain't no mountain high enough
After conquering the three highest peaks in the UK, Ben Nevis, Scafell Pikes and Snowdon, Rory Saltman from our Accounts team has just completed the climb of a lifetime. Travelling all the way to Nepal and then 130km further to Everest's base camp, Rory is truly livin' and breathin' grit by, literally, climbing a goddamn mountain.
Run, Gabby, run
Back in Manchester, Project-Manager-Extraordinaire Gabby Blake ran her first 10k to shine a spotlight on mental health for our charity partner, Mind, crossing the finishing line with finesse, composure and over £410.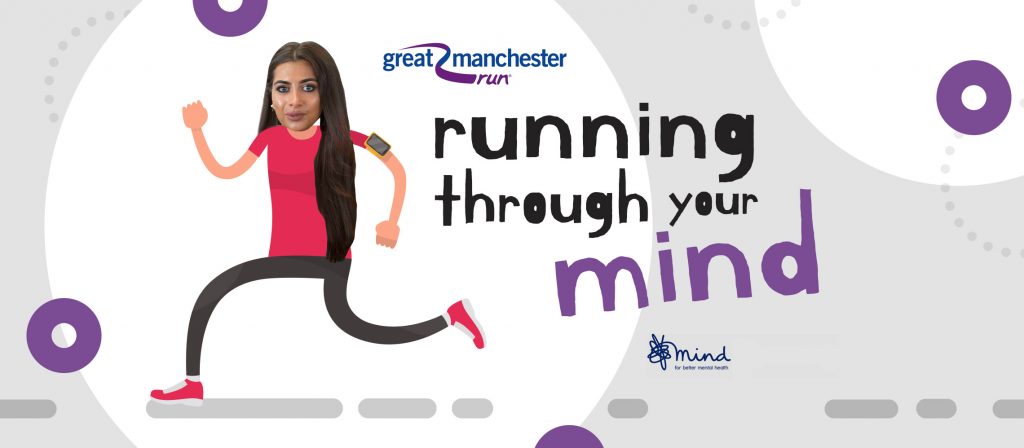 Bake it 'til you make it
When Bake Off season swept the nation, 15 of our Buffs got their bake on, unleashing their culinary masterpieces for judgement in three categories: taste, appearance and difficulty. Senior Creative Storyteller, Lauren Garforth, cooked up pastry perfection, achieving an average score of 4.8/5 and winning a well-earned, life-changing prize pot of £30 for all of her efforts.
Value 5: Exploration
Exceeding expectations
When we approach a project, we actively try to surprise clients with what's possible when using PowerPoint. In our research time, we explore the different ways in which we can tackle a complex brief, fusing the brain power of different departments, to create a final piece that goes beyond their expectations.
Old and new faces
This has led to many familiar faces like Sony, UBS, DDMC Fortis, Les Mills, London Stock Exchange Group, Molson Coors and Cartier, coming back to the studio for more. We've also seen many new faces this year, bringing with them new challenges for our team to get their heads around. Adelphi and 2 the nth gave our eLearning department the opportunity to explore new and exciting ways to deliver educational material this year, resulting in some incredible instructional design.
Value 6: Pride
We put a lot of effort into every project that comes into the studio, so taking pride in our work comes naturally. We're confident in our expertise and we know that we're the best at bringing stories to life through incredible presentations. We love shouting about our skills to the community, so we hosted even more knowledge-sharing events, from storytelling webinars to more focused, client-specific workshops. Our storytelling team have conducted workshops for the likes of Sony, UBS, Outright Games, Sportradar and London Stock Exchange, to name a few.
We also welcomed the formation of a whole new department, focusing their keen minds on user experience. While the UX team do work behind the scenes, crafting each and every template and presentation so that it fits the client perfectly, they deserve to stand in the spotlight too.
Liz and Jaz use their incredible knowledge to facilitate workshops with clients who want to strengthen their understanding of storytelling, presentation building, and even presenting skills. This year, this team will be bringing more and more training and talks to the world, so watch our social for announcements, and make sure to get signed up early to avoid missing out.
Value 7: Family
A rollercoaster year
For last year's summer party, we ditched the boozy tradition for a different kind of thrill, travelling all the way to Alton Towers in a school-trip style coach, with a Buffalo 7 / Alton Towers-themed quiz to get us hyped after an 8am start. You wouldn't think we'd need any more excitement than working with PowerPoint every day, but the team seemed to have a good time all the same.
Team bonding
While we are happily settled into our squads, we're certainly not cultivating an 'us versus them' mentality. To ensure everyone's playing nicely, each of the creative teams had their own team-bonding days out earlier this year. The Devs got some anger out with an axe-throwing session, Design conquered the Crystal Maze, Project Managers took a boozy barge trip, and the Storytellers went underground for some old-school arcade gaming.
View this post on Instagram
And the Christmas do saw all of us heading to Anthologist for a final drinking session (there was some food as well) before we pulled down the shutters for a well-deserved two-week break.
We're super proud of what the team did last year and we can't wait to see what a whole new decade brings.