What's the difference between a Presentation Designer and a PowerPoint Developer? And which do you need to make your deck incredible?
If you're looking to turn your slide decks into presentation experiences, likelihood is you're here because you've realised you need some expert assistance. You may have done some research into a few companies to see which is the most suitable, but it's not always easy to make the final decision from research alone. Especially when they use different terms for jobs that sound pretty similar.
Are they the same thing, just with different names? Like a 'Waste Management, Recycling and Disposal Technician' and a 'Bin Man'?
Or are they actually very different things, with similar-sounding names, like a Barrister and a Barista?
Choose your fighter: Presentation Designer vs PowerPoint Developer
Let's take a look at two specialities you may well have come across in your research, to find the perfect presentation partner: Presentation Designer or PowerPoint Developer?
We'll explain what each one does, what value they bring, and which one you need. Spoiler: it's both, working in perfect harmony.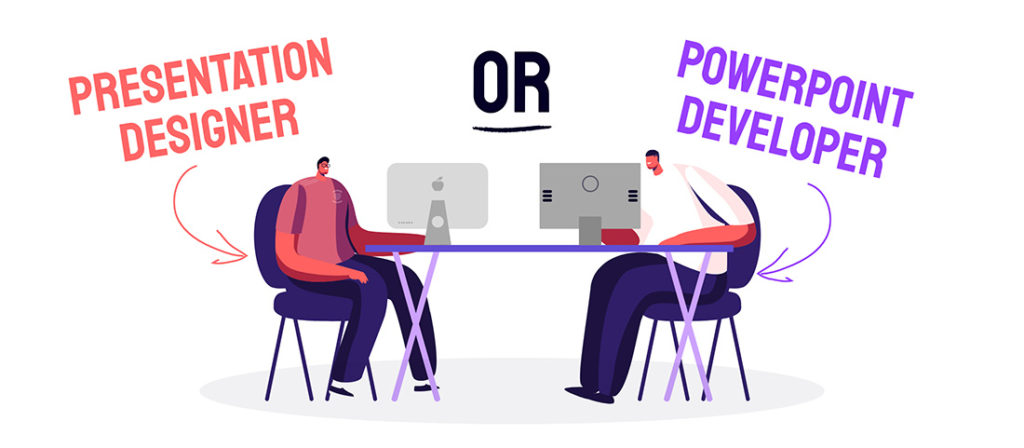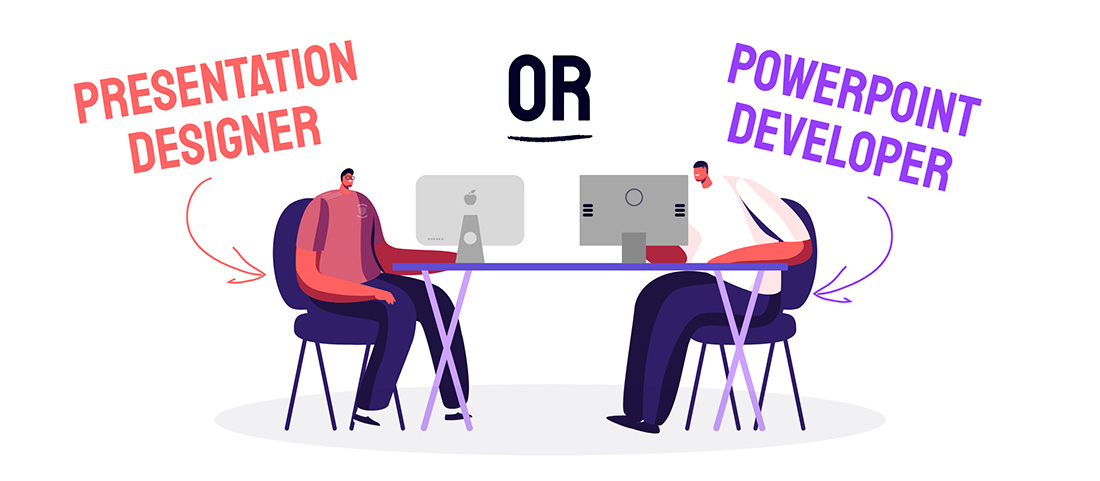 Presentation Designer
First up, let's introduce you to the Presentation Designer. We can't speak for other presentation design agencies out there, but this is what gets our Presentation Designers out of bed in the mornings.

Meet Paul. He's a Senior Presentation Designer here at Buffalo 7, and he's dedicated to creating visual stories that will capture the attention – and imagination – of our clients' audiences and blow their minds.
The right tools for the job
Our Paul doesn't use PowerPoint to create these persuasive visual stories. PowerPoint is not design software, and if your designer is using this software to try and make something visually stunning, they will fail, and fail badly. The end result will look like it has fallen out of the ugly tree, and hit every branch on the way down. Real designers do not design in PowerPoint. We really hope that we've made that point very clear.
No, Paul is highly trained in professional graphic design software, including Adobe XD and Photoshop, and will use these tools to create his masterpieces.
Visual storytelling
As well as making things look beautiful, Paul knows that the right design can reinforce key messages, help complicated information ease into the minds of each audience member, make brands unforgettable, and tell company stories in a way words alone never could.
Every project Paul works on is different, but these are the four steps he'll go through to get the presentation designs pitch perfect:
1. Immersion
First off, he takes the time to deep dive into the clients' brand guidelines, their previous company marketing collateral, their website, or just stuff they've seen that they like.
2. Conversation
Great design is a collaborative process, so Paul goes through a thorough set of briefing questions, designed to get the client's opinions on how far we can push their brand, what they like, what they don't like, how they need their company presentation to function, and what they want their audience to feel when they see it.
Paul might create and show some mood boards at this stage, to help the clients visualise the final result.
3. Initial 'Look and Feel'
Now, Paul will take just a small handful of the client's slides, and apply the brand-new design style to them, giving them the chance to review and make revisions. He can create multiple design routes, to give the client some options, as they might not know what they like until they see it.
The designs and concepts Paul comes up with are unique to the client. There are absolutely no off-the-shelf best-fit templates here.
4. Roll out
Once the client has had a chance to review and approve the 'Look and Feel', Paul will roll it out across the client's unique slides within their presentation.
Once the client is happy, and Paul has handed his vision over to the next expert in the chain, his role – as a Presentation Designer – is done.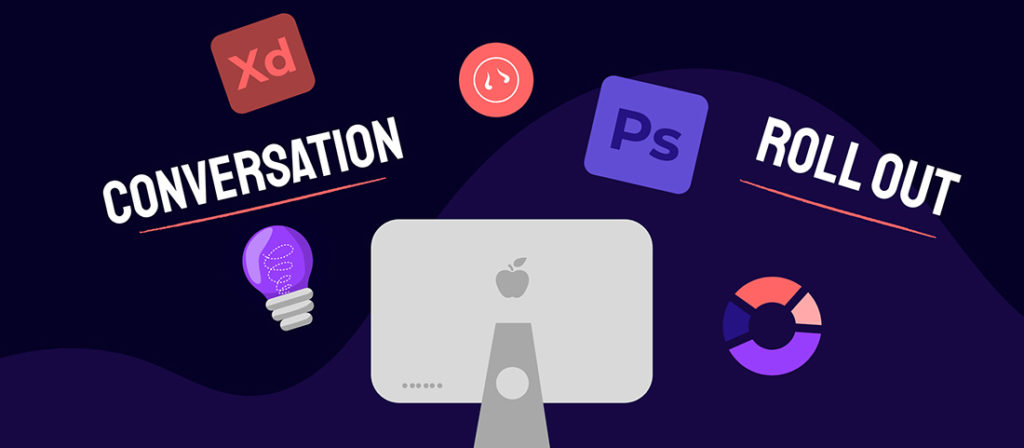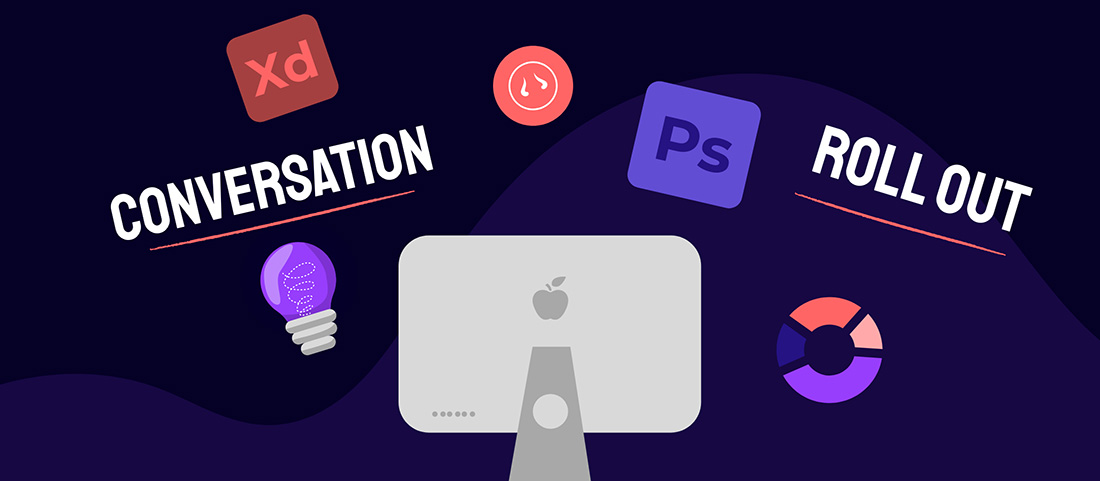 PowerPoint Developer
OK, so what about the PowerPoint Developer? We call our PowerPoint Developers 'Presentation Experience Specialists', and they have a whole different set of skills from the Designers. Let's take a look.
This is Matt. Matt knows everything there is to know about PowerPoint (and Prezi, and Google Slides, and Keynote and pretty much every other presentation software out there). Every drop-down menu, every ribbon, every button, slider and funny little symbol: Matt has total mastery of, enabling him to bend the software to his very whim.
But what does he do?
After the story has been written, and Paul has nailed the design, Matt is responsible for bringing everything together. He brings the flat designs to life in PowerPoint through next-level craftsmanship, motion design, and spectacular attention to detail.
Fluid motion
Think dynamic movement, seamless transitions, premium animation.
From working his magic on countless projects, Matt has industry-leading knowledge about the full spectrum of user experiences, so he can bring the absolute best to the table. The final presentation looks great, it flows seamlessly, and it fully engages different types of learner, so that our clients can change hearts and minds every time they present.
Build quality
Matt is also responsible for making sure that every single aspect of his clients' beautiful deck works wonderfully. Every animation, transition and link needs to be slick, intuitive and, well, bomb proof.
It all starts with a chat
If you want to transform how the world experiences your ideas, there really is no time like the present (get it?).
Perfect harmony
In isolation, these two different roles are essential in creating a stunning and immersive presentation.
But bring them together, working as a tight team, bouncing creative and innovative ideas around: that's when we see the real magic happen.
Real synergy can't exist in isolation.
Our Presentation Designers and PowerPoint Developers work as part of a creative team, including a dedicated Storyteller. Together, they work to create the perfect solution, adding their specialist expertise with the full vision in mind. For example, if the design is looking to be heavily motion-led, some initial animation ideas will be explored before the design is done, so every element of the design can be crafted to optimise movement.
When these creative minds come together, we can explore all possibilities before landing on the best solution for your presentation experience.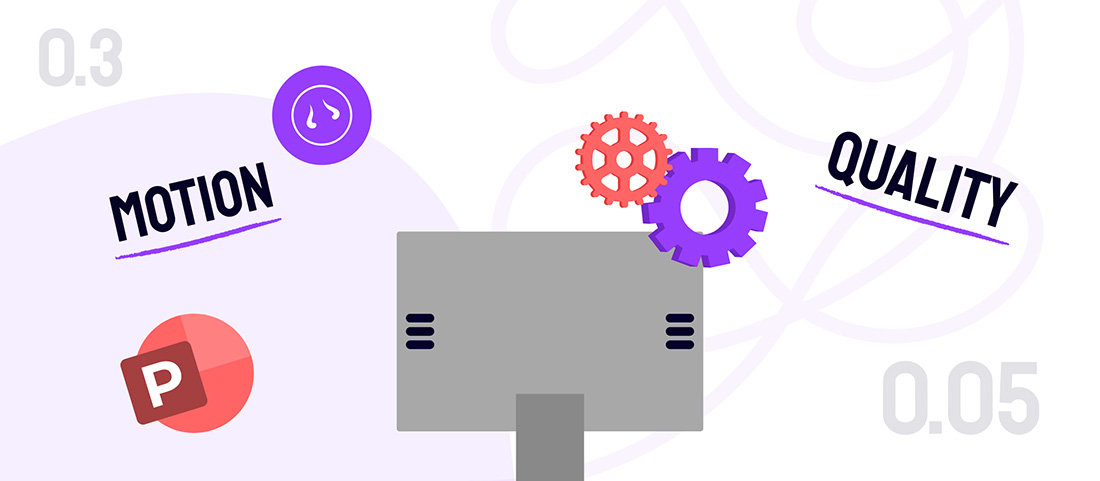 So, what's the difference between a Presentation Designer and a PowerPoint Developer?
A lot – they are totally different skill sets, both dedicated to reaching the same deliverable: a show-stopping presentation. They are not interchangeable, any more than the person wiring a new house is the same as the person laying the concrete foundations.
And which do you need? Honestly, it's both. To see the results of these experts working together, check out some of our work.