Whether it's Microsoft's ubiquitous presentation software, or one of the many PowerPoint alternatives, this guide will help you choose the right presentation software.
So, you know you need to do a presentation. You've written your content, you've got a clear message, and a date has been set. It's your time to shine and you can't wait to actually start putting your deck together.
So now what? What presentation software are you going to use to create your deck?
Most people will tend to go straight for whatever presentations software is pre-installed on their work computer. So for all you PC users, that's going to be PowerPoint. And for those of you on Mac, probably Keynote? As humans, we like what we know, and change can be difficult.
But what if you're missing a trick? What if there are more types of presentation software out there, with different tools and features. What if each one can change the way your audience experiences your presentation?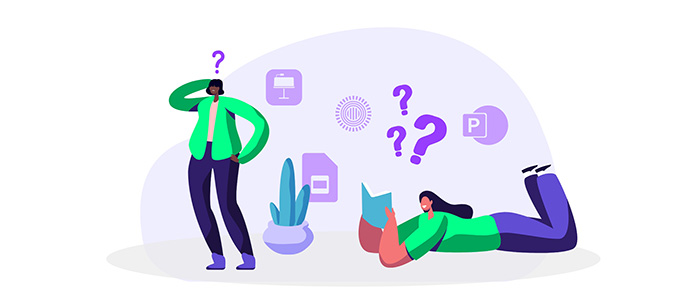 The whole concept of presentations just took a more interesting turn.
As well as the tried-and-tested PowerPoint and Keynote solutions, have you considered Google Slides? The free automated presentation software you saw an ad for the other day? Or what about that Prezi you've heard of once upon a time?
The choices are getting more numerous, but the quality and effectiveness of your presentation can rely heavily on which one you choose. No pressure.
Well, you're in luck: that's where Buffalo 7's legendary knowledge and expertise come in. We've dived headfirst into the depths of almost every piece of presentation software out there, identifying all their strengths and weaknesses so we can advise our clients as to the best option for them. And now we're advising you too.
Before we get onto presentation software…First 'The magic ingredients'
Let's start with Presentation Building 101, for those of you that don't have time before your big presentation to read through all our blogs. We know you'll get to it as soon as you can. The ingredients to a brilliant presentation are brand consistency, a clear and concise message, choosing the correct copy to pull out on the slides (and knowing what to keep in the speaker notes), strong supportive imagery, visual assets to aid your narrative, and some kick-ass design and animation.
But which presentation software is going to enable you to create the best experience for your audience? Well, first you need to think about what experience you want to create. Do you need to come across as slick and professional, or playful and inventive? Is your audience more interested in vibrant imagery and cutting-edge animation, or a rock-solid storytelling? Or maybe a bit of both? Only once you've defined what your audience is expecting from your presentation, should you move on to deciding which piece of software will help you exceed their expectations.
Different software packages have different pros and cons, so let's take a look at some of the main players.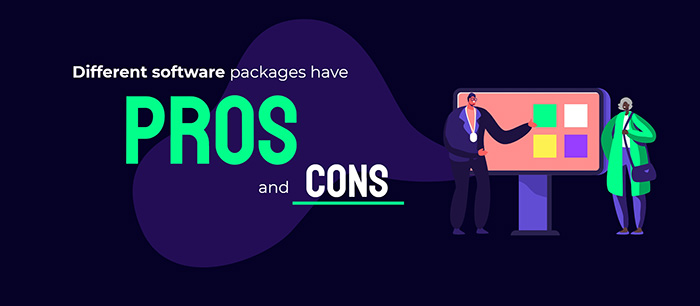 PowerPoint alternative #1 – Keynote: one for the Apple polishers
Introducing our first PowerPoint alternative. Keynote, come on down. Keynote is Apple's own presentation solution, which makes it pretty popular with all you Mac and iOS evangelists. It's one of the iWork productivity tools, and strips back a lot of the packed features that PowerPoint fits in.
As you'd expect, it's very user friendly, integrating seamlessly with multiple types of media and all across Apple's iOS devices, and is nice to look at and use, with clean interfaces.
Your audience will likely appreciate its slick, premium animations and transitions, so this is a strong contender for the Apple fanperson – especially when it's bundled into the Mac experience for free.
PowerPoint alternative #2 – Google Slides: the stuff Androids dream of
If Apple lovers have one solution, then there's got to be a Google alternative, right? Of course! For those that love a bit of Gmail, Google Docs, and so on, Google Slides is well worth a look.
Typically Google, it is accessible anywhere, across all your devices (Android or not) and requires no software installation whatsoever. Your decks save automatically, it's extremely easy to work on collaboratively and you can share them at the click of a button. So far, it's so good… but it's not perfect.
Google Slides is very minimalist. There are no templates, no themes, no custom fonts… In fact, if you – and your audience – are used to the full PowerPoint experience, you may find Slides coming up a bit short.
But then again, if you want your audience to experience a more simple, data-led presentation that isn't going to distract them with over designed slides, then this is a good choice to let the information do the talking.
It's a free and super easy to use PowerPoint alternative if you're after a less-customisable experience with fewer of the choices that can leave you paralyzed with options.
PowerPoint alternative #3 – Prezi: all the bells and whistles
Prezi is a motion menu-based software tool that allows users to take their audience on a journey between non-static slides.
Its freemium software means that you can create a presentation without having to pay for a software license. But as you know, there's no such thing as a free lunch.
If you want to use the free version of Prezi, you'll have to agree to your work being on Prezi's website for everyone to see. In reality, as long as your presentation doesn't contain confidential information, this free version of Prezi will be fine.
If you shell out for the Pro package, though, you can keep your work private.
Prezi has a few more tricks up its sleeve: you can use the HTML5-based software in-browser, with no need to download software – but as a Pro user, you can get a desktop version if you'd prefer.
Prezi might be best known for its zoom function, which lets the presenter zoom into discussion points before zooming out again. It was once a USP, but Microsoft has now released its own Zoom tool for PowerPoint.
Prezi starts with a blank canvas, so presentations are likely to be less formulaic than those created by PowerPoint novices who rely on the standard templates.
And some users prefer Prezi's approach to inserting audio and video into slides.
There are a few words of wisdom we'd hand out before jumping straight in: we've found that individuals struggle to get accustomed to how the basics of Prezi work. This is something you can pick up if you've got the time, but we often find that clients don't want to spend hours figuring out the logistics of how to approach a new interface whilst trying to create their mind-blowing presentation.
That's usually where we come in to help. Another issue we'd be wary of, if we were to make a presentation in Prezi for a client, is that it would be so bespoke that they may never be able to edit it in the future. If you're creating a one-off presentation this would be absolutely golden, but if it's a case where you may need to shuffle around the slides, update some statistics, imagery or text in the future, unique Prezi presentations might not be for you.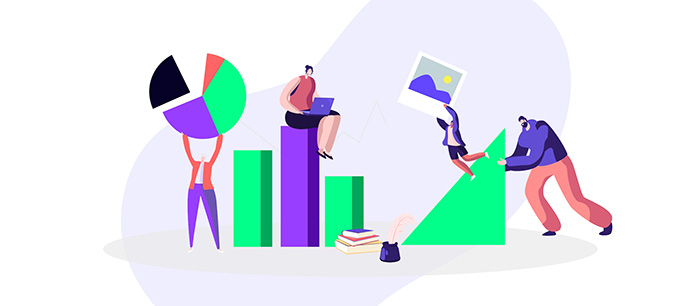 New kids on the block in the presentation software world
What about the sparkly new and free PowerPoint alternatives you see popping up? Well, depending on what your purpose is for creating your presentation, there could be one that initially seems to work for you, but make sure it has everything you need to avoid coming up short.
Remember all those magic ingredients to creating a brilliant presentation? Yeah, well, free software never quite manages to supply the tools that help you tick them all off. The features will usually be lacking in a particular department.
Haiku, for example, doesn't have any options to add tables for organising your data, animations or transitions to create a seamless flow between slides, no option to use custom templates for brand consistency. If you want the kind of presentation we think you want, don't go down that road.
Ludus, however, has a much better variation of features, good text editing and formatting tools, the ability to upload MP4s and embed YouTube videos, upload your own imagery, or the option to insert some from Flikr, GIPHY, Noun Project and Unsplash, to name a few.
Ok, so what's the problem? Like we said, there's magic ingredients missing: Ludus doesn't have built-in animation, you only have the option to download the presentation as PDF output or share as a URL link (which isn't handy if you're in a professional board room or wanting to read from your speaker notes), and the basic built-in shapes aren't customisable like they are in PowerPoint.
The problem is, none of these features make it a user-friendly experience, never mind a brilliant and persuasive audience experience.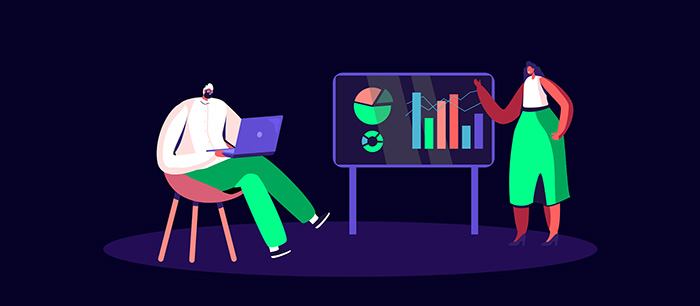 So how do I create the right experience for my audience? I hear you mumbling. Well, after all our years, expertise, trials and tribulations in the sea of options and presentation software, we always end up coming back to one… PowerPoint.
PowerPoint: the professionals' choice
It truly is a remarkable piece of kit, the golden tier of presentation software. For one, it's stood the test of time for a reason. We've all heard of PowerPoint, and you've most likely used it at some time in your life. We bet there's only a few other pieces of software you remember that have stuck around for so long. And yet, PowerPoint is better than ever. It's the strongest, most versatile presentation tool available, which you can use to make the most visually-stunning presentations.
Depending on how your audience prefers to consume the information, you can create linear or non-linear paths for them to follow. With tools like Morph and Zoom, you can get that smooth Prezi flow, but without the headache. PowerPoint does all the hard work for you.
It has built-in icon libraries, 3D objects, design ideas, professional animation tools, and it's compatible with a huge list of add-ins and toolbars. Not exactly the PowerPoint you remember from school, is it? No, we're way past the rainbow clip art and wavy animations now.
Then there's all the features you'd need for inserting data, tables and charts linked helpfully to excel. Handy compression tools for inserting imagery straight into your slides. Video and audio editing options. We could go on.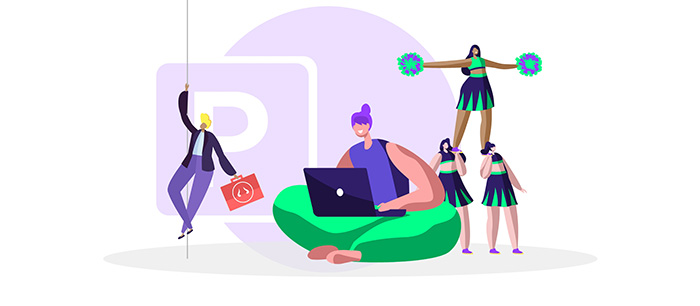 Presentation software: The choice is yours
But hey, you don't have to take our word for it. It's not like we're the experts here. But if you do choose to take us up on this, we recommend buying the subscription fee for PowerPoint 365 so you can get all the latest updates and ensure that your presentations are getting the attention they deserve. You wouldn't go buy a TV that's ten years out of date, would you? No. So, don't do that with your presentation software, we beg you.
Choose the right software for you, add the magic ingredients, and blow your audience away.