Microsoft have taken away the ability to use .EPS files in PowerPoint. That's right, you can't use 'em. Sorry.
'How will I be able to use vectors in PowerPoint?' I hear you say.
Or maybe we've steamed ahead a bit and you're asking 'what's an .EPS file?', 'what's a vector graphic?', or 'will there ever be a boy born, who can swim faster than a shark?'
Never fear, read on, and we'll answer all most of these questions.
Vectors in PowerPoint
A vector is an image that has been drawn using mathematical expressions, meaning it can be scaled up and down without any loss in quality. A JPEG or PNG image, on the other hand, is made up of a certain amount of pixels. If you were to make the image larger, there would be no increase in the number of pixels, so there would be a reduction in quality.
The advantage of using vectors in PowerPoint isn't just that they can be scaled up to gigantic proportions. Maybe you're delivering your presentation on a 12-inch screen, so having images that can be scaled to 30ft and still look great isn't overly important to you.
But when you use a vector in PowerPoint, you can edit the colour to match the branding of your presentation. This isn't possible with a JPEG or PNG image. In this case, you get what you're given.
EPS files in PowerPoint
A common type of vector graphic is an .EPS file, and up until recently, this was the easiest way to work with vector graphics in PowerPoint. For security reasons, Microsoft no longer allows you to insert .EPS files into PowerPoint.
Don't even try. Honestly. It just messes everything right up.
Scalable Vector Graphics (SVG)
But don't worry too much – you can still use vectors in PowerPoint. Thanks to a recent update, you are now able to use SVGs. You can edit the colour from within PowerPoint, and they can be scaled without any loss of quality.
Not only that, SVGs are generally of a small file size, which helps when creating large presentations with lots of graphics.
With its new update to PowerPoint, Microsoft has included its own range of SVG icons you can use. If these won't cut it, then you can download SVGs from image sites like Shutterstock or The Noun Project. Have a look at our post on free icons for PowerPoint for more tips on where to find SVG icons for your presentations.
There are a couple of drawbacks when using SVGs in PowerPoint. Unlike .EPS files, they don't break down into separate objects, so can only be one colour. They're also not editable in the Mac version of PowerPoint.
Enhanced MetaFile (EMF)
And that brings us on to your second option: EMFs.
EMFs work very similarly to EPS files. They are fully editable in PowerPoint, the colour and size can all be changed easily like SVGs, but they can also be broken down into separate objects for colouring individual pieces.
Once you've inserted your EMF into PowerPoint, select the image and choose Ungroup from the Arrange menu, and the distinct elements that make up the graphic will become Shapes and Lines in PowerPoint.

This is the dialogue box you'll see when ungrouping your EMF – click Yes.
There may be a transparent background once ungrouped – simply delete this and your EMF is ready to use.
Once your EMF vector has been ungrouped successfully, you'll be able to edit, resize, group, reposition and recolour its elements, just as you would any other Shapes or Lines created with PowerPoint's own Insert toolset.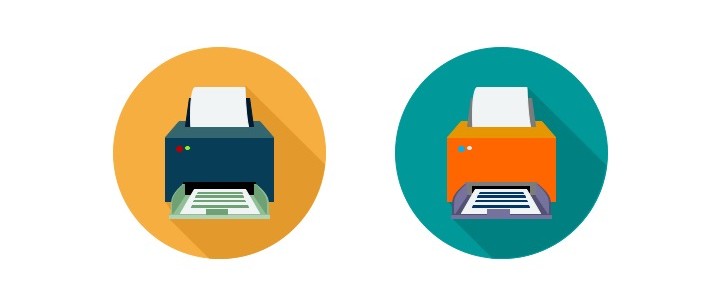 Converting Vectors to EMF
If you find a vector you want to use that's not in the EMF format – for example, if it's an .EPS, .SVG or .AI (Adobe Illustrator) file – you can convert it quickly if you have access to Adobe Illustrator. Open the file in Illustrator, navigate to File > Export > Export As… then select to export it out as an .EMF.
If you have used EPS files in older presentations, these will still work in PowerPoint if you ungrouped and converted them to a Microsoft drawing object.
The time of EPS files in PowerPoint has come to an end, but with SVG and EMF files, all your PowerPoint vector needs can still be fulfilled. We've got you.