Adding images to PowerPoint presentations allows you to communicate more than words and stir emotive responses in your audience. But only if you choose the right images. It's time to take stock and rethink your tired, overused images.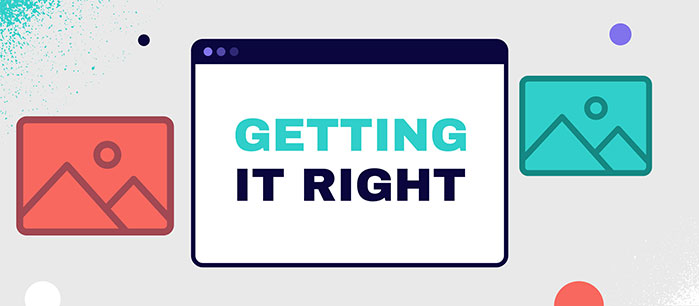 Powerful, emotive storytelling is just the first step towards persuasive presentations. Once you have your key messages, you want to give them the best chance out there in the big, bad world. But how do you do that?
To answer that question, I need you to take a moment to think about social media. Social media is an incredible successful tool for communication for a number of reasons. One of which is the options users have for utilising different types of content. No matter the advertised USP or marketing spin, all social media offers the same features. That statement may have upset some of you. You might think you're an intellectual because you prefer Twitter, which is about putting huge ideas into restricted number of characters, right?
Yea, tell that to Trump.
Twitter frames itself as a language-based tool, but you can still add a picture to your posts. Instagram is "all about the imagery", but people write captions longer than War and Peace. Each app pretty much gives the user the same ways to communicate, just pushed out in different packages.
Why? Because the combination works.
By adding visual cues to your slides, you can support your message and help the audience convert them to memory. 90% of information transmitted to the brain is visual. We can absorb information through imagery 60,000 times quicker than we can from words alone. A study conducted on active learning showed that participants were able to remember only 10-20% of spoken information. These same participants recalled 65% of information portrayed by visuals and images combined.
If you want your audience to still be thinking about your presentation the next day, week, year, then supporting your key points with images, icons and illustrations is incredibly important.
There are hundreds of ways to get your hands on these valuable assets online. However, if you want high-quality imagery that you're not going to get sued for using, this is the guide for you.
Let's start with paid images for presentations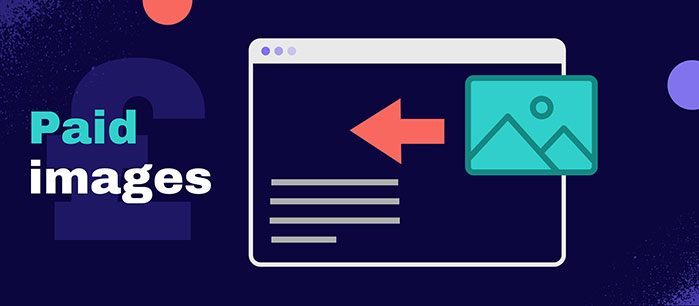 For professional creatives, subscriptions to stock sites can be a cost-effective way to get the images they need. But just because you pay for the service, doesn't mean all those cheesy, weird, and just plain inexplicable stock photos are magically removed from the pile.
However, subscription services do have a lot of benefits too. The obvious advantage of these services is the amount of variety they offer. With the right search terms you can find a high-resolution image to fit just about any type of content. But you'll have to pay for the convenience, with each of them offering pay-per-download and monthly subscription options.
Buffalo 7's favourite paid images for presentations
Getty Images
Getty Images is the premium stock image resource. You've probably seen their watermark on images of celebrities floating around social media, because even the celebrities featured can't afford Getty's prices. If you need a licensed image of a famous face, landmark or brand, you can probably find it on Getty. And you'll pay through the nose for it.
However, Getty does more than just provide papped pics. Their creative collections showcase beautiful photography themes and can be a great source of inspiration, even if you end up finding similar images elsewhere.
iStock
iStock is Getty's answer to that noise normal people make when they see the price tag on a Getty image. iStock offers access to millions of hand-picked premium images at a fraction of the cost of its parent site.
This site was the birthplace of user-generated stock photo libraries, where artists can share their own work and earn commission. This means greater reach for the artists, lower cost for the user, and free cash for Getty. Win win win.
As well as this, iStock offers exclusivity. The work featured on this site can only be found here, so if you want your presentation to stand out in the crowd, you can't go too far wrong with iStock images.
Shutterstock
Shutterstock helps creative professionals from all backgrounds and business of all sizes to produce their best work, Buffalo 7 included.
This is one of the most well-known names in the stock image game, but not necessarily for the right reasons. All publicity is good publicity, right?
Yes, they have so many cheesy, posed images they practically invented the genre. They certainly have a lot to answer for when it comes to images used all-too-commonly in PowerPoint presentations, but we still love them.
They have over one million content contributors, which is why they're able to offer such an incredible database of images. It's also why some of the images on that database are truly terrifying. In fact, 200,000 images are added every day.
And their prices are reasonable, especially their subscription cost that starts at just £29 per month for ten images. Plus they offer a free trial if you're on the fence about signing up. Gain ten images for free with a 30-day trial and keep the images even if you don't go ahead with your membership.
Adobe Stock
If you thought that Shutterstock free trial clinched it for you, sorry to add an extra layer of complication, but Adobe Stock have the exact same offer on the table.
So, what's their USP?
Well, if you already work with Adobe Creative Cloud, you can access beautiful high-res, royalty-free stock images from within your favourite CC apps. Preview watermarked images within your designs before committing to buy. And you don't even have to leave PhotoShop, InDesign, or Illustrator to license, access and manage your images. It's the intuitive stock library for the Adobe-committed designer.
Free images for presentations
If you don't have a big budget for imagery, you don't have to settle for less. Every week there seems to be a new free image resource hitting the World Wide Web, and the imagery available is still high-quality and beautiful. You may just have to search a little longer to find the right image for your presentation. We've at least cut the whole internet down to just four of our favourites, so that should help you out a bit.
Buffalo 7's favourite free images for presentations
Unsplash
Unsplash understands what you're going through. Born from the pain its creators had in finding usable imagery without cost, Unsplash is a blogroll that updates with ten new beautiful, free photographs every ten days. This is a great service with no membership required and no restrictions on use.
Unsplash's photos feel less staged and more authentic than those you'd find in stock libraries because, well, they are – work is submitted by photographers from around the world, then chosen and curated by the site's team.
Unsplash might not have the sheer variety offered by paid-for libraries, but the quality is simply amazing.
ISO Republic
While most stock image sites will create collections of images, ISO Republic's goal is to provide the most highly-curated, high-resolution collections. ISO Republic understands the power of photography and its mission is to help creatives find the right image and put the finishing touches on their projects. Through its easy to navigate collections, you should be able to find exactly what you're looking for in no time.
As well as this, ISO Republic puts no restrictions on their licensing. You can freely download, use on both personal and commercial projects, edit or share, and do so without permission or attribution to the creator of the work (although this is still encouraged. Be nice, people).
Realistic Shots
The name says it all really. If you're as fed up as we are of force smiles and awkward poses, Realistic Shots is the image resource for you. All the shots posted are completely free and licensed however you want to use them, all Realistic Shots asks is that you do something creative.
The site does have a simple search bar, but essentially this is just one long blogroll of images, so don't expect comprehensive collections and curated inspiration. Just expect beautiful, classy images that don't make you want to tear your own eyes out. However, sometimes the site's ideas of realistic is a little different to ours…
Death to the Stock Photo
Started by two photographers, Death to the Stock Photo grew out of brands' and content creators' needs for images that matched their visual aesthetics.
You sign up using your email address and a curated monthly selection of gorgeous, authentic-looking photos is then delivered right to your inbox for free.
There's also a premium monthly subscription option that grants unlimited access to the full archive for a reasonable monthly fee. A percentage of the profits from the premium option is then invested into the creative projects of the site's members.
Companies who use Death to Stock include the likes of UBER, TED, Pinterest and Buffer.
The legal bit
Obviously, you can find images through Google, however, not only can these images look pixelated and unprofessional when placed in your presentation, they're not actually yours to use. Just because an image is online, doesn't mean it's up for grabs.
When trying to find images for presentations, it's important to check the usage rights of your desired photo. Even many free-to-use visuals require the proper attribution, so it's a good idea to have a look at the license type before going ahead.
Now you have a list of Buffalo 7 tried-and-tested resources, do you know what to do with them? Check out this blog to learn about using imagery without creating massive, unresponsive presentations. Alternatively, this blog is for the fashionable: find out which image styles are so 2020. For inspiration on how to use imagery to create next-level presentations, take a look at our Instagram.