Hear arguments from both sides and reach your own verdict in the case: Sway vs PowerPoint. Which program is best for you?
Sway vs PowerPoint: Opening statement
It's a rivalry as old as time: Sway vs PowerPoint. Ok, it's not. In fact, it's not something we get questioned about very often at all. Not a week goes by where we don't get a request for a Google Slides presentation from clients. But Sway? It's yet to happen.
That doesn't mean it's not worth exploring. It just means we're going to have to do a little character introduction before we jump into the meat of this story. By the end of this article, you will have got to know all Sway's strengths and weaknesses. This should help you make the decision as to which program is more suited to your needs. It's time for Sway vs PowerPoint.
So, let's get acquainted.
Prosecution calls to the stand: Sway
Sway is an online presentation and storytelling app that's free to use for anyone with a Microsoft or Office 365 account. This software is perfect for schools, businesses, consumers, and anyone looking to create consistent presentations, newsletters, and other communications, in a hurry. Sway takes a lot of the manual labour out of presentation design.
Before you start to imagine some kind of sibling rivalry in the Microsoft home, the company have released a statement saying they love both programs equally. Well, what they actually said was Sway wasn't created to compete with PowerPoint, but as a complementary addition to it. Different needs, different solutions.
Case for the prosecution: Strengths to 'Sway' the jury
Speed and automation
One of the standout features of Sway is its ability to transform basic content into consistent layouts, with just one click. The software will pick out colour schemes, images, and visuals for you, and even apply layers, effects and styles that you would have to create manually in PowerPoint.
You can also import other documents, such as Word, into Sway. The software will transform the content into a fully-formatted presentation. No messing.
Basically, if you need to get a message out, but you don't have the time or the experience to create a presentation in PowerPoint, Sway is a great tool for you. You'll get a consistent, designed, interactive document, with very little input need from you.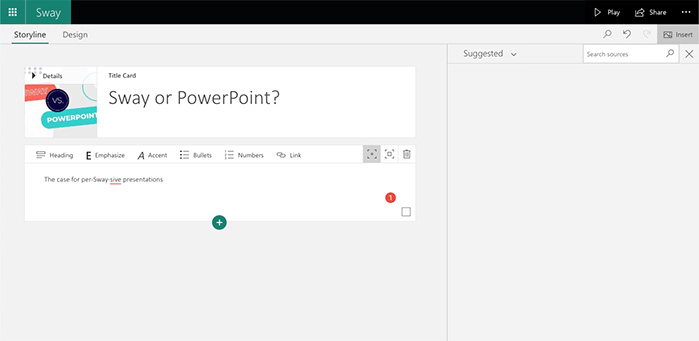 Storytelling
By taking design worries off your shoulders, Sway lets you focus on storytelling. You write text in cards (Sway's version of slides), setting the hierarchy of importance, and Sway does the rest.
This means you can concentrate on your message, and choosing supporting visuals, without having to juggle things such as alignment, slide backgrounds, how to anchor content, how to create emphasis on the most important message, and all the other small considerations that make up great design. It's sort of like having access to a designer, but a designer with quite limited ideas.
Multimedia content integration
Think of Sway like an online collage program, with integrated search engine. You can source media from around the web, and pull it directly into your presentation. You can, obviously, add multiple types of media to PowerPoint, but Sway being a web-based program has a clear advantage when it comes to ease of sourcing. Sway even scans your text and makes suggestions for images that will best support your message. Super smart.
Insertion of content may be easier in Sway, but PowerPoint supports more media types, including charts, graphs and 3D objects, giving you more freedom to explore the most impactful way to communicate your message.
It's important not to get so swept up in the ease of acquiring media and forget about copyright infringement. You need to understand the rules and limitations of the sites that own the content, before you use it.
Collaboration
Sway trumps PowerPoint when it comes to creating collaborative presentations. Team up with colleagues to create and edit content in real-time. In this respect, Sway is competing with other cloud software such as Google Slides, and PowerPoint is just letting the kids take this one.
When you've finished your presentation, Sway allows you to share it via social media or a direct link. And, just like Google Docs, you can dictate who's allowed to view your content.
When you're ready to share your Sway with the whole world, you can embed your documents directly into your website, in an iframe. This is because each Sway presentation is technically a mini-site, hosted on a Microsoft server.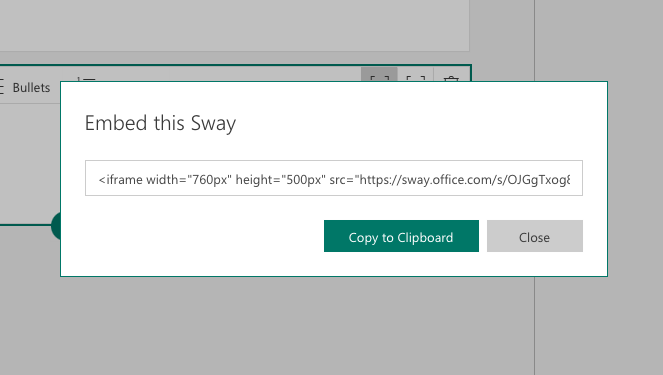 Free the presenter
Sway, like a website, doesn't need a presenter, but this puts a lot of trust in your message to tell itself. If you've been to our blog before, you know we think of slides as backing dancers and you, the presenter, are the star. They should support you, but your audience have come to hear what you have to say, not read your slides.
However, if you can't be there in person to present, the interactive nature of Sway does mean written communications are easier to digest than huge, static blocks of text.
And your audience gains a degree of freedom too. Sway dynamically adapts, and is completely responsive, so that it looks good on any screen, meaning they can easily find out what you have to say on the go, so long as they have an internet connection.
Sway's mobile app is as comprehensive as the online version, allowing you to create, edit and share your documents on the move as well.
Simple interface
Because Sway can't do all that much, in comparison to our beloved PowerPoint, it doesn't need many buttons. This makes it easier to find and use the features it does have.
We understand that PowerPoint can be overwhelming with its excessive functionality, especially to new users. If this is a challenge you've faced first-hand, Sway could be the antidote to this.
Sway has a lot of modern features. Mobile capability, easy collaboration, and one-click design transformation are all music to the ears of time-poor modern communicators. If you're just looking to get a message across quickly, effectively, and with no fuss, Sway may well be right up your street.
Defence calls to the stand: PowerPoint
We like to think PowerPoint needs no introduction. The OG presentation software, PowerPoint has a wealth of features that, when used correctly, create stunning, bespoke and engaging presentations. If you don't believe us, check out examples of our work on Instagram.
Case for the defence: PowerPoint puts creatives in control
Brand consistency
We love PowerPoint for its flexibility. We don't think the software has limitations, it just has learning exercises. Once we've found a workaround for a road block, we can continue to push the software, bend it to our will, and create incredible presentations that don't look like PowerPoint.
Sway, on the other hand, poses a lot of limitations, especially for creative people. You have to choose from pre-decided Styles, meaning you can't create a design that looks like you, that represents your brand, and your Sway solution is never going to be as perfect as one that's been created just for you in PowerPoint.
What you gain from one-click formatting, you lose from creativity.
3D canvas
We love applying intelligent transitions, animations, and hyperlinking to treat our client's visual stories like an interactive canvas, moving around in 3D space. PowerPoint gives us the freedom to do this. Sway is designed to work like one long continuous scroll, so the only choice you have is horizontal, vertical, or Slideshow throughout.
Data visualisation
For creating data-intensive presentations, PowerPoint is as mighty as its name. Its seamless integration of charts and graphs, which can be created within PowerPoint, make it a natural choice for displaying data in a way that's easy to understand.
Templates
We know, we've gone on and on about templates before, but they really are any company's secret weapon for creating on-brand, consistent and impactful presentations in a hurry. And PowerPoint just offers so many more options than any other program.
A simple web search is all that stands between you and thousands of free and custom templates, graphics and data visualisation assets, created specifically for PowerPoint. Sway, as the newer kid on the block, can only offer a few dozen Styles that control the overall design of your deck.
On top of this, a really great presentation design agency could create a PowerPoint template that's designed specifically for your brand, your content and your user experience level. This isn't an option in Sway.
Sway vs PowerPoint: Closing arguments
Everything has context. You probably wouldn't wear heeled sandals to play golf, but they'd be perfect for a wedding. If you don't have time to create slick, beautiful presentations from scratch. Well, you should give us a call and we'll do it for you. But if that isn't an option either, Sway might be the best program for you. Just don't expect the freedom to fully express yourself. Here in the studio, we'll be sticking with PowerPoint.
Let us know: have you been Swayed?