Remote working is on the rise. While it has its perks, it also has its difficulties, but with the right preparatory measures, you can maximise productivity and sustain business as usual whilst working from home.
Working from home is fast becoming a popular alternative to the monotony of a 9-5 routine. As more companies focus on prioritising the healthy work-life balance of their employees, flexible working has woven itself into the fabric of the progressive, 21st-century organisation. On the surface, it sounds awesome: working independently, at your own pace, in a swanky, decluttered Scandinavian-style workspace with hanging lights and plentiful plants. In reality, you'll probably convert your dining table into a desk and the only daydreaming material you'll have is a row of houses.
But working from home is what you make it. It's more than just a change of scenery, it's about flexibility, autonomy and responsibility. Modern workers are attracted by companies who offer incentives that go beyond the requirements of a typical office environment. Remote working is an enticing offer. Not only does it show you value your employees, it shows you've got a contingency plan if something compromises your day-to-day office. It just so happens that working from home is the answer to a number of organisational conundrums: employee engagement, office closure, worldwide contagions…

No matter what the world throws at you (except a nationwide lockdown), business must go on as usual. As a company who's already embraced flexible working, we've been through the teething problems and come out the other side fully prepared and equipped to meet client needs, from the comfort of our homes. Here's what we've learned from our experience.
Trial and error
Everyone works in different ways. Some people prefer the buzz of a lively studio and some thrive in solitude. Some may even like a balance of both, or appreciate the flexibility of choosing a working arrangement that suits their schedule for that day. Introducing it as an option is a way of recognising that individuals have different needs. But the truth is, flexible working benefits both employers and employees. Get the arrangement of it right and you could witness an increase in motivation, engagement and performance.

But before you implement anything permanent, it's sensible to test the waters, which is exactly what we did. For two days, we closed our headquarters and asked everyone to work from home. Our schedules went ahead exactly as normal, and everybody was expected to perform and sustain communication as they would in the office.

To prepare, we instructed staff to take home all the equipment they need to do their job and set up a VPN connection to guarantee remote server access. This proactivity helped us iron out the kinks and resolve any issues that arose in preparation for a shutdown. As a result, we're confident that we can weather any kind of storm, and continue to provide presentation services to clients, to the standard that's expected of us.
Stay connected, communicating and collaborating
If your organisation is anything like ours, communication is the foundation of everything. Without cross-departmental collaboration, our processes just wouldn't work and the quality of work would suffer. When you're in an office, help is only a few footsteps away. At home, you don't have the luxury of heading over to your colleague's desk for a quick chat, but there is software that can bridge this gap.
All of our meetings are conducted via Zoom, internal and client-facing. With HD screen sharing, video conferencing and webinar functionality, it ticks every box for our communication needs, and happens to be really easy to set up and join meetings. Every project in the Treehouse is a close collaboration between the whole team and that doesn't stop just because we're not actually in the Treehouse. Via Zoom, we were able to have quick team catchup meetings throughout the day and maintain that close-knit company culture.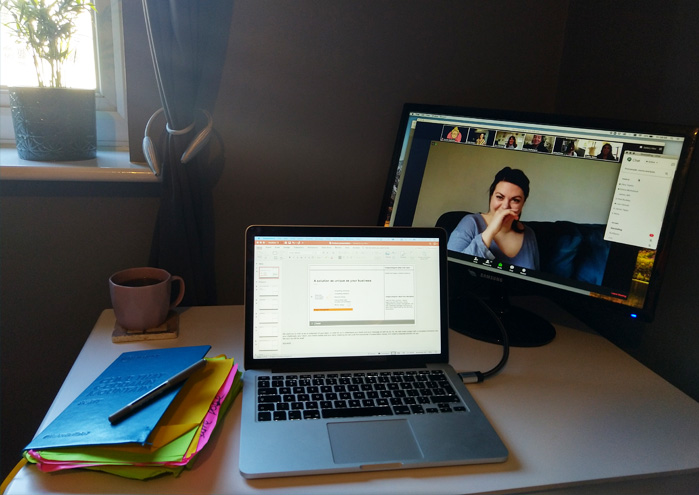 However, depending on how you're using it, it's worth noting that etiquette for online meetings and webinars is a little different. Let's take a look at Zoom's features for each.
Online meetings vs Webinars
Meetings are by nature much more collaborative than webinars. Since remote working removes all the benefits of face-to-face interactions (tone of voice, body language), you need to set some meeting conditions to ensure all participants are respected.

Zoom prioritises voices: whoever is speaking will become the visual focal point of the screen, so if you do have a big group of participants, you could encourage people to mute their microphones unless they have something to say. Even if you let out a little cough or background noise interferes, Zoom will automatically put your camera up front and centre. Our first remote, company-wide meeting, probably wouldn't have gone as swimmingly if Rich (our MD), hadn't asked everyone to mute themselves and use the chat box to ask any questions.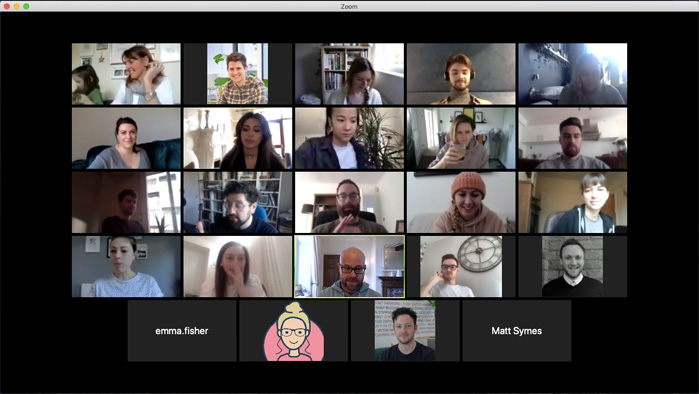 Just because you're at home and probably spend intervals working from the sofa, doesn't mean your client has to be aware of that. Be mindful of who you're talking to and what the nature of the meeting is. Always opt for a workspace with a reasonably professional backdrop – it's cool if you've got pictures on the wall, just don't show anything that could be offensive. Check the strength of your internet connection before you begin (nothing says we can't work remotely successfully like a lagging video connection) and make sure you join the meeting room on time (preferably ten minutes early). Zoom has a meeting reminder feature that notifies you before start time to ensure you don't miss any important meetings.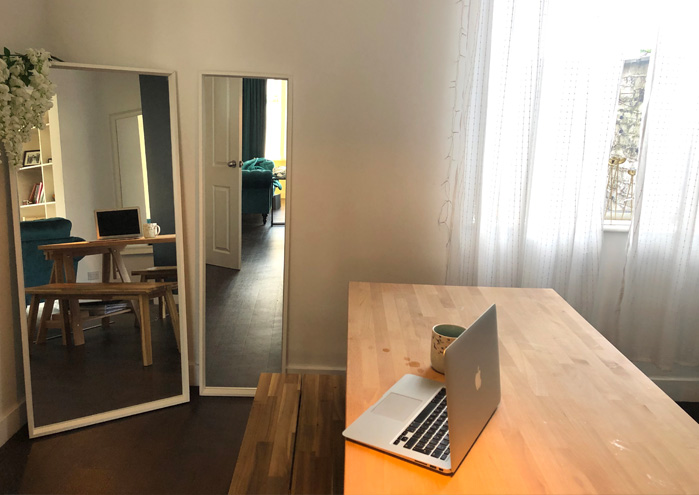 Webinars are different. They're usually conducted in a one-person-leads format, so to eliminate the disruption of fidgeting and sneezing, we'd recommend muting everyone's microphone except yours. Generally, the same rules we mentioned in the previous paragraph apply here too, but there are some webinar-specific tools you should tap into to enhance the experience of your listeners.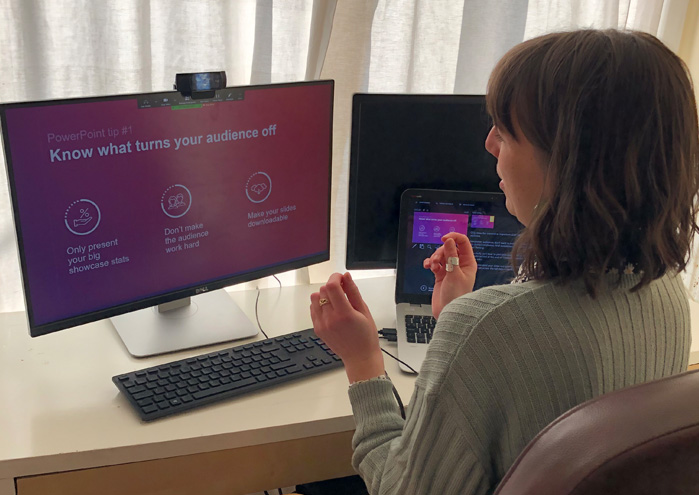 As the host, you're given full control over the audiences' engagement. The Waiting Room feature lets you decide when participants are allowed to join the meeting. You can admit them one by one, or hold them in the waiting room and let them in all at once, it's your choice.
Even though it's webinar, there are ample ways attendees can get involved. You can set private and group chat settings for attendees to respond to your ideas in real-time. Check in with them and gather valuable feedback via Q&A and polls, or encourage them to make their voices heard via the chat box. Attendees can also speak up via virtual hand-raising buttons. If you'd like to keep a record of key company meetings or send out a copy of your webinar in exchange for contact details, you can record the entire meeting.
Tap into the industry's best collaboration software
Remote working doesn't mean collaboration has to stop. Fortunately, most of the software we use has real-time co-authoring functionality. Through Office 365, multiple team members can work together on Word, Excel or PowerPoint. For co-authoring to work, all you need is a shared storage area (like OneDrive), the latest version of Office 365, modern file formats and editing permission for all co-authors.

Slack is another useful tool that keeps collaboration going. Shared channels give everyone one place to collaborate in, tying messaging, file sharing and channel history access together in a single thread. All participants are given a shared view of a project's progress and a more organised, easy-to-navigate way of accessing the information they need on a project by project basis. We used to use it as a brain dumping resource where we'd share all the important information, from briefing to sign off, for a particular project, so that each person could access everything they need in one place.
Maintaining that creative flow is even easier with Creative Cloud. If there are projects that need a quick turnaround and the input of multiple creatives, Creative Cloud's co-operative libraries are really useful. Share a private folder from your account with specific users and you'll give them access rights to your work. Collaborators can view, edit, rename, move or delete the contents of the folder in real-time. You can even integrate Creative Cloud with Slack, so you never miss out on an important update.
For all our project management needs, we use Avaza. The team schedule tab allows us to see what everyone is working on, on a particular day, week or month. It also enables our project managers to quickly pinpoint what capacity and flexibility we have across different departments. If the nature of the project changes for any reason, we're able to take a quick glance at our capabilities before promising anything to the client. The project timeline view shows users which tasks need to be completed before others can start, as well as how the project is planned in to flow throughout the studio. It's also really easy to see what tasks have been assigned to which people because we can assign tasks to individuals and tag people with work updates. Individual users can even follow particular tasks to get updates as they come in from their project manager.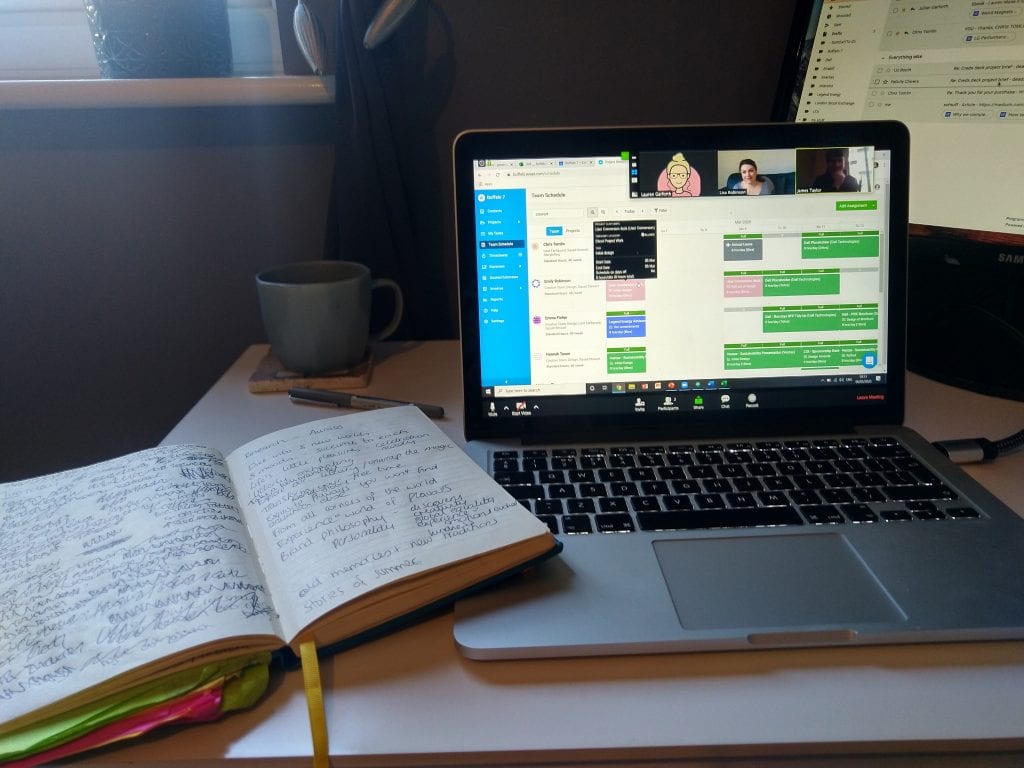 Plan a remote working set up with an IT supplier
IT suppliers offer a reliable safety net for when technology lets you down. Their support contracts give you complete peace of mind that your technology issues will be addressed swiftly, minimising disruption to your workflow. If their internet connection fails, server access is lost, security is compromised or anything tech-related goes down, they'll be able to get things back up and running. They'll also help you correctly and securely set up your team to work from home, make sure they're safeguarded by all the right antivirus protections, kitted out with the required off-site equipment, as well as GDPR compliant.
"Everything Tech have been a fantastic collaborative IT support partner for Buffalo 7. Response times have been rapid, friendly and quick to resolve. Everything Tech have supported us with various bespoke projects including upgrading our server speeds for optimal performance, hardware reviews and supplying of competitive leasing, migration of our software systems, remote working set up, and training for our team on Microsoft products.

As a business owner I sleep at night knowing all our kit is secure with anti virus and our back up is watertight.

Onsite days in our Manchester office with our key technician are always useful to resolve hardware niggles. It's like having another member of the team.

I would highly recommend these guys to anyone."

Richard Barnes, Managing Director, Buffalo 7
Don't resign yourself to your hovel
Just because you don't have the gorgeous Scandinavian-style office at home, doesn't mean you can't find it elsewhere. Some people worry that working from home is boring and isolating. Sure, if you're spending sunrise to sunset indoors, working from your bed or sprawled on the sofa, we'd get it. But we give our staff the option to work elsewhere, in a coffee shop, public workspace, library, wherever. For us, as long as you get the job done, we don't really mind where you sat to get it delivered. If you are suffering from a bit of cabin fever or loneliness (we're a social bunch, we get it), there is professional chat software like Google Hangouts for the important and not-so-important chit chat.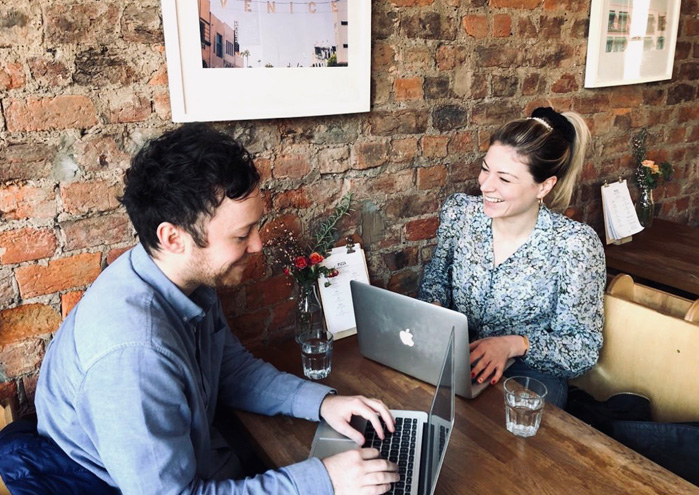 Like we said, working from home is what you make it. As long as you prepare and equip your staff with all the resources they need, there should be nothing stopping them performing to the best of their ability. With these tips, remote working can be as straightforward and fluid as being in the office.