You lovely lot sure do know a lot about presentations, but our three recent quizzes illuminated a few misconceptions that are still running rampant. We're here to set the record straight.
This isn't something we've told anyone outside of the Buffalo 7 studio. But we trust you to keep it to yourself.
Buffalos are damn nosey. We can't keep our big ol' honkers out of anyone's business. Gossip is our fuel. In fact, we're so inquisitive that one of our brand values is Always discovering. That's right. Our nosiness is woven into the very fabric of our being. It joins us all together on our crusade of curiosity. Our voyage of voyeurism. Our deep dive of discovery.
While this path mostly leads us towards the creation of engaging and inspiring presentations for our clients, sometimes it leads us right inside your brains through the fascinating medium of quiz.
Not too long ago we created three presentation-based quizzes to find out how thirstily you've all been slurping up the delicious knowledge juice we're soaking the world with. And we also wanted to know if there were any dark spots you still needed us to shine a light on. It's safe to say that our curiosity has been satisfied.
Here's what we discovered.
One. You've all been listening to our top storytelling tip.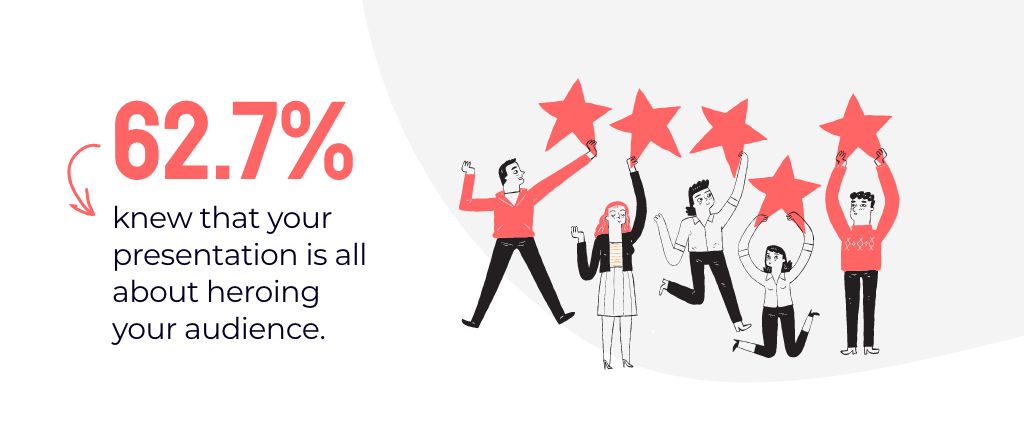 Honestly, we could not be prouder.
Your presentation is all about heroing your audience, and 62.7% of you knew that. That rule stands true for every good presentation, regardless of whether you're trying to sell stuff, entice an investor, or share those ever-exciting quarterly results with your team.
If you were one of the 16% that thought your products and services were the hero, though, you might want to check that ego. Pushing your solution as the presentation's hero is an easy – yet inexcusable – mistake to make. Just keep in mind that your audience only wants to know what you can do for them, and you won't go too far off course.
PowerPoint is not your first port of call.
In order to know what problems need solving, you have to get to know who you're talking to. And a whopping 94.7% of you knew that too. Before you go anywhere near your preferred presentation software, you're doing your research and we love to see it.
Once you're outrageously intimate with your audience persona, you can tailor your presentation so that you're talking directly to them. In a healthy-but-intense way. Not in a weird way. That's very important.
Champion your audience, lead with emotion, use your presentation to draw a clear line from their challenge to your solution, and stroke their fragile egos as you do it. That's storytelling in a nutshell. But you knew that already, eh?
Two. You're all in the midst of an existential crisis.
You've got it nailed down that every deck should be all about the people you're talking to. But if the hero is taken, what role are you meant to play? We gave you four options to choose from: ally, narrator, guide, and love interest.
You're the ally?
We can see why 29.3% of people chose ally, but that doesn't make it the right answer. As much fun as it might be to go along for the ride – all footloose and fancy free – someone needs to be flying this plane. If you position yourself as an ally to your audience, you've lost a chunk of your own authority straight away.
You're the narrator?
A presentation can sometimes feel like a monologic narration, which – we assume – is why 24% of you thought your role was that of a narrator. But good presentations are all about give and take. True, you're telling a story, but if you're passionlessly reading from a pre-ordained script, your audience is likely to lose interest pretty quickly.
You're the guide
Less than half of you correctly identified yourself as the guide. We sure hope you're not lacking confidence in your ability to get up in front of that audience and impart all your wisdom, vision, and empathy. It's your job to take the hand of your audience members, wow them with exciting new concepts, and help them to see that – if they just follow your advice – the solution to their specific challenge will be within reach. That's that cleared up.
Almost…
You're definitely not the love interest
Only one weird person, in the whole history of presentation-related quizzes, thought that they should be playing the role of love interest for their audience. If that person was you, please report to the headmaster's office at once, you filthy animal. And please don't give any presentations without your audience's full, unencumbered consent.
Three. You've got too many ideas and not enough time.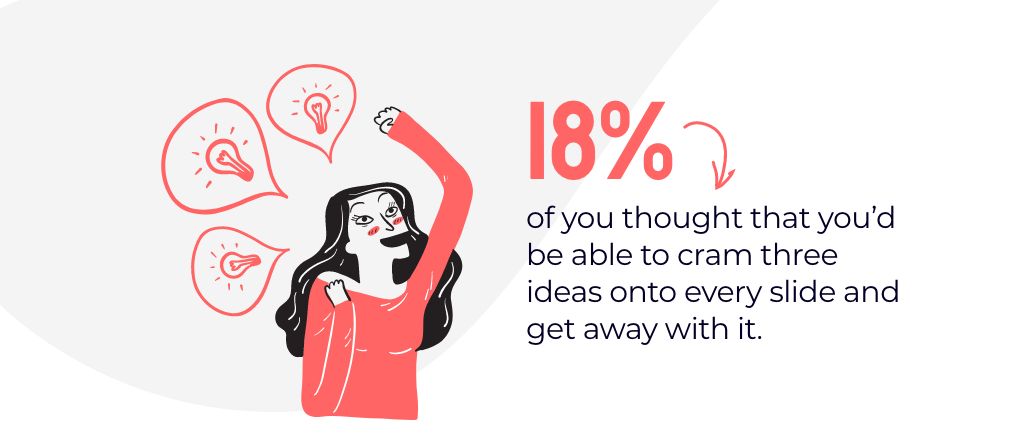 Yeah, yeah, yeah, you're all super smart. No one's denying that. But 18% of you thought that you'd be able to cram three ideas onto every slide and get away with it. Not on our watch. Your ideas all deserve to have their own time in the spotlight. Stick to one idea per slide and you'll keep your audience following your – undoubtedly genius – train of thought.
One last – kind of brutal – note on this: if you're worried that some of your ideas haven't got the power to carry a whole slide, perhaps ask yourself whether they should be in the deck in the first place? A shorter, more concise, and clarified deck is always better than a rambling slog down a long list of underbaked ideas.
Four. We're all dead confused about hybrid presentations.
If you don't know what the heck is going on with hybrid, join the club. It's new to all of us, and there are a bunch of obstacles to overcome. But you can rest easy knowing that the fundamentals of storytelling do not change. Something that, it seems, many of you didn't know until this second.
Your hero doesn't change. Ever.
In fact, if you're forced to cater to both an in-person and an on-screen audience at the same time, it's even more crucial to make every single attendee feel like the star of the show. We shout about it all the time. It's kind of shocking that you haven't heard us.
So, naturally, we were miffed when we saw that 25% of you thought your products or services should be the hero of your hybrid presentation story. Another 12.5% thought you personally were the hero, and 4.2% thought your company was the hero. We'll say this slowly and loudly for those of you who weren't paying attention before. Your. Audience. Is. The. Hero.
What challenge is unique to hybrid presentations?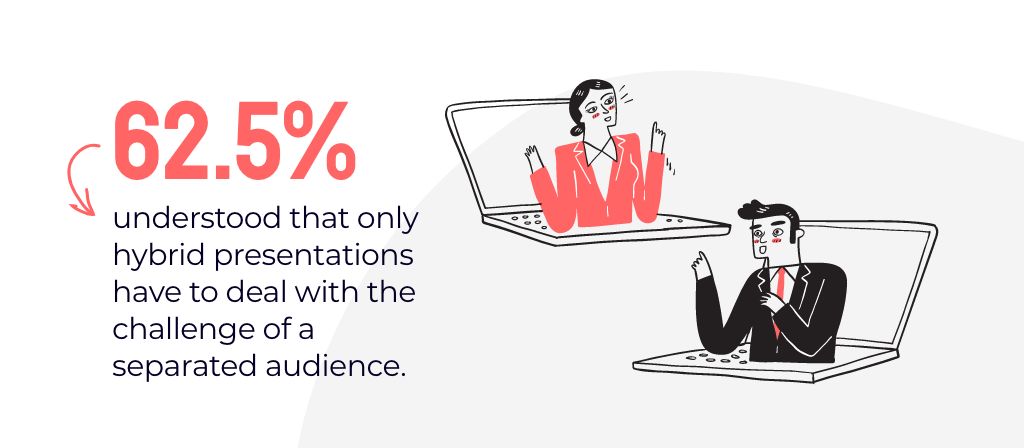 Honestly, we thought this was an easy question. Something everybody would get right straight away, so you could all score a lovely little self-satisfied dopamine hit. And, for the 62.5% of you who understood that only hybrid presentations have to deal with the challenge of a separated audience, we were right. But the rest of you are big ol' buffalosers.
Distractions, technological glitches, and an imperfectly set up room are challenges we need to overcome for any presentation. Audience separation, though, is a challenge that most of us never had to face before 2020.
But how do we overcome this?
By not doing them.
We know you're here for solutions, but we're here to tell you the facts. And hybrid presentations will never work as well as choosing one delivery method and sticking to it.
If you can, it's best to get your entire audience together in the same room. Treat it like a super-fun team building day, but without the cringey morale-lifting activities. Or with them. You do you.
If it's not feasible to get everyone into the same room, we'd recommend setting up your presentation as 100% virtual. Fully virtual presentations have their own set of benefits, like being more accessible, ease of collaborative creativity, and – best of all – you can mute everyone until you actually want to hear from them. Bliss.
Five. The jury's out on what the hell a template is.
If you're part of the 42% who incorrectly identified a presentation template, don't beat yourself up. It's a vague term. To clarify, a presentation template is simply a set of empty slide layouts, ready for you to fill up with interesting stuff.
We think of templates as presentation blueprints. If you give your team a professionally-made, robustly-built template, every future presentation will visually toe your brand line without them needing to wade through super-dense brand guidelines every time. Keep your presentations consistent and protect that all-important brand identity.
Six. You're fiddling and it's going to get you in trouble.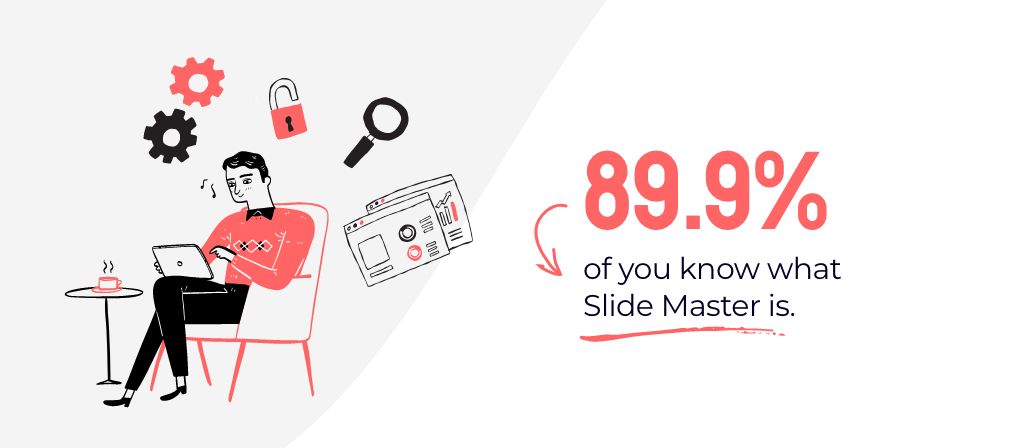 What really stood out across all your responses, was that 89.9% of you know what Slide Master is. Or you all took a lucky guess, which seems unlikely. While we're certainly impressed, it's also cause for concern.
This suggests you've been poking around in the back end of PowerPoint. Which is fun, sure, but will almost definitely lead to presentation chaos. Consider this a stern warning.
We recommend leaving Slide Master to the Presentation Experience Specialists. We try as hard as we can to make our templates unbreakable, but all bets are off the second you enter the Slide Master.
Seven. You could all be making so many more mistakes.
Making mistakes is the best way to learn a new skill. You have a go, it all goes udders up, you wipe the slide clean, and you start again. But only 24.6% of you know that you can set PowerPoint up to let you hit undo 150 times before it asks you to take a good hard look in the mirror.
Go on, give yourself permission to make more mistakes by heading to File, selecting Options, going into Advanced, and clicking into Editing Options.
Eight. You're all being sold to way too much. It's making you suspicious.
We asked you which app is best set up to help you with your presenting challenges. Because we are sneaky tricksters, we threw a Buffalo-branded red herring in there, and 68.8% of you bit down hard.
In truth, there isn't a Buffalo 7 app. Because, at the end of the day, we're all about that human:bovine interaction. The richness of all our training lies in the meeting point between your enthusiasm and our expertise, which is tricky to capture in code.
While speech-coaching apps, like Orai, can certainly help you increase your impact, a personalised and hands-on training experience from your friendly neighbourhood presentation experts will set your entire team up to create engaging, inspiring presentation experiences in house, with ease and with confidence.
Oh, and if you're the one person that thought the answer was Tinder, please do not get in touch. We can't help you.