Six years is a long time in software development. PowerPoint 2016 contains a raft of improvements over its predecessors. Can you spot what's changed?
Change is inevitable, especially when that change involves enterprise software as popular as Microsoft Office. Tools that we take for granted, such as Excel, Word and PowerPoint, first debuted decades ago and have since gone through numerous iterations. If you're a regular PowerPoint user, it's safe to assume you're no longer using PowerPoint 1 – that was the version that debuted way back in 1987. The following eight versions can also be discounted.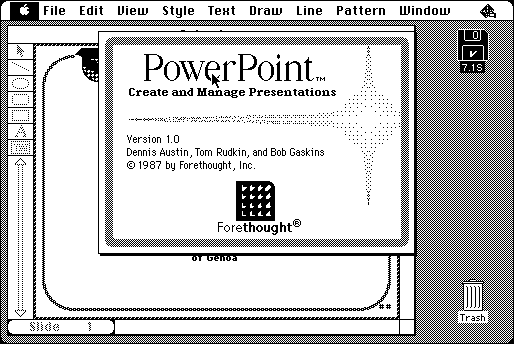 It's possible that you might still be using PowerPoint 2010 however. Version 14.0 of Microsoft's popular slideshow presentation software (version 13 was skipped for superstitious reasons and there was also a jump from 4.0 to 8.0) is installed and actively used on millions of desktop computers. It's since been superseded by PowerPoint 2016, but that's not to say this iteration has been universally rolled out; many business are slow to update their software for organisational or budgetary reasons. They're too stingy or too busy in other words. It's thus entirely possible that you're still using PowerPoint 2010.
Even if you are equipped with Microsoft's latest and arguably greatest build of PowerPoint, it's worth familiarising yourself with the differences between 2016 and 2010. That way, if you're working out of a different office or are sharing a PowerPoint doc with colleagues, you'll be aware of features that may be missing when opening a 2016 doc in 2010. Microsoft also released PowerPoint 2013 in between it should be noted, but we're mostly interested in 2010 and 2016, for these are the versions you're likeliest to encounter in the workplace.
#Team2016
The biggest improvement that came with PowerPoint 2016 was the ability to collaborate through Sharepoint in Office 365. 2016 is all about the team thanks to features such as co-authoring that allow users to edit in parallel and real-time typing that allows you to view co-workers' edits as they're being made. This is great for working on large projects, especially when the clock's ticking and the deadline is looming. Forget about waiting impatiently for your colleague to finish their section so you can start on yours: 2016 lets the team work as a team. In that respect, PowerPoint 2016 incorporates the sort of features that have been available in Google Docs for some time.
The co-authoring feature that was incorporated into Office 2016 has been well received and can be regarded as a successful enhancement. Other elements that made their way into Microsoft's latest iteration of PowerPoint have proven more contentious. Some users have complained that despite Office being a supposedly integrated suite of tools, elements such as footnotes and TOC still have to be manually inserted. The share ribbon that appears in PowerPoint 2016 (as well as in Excel and Word) has generally been met with approval, though not everyone is a fan. Those who resent this feature would be advised to stick with PowerPoint 2010, or even 2013.
What else is new in PowerPoint 2016?
There's integration with OneDrive for starters, which is handy. Thanks to built-in OneDrive storage, saving and sharing PowerPoint documents is easier than ever and you're less likely to lose work due to system crashes or failure to backup data. PowerPoint 2016 also has improved version history, which is just another way in which Microsoft have reduced the stress that comes from collaborating on documents and running the risk of inadvertently overwriting a colleague's content. Slides that have been modified by others are now highlighted in green in the thumbnail panel to the left. Click on the thumbnail and you'll be able to see the area that was changed and who changed it.
Other features that come with PowerPoint 2016 are more subtle, or at least less likely to be encountered by most users on a daily basis. For instance you can now add closed captions for video, making it easier to show video-embedded slides to audiences who speak other languages or are hard of hearing. PowerPoint 2016 also has a new start screen that allows you to quickly open recently viewed documents and to access presentations that are stored online as well as locally.
Microsoft have made it easier to customise the templates and themes that come with PowerPoint 2016 and introduced an eyedropper tool that allows you to copy colours from other objects, making it easy to match colours. Then there's the ease with which YouTube videos can be dropped into presentations and images can be searched and inserted into a slide with the aid of Bing. PowerPoint 2016 also boasts a raft of smaller improvements over 2010 and 2013 including shape merging (a feature that lets you combine existing shapes), improved smart guides for aligning objects, threaded comments and better touch support, making PowerPoint easier to use on tablet devices.
Our favourite PowerPoint 2016 additions
The new features described above from PowerPoint 2016 are not all you'll get when upgrading. If you're an Office 365 subscriber every time Microsoft release something new, you'll get it automatically. Here are our designers' absolute favourite additions to PowerPoint in the past year:
Zoom – Allows you to jump between sections and access your slides in a nonlinear fashion.
PowerPoint Designer – Improves your slides by automatically generating design ideas that you can choose from.
Morph Transition – There's 46 transitions built into PowerPoint but this one's new and it morphs one slide into the next by changing shapes, moving objects over the slide and fading in new objects
PowerPoint Icons – If you're an Office365 subscriber there is now a bank of SVG icons built in which are really useful. As it's an SVG it means you can edit these icons from within PowerPoint.
6 New Charts – For years PowerPoint relied on 10 chart types but now there are 6 more giving you greater options when displaying your data.
ALT Text – You can now add alt text to a variety of objects, such as charts, pictures, SmartArt, shapes, and tables which describes what the visual is. This is useful for people with vision or cognitive impairments who may not be able to see or understand the table.
PowerPoint 2016 isn't unrecognisable from the build that was released six years earlier. In fact the core features remain unchanged and you shouldn't encounter any major compatibility issues when opening documents in one versions that was created in the other. While some features, such as the customisable ribbon toolbar, remain divisive, few would dispute that PowerPoint 2016 is a slicker and more user-friendly beast – a multiple user-friendly beast in fact, one that makes it easy to collaborate, share and edit documents on the fly. PowerPoint 2010 still does the job; PowerPoint 2016 just does it that little bit better.