Outsource your presentation design and focus on the things you do best, leaving your presentation in the hands of the experts.
Nowadays, you can't envisage a business pitch without a presentation. With the advent of PowerPoint and its evolution to total domination of the presentation software market, presenting became accessible to everyone. They're now the go-to – and for some, the only -communication tool used in professional environments.

Much like business attire, you wear your presentation like an accessory that represents your brand. You carry it with you to meetings, conferences and events, and are judged by it on both a surface and intellectual level. You're judged on how it looks, how you organise information, and how you put forward ideas. This is why presentation design, as the instrument through which you visualise and showcase your messages, is so important.
But can you do it alone? Is the Google image library and a few bullet points sufficient to get your ideas across? Probably not. Outsourcing presentation design can introduce you to a whole other side to PowerPoint presentations. When you explore the pros and cons, the balancing scale tips in favour of outsourcing. Let's find out why.
Outsourcing design saves time
Most people aren't Photoshop savvy. If you're not trained in image editing software, you'll have a hard time designing your slides. Designers have a natural flair for creating visuals and are professionally trained, so they know exactly what tools they need and how to find them. Their experience will have taught them the ins and outs of font selection, colour combinations, image alignment and so much more. They'll make efficient design decisions, whereas someone who isn't trained will waste too much time testing ideas out and scrapping them. But if you give the project to specialists who create all day every day, you'll free up time to perfect your delivery.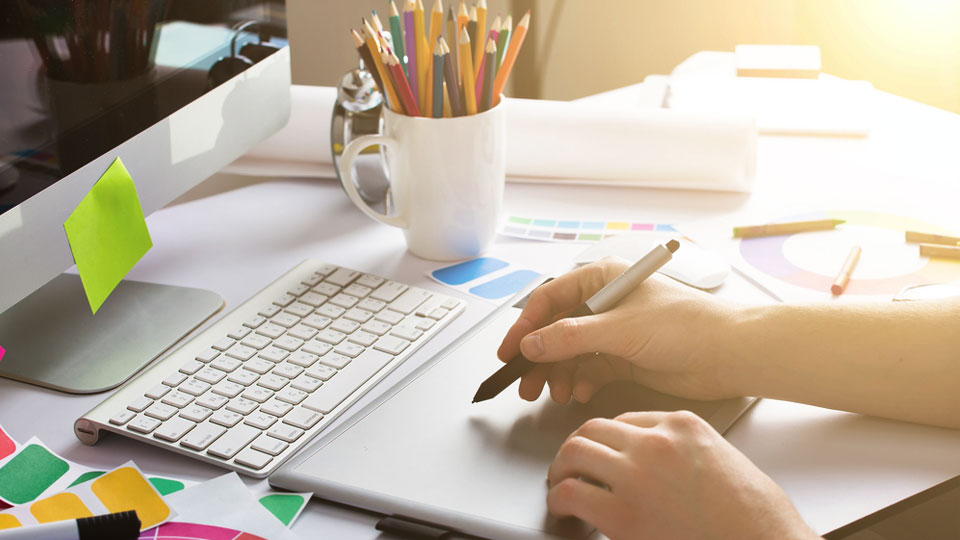 Professional design strengthens your brand
Professionally-designed icons, graphs, charts and illustrations can really transform how an audience perceives your brand. How your slides look matters. The audience will react to what they see. If you opt for low-resolution images that you've dragged from Google, the audience will be able to tell. If you pair neon colours together, the explosion of bright on bright will clash and overwhelm the audience. If you put text in a pastel colour, they'll probably have to strain to read it. Bad design stands out. Make a bad design decision and you'll detract from, instead of enhance, your message. But if you outsource it to someone who's got an aptitude for visual storytelling, they'll use imagery to strengthen the impact of your message and help it resonate.
Outsourcing maximises productivity
Sometimes, things are better off done in-house and sometimes, outsourcing makes things easier. If you're in a situation where you're feeling the time pressure, there's no need to add presentation design to your to-do list. Outsourcing doesn't just save you time, it eases the pressure. Why put yourself through the fuss of designing your presentation when you can hire a professional to do it for you? Sharing the load will make it much easier for you, and boost your productivity by giving you time to focus on strengthening your weaknesses. If your nerves are running wild, you'll have more time to practice. If you think your message is missing something, you'll have time to find that elusive final piece of the puzzle.
Tap into best practice presentation design principles
If you're not part of the presentation design industry, you're probably not aware of general best practice principles. Most professional designers can identify a poorly-designed slide in a heartbeat. But how are non-professionals supposed to know what common mistakes to avoid? Far too many people go down the bulleted list route, without knowing that there are better ways to list information. Overcrowding slides with information is a recurrent blunder for the untrained presenter, as they cram all of their ideas into a few slides and overwhelm the audience with information. By reaching out to a design professional, you'll avoid having to tread the risky minefield of presentation design.
The options
If you decide to go for an outsourced presentation design agency, there are a couple of routes you can go down. Freelancers are usually the more affordable option, as they set their own rates, but you run the risk of losing quality. Freelancers don't report back to anybody, so the standards they maintain are usually set by themselves and the only person performing quality control is them. Agencies don't have this issue. You'll usually be working with a team of people who stick to strict company-wide checking procedures. And you'll be able to seek out guidance from a broader pool of experts, which will enhance the quality of the output.
What should you look for in an outsourced design agency?
Always ask for examples of slides they've done before. A designer's work is the evidence of their competency. If you like their style, you're off to a promising start. Check out their clientele too. If their work is good enough for an established, global brand, it's probably good enough for you too. But don't just focus on the work itself, make sure you actually get on with them as an agency. You'll be working with them on a project that matters to you, so communication is key. You've got to trust that they'll do a good job and be confident in their ability to evolve your ideas.
Overall, outsourcing presentation design makes the creative process much more streamlined and professional. There'll be no stress on your part, and you'll have confidence that your presentation is left in the most competent hands.