On 1st October, we announced that we had been shortlisted for the Amazon Growing Business Awards 2018. We were hugely proud to make the final five alongside four other amazing creative businesses. It was a real achievement for a very niche design agency like ours to even be considered in an extremely diverse category.
Well, (and I'm sure you saw this coming, probably from the massive image above) we only went and won it, didn't we?!
Buffalo 7 is officially the Creative Industries Business of the Year 2018. Since refocusing as a specialist presentation design agency in 2014 (originally being a full-service agency), we have gone from strength to strength. We've grown at a rapid rate since then, and our focus on innovation in presentation design, storytelling, and development has made the large full-service agencies sit up and take notice.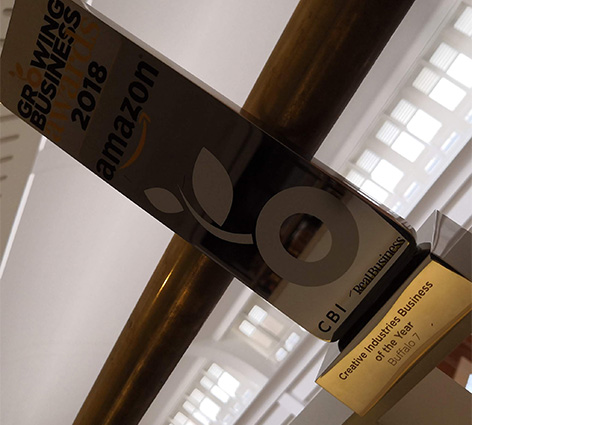 After being shortlisted, Managing Director, Rich and Client Services Director, Gary attended an interview in London where they spoke to the judges about what we do and why we're so unique. PowerPoint is often seen as the villain, but, as we've always said, it's an amazing piece of design software when you really know how to use it.
Rich said, How wonderful to receive this award for all our hard work. For thinking different. For not seeing PowerPoint as a hindrance, but an opportunity. For re-shaping client thinking into storytelling, not presenting. For making clients find us, understand us and love us. For rethinking how to structure and deliver a PowerPoint brief and encouraging clients to try new things.
For having fun with creative, and innovating constantly in how we bring that to life through an expert understanding of one piece of software that most people see as 'crap'."
Having very recently become a father for the second time, Rich couldn't make the ceremony but Gary and Communications Director, Chris were in attendance.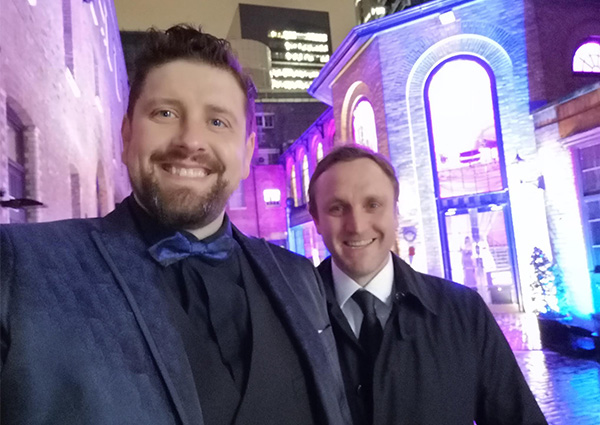 The awards, presented by Sally Phillips, took place at The Porter Tun at The Brewery in London and the announcements began after dinner.
Nerves and excitement were building as we were one of the later categories to be announced, but at shortly after 10pm, Chris and Gary took to the stage to collect our award after being described as "motivational" by the judges.
One of the companies described as "motivational" by the judges has won the Creative Industries Business of the Year at tonight's #growingbusinessawards. Say hello to @Buffalo7, a design agency extraordinaire pic.twitter.com/2ZQuw55qsO

— Real Business (@Real_Business) November 28, 2018
On receipt of the award Chris said, "As a team, we pride ourselves on exploring every avenue of creativity throughout the client journey.
Honestly, it took some guts from the judges to choose us above some of the more 'traditional' creative disciplines, like video, art and branding.
But once they understood our unwavering commitment to put creativity at the heart of what we do, our unique approach to every single project shone through.
We never settle for a good job. It's in our DNA to innovate until we've produced something amazing to help our clients tell their stories.
I was delighted to accept the award on behalf of our Buffalo family, who fully deserve this prestigious accolade."
For a design agency that specialises in presentations, and primarily using a piece of software that other design agencies refuse to touch, it's an immense achievement and we want to shout it from the rooftops. But it's pretty dangerous up there, so we'll use our blog as our platform instead.
Now, I know what you're thinking: 'how can i congratulate you Buffalos on your achievement?' Well, I've made this easy for you…..
Congratulations Buffalo 7 on winning Creative Industries Business of the Year 2018 at the Amazon Growing Business Awards! – Click to tweet