An absolute pleasure working with you guys on this project. Well managed, great communication, great design and build. Fantastic result.
Navigate this case study
The client
Totalmobile is a market leader in field service and mobile workforce management technology, empowering over 250,000 frontline workers to transform their service and deliver exceptional results.
The challenge
Totalmobile understands the power of brand. Recognised by Innovate NI as a Platinum-level Innovator, the work it does is cutting edge and forward thinking. But its out-of-date brand style was telling the wrong story. The smart option was to invest in its business with a full rebrand. Totalmobile knew that having its brand accurately represented at every internal and external interaction, – from the website through to its marketing materials – was the only way to get clients to buy into the purpose behind the business. No stone left unturned. And that included the presentation assets, which is where we came in.
Presentations are an incredibly powerful tool for Totalmobile, and it needs to know its slides can perform at critical moments: to win new clients and grow relationships with existing ones. However, the 250+ team members present frequently, and often with little time to prepare, so having every presentation pass through a specialist design studio isn't an option. Instead, our client wanted to give each team member the power to create their own beautiful on-brand slides, with minimal effort and consistent results.
Our solution
To us, the solution was obvious. Totalmobile needed a robust, beautiful, and easy-to-use template. However, the client had a bad track record with presentation templates. Having worked with agencies who weren't specialist presentation designers, it had been left with assets that made the users' lives harder. As Totalmobile had tried to fix this problem on more than one occasion, multiple templates were circulating the business, and none of them were doing the job. We needed to show them that a well-constructed template would improve its communications, unlock exponential value from the sales teams, and increase employee engagement.
The template we created will serve as a blueprint for all future presentations that the teams at Totalmobile need to build. Layouts, graphic assets, colours and fonts are all prescribed, taking the manual labour out of building stunning slides.
The template offers uniformity and control over visuals, which is vital to projecting a quality image of the brand in face-to-face communications. By giving the teams this tool, our client can ensure it'll be maintaining a consistent brand identity when representing the company, as well as saving time when it comes to building decks. This will free the teams up to focus on the really important stuff.
Branding is just as important internally as it is externally. By investing in a template, Totalmobile is showing its people that it's listening to their pain points and finding solutions. Totalmobile employees now have the tools they need to succeed. They can quickly and easily create slides they're proud to stand in front of. And in return, Totalmobile has every member of the team telling the same story.
Consistency across the brand
With a rebrand this fresh, the client's website was our greatest source of design inspiration. The site builds subtle layers of motion as you scroll: a tricky design element to replicate in a static template, but our designers love a challenge.
Movement can be suggested in a number of ways, without even venturing near the animation pane. For Totalmobile, we created layers of content in stylised boxes that appear to float above the slide. Adding these to the Slide Master would've restricted the flexibility of these assets, so we created a pre-loaded slide within the file that's ready and waiting when they click to open. This gives the user more control over how they present their information. They can edit to suit, and simply copy and paste the assets onto the relevant layout to create the layers themselves.
Another source of inspiration taken from the website was the button styling. As we were designing for a range of skill levels, we didn't want to create a complicated menu system. By integrating buttons, we've given the user the option to hyperlink for navigation or simply use as a visual prompt as to what's to come on the next slide.
We created layouts that reflect those found on the site, but revised these to be easy for the teams at Totalmobile to populate. We then developed further layouts based around the content the client regularly needs to present, resulting in a comprehensive, but not overwhelming, library. The brand guidelines were informative enough to give our designers direction, without being prescriptive. This allowed our team to have a little fun and show the client new ways to interpret their brand.
Consistency across all future presentations
Logo and colours
Totalmobile's bold colours are recognisable enough to cut the logo some slack, so it doesn't have to appear on every slide. For key statement slides and chapters, where content is minimal, we took the opportunity to go big with the colour overlays and strip all excess slide elements away: logo included. There's still no doubt in the audience's mind as to who these slides belong to.
On heavier content slides, we placed the logo within a footer bar, and in the Slide Master, to make sure it stands out, remains on brand, and has a consistent anchor point, without having to be manually added. This is a fresh, modern brand and they deserved a modern take on the traditional PowerPoint footer, with a curve reflective of the logo and a separate shape to hold the page number.
Typography
The font a brand chooses can become as famous as their logo, and font choice is incredibly important to presentation design. Many of our clients choose to use a system font for their presentations, but Totalmobile can guarantee complete control over how their slides are presented, giving us the opportunity to work with their custom font: Exo 2. This allows for complete consistency across all assets: both digital and print.
Text placeholders are pre-formatted so all the employees at Totalmobile need to do is click and start typing. The font choice, colour, size, and style are automatically applied.
Imagery
The Totalmobile website adds layers of texture to imagery and video, with colour overlays and line graphics. We wanted to give everyone at Totalmobile, regardless of design and presentation skill level, the tools to recreate these brand assets. Using clever layering within the Slide Master, we created layouts that add this effect to any image, as well as some layouts that have the images already in place.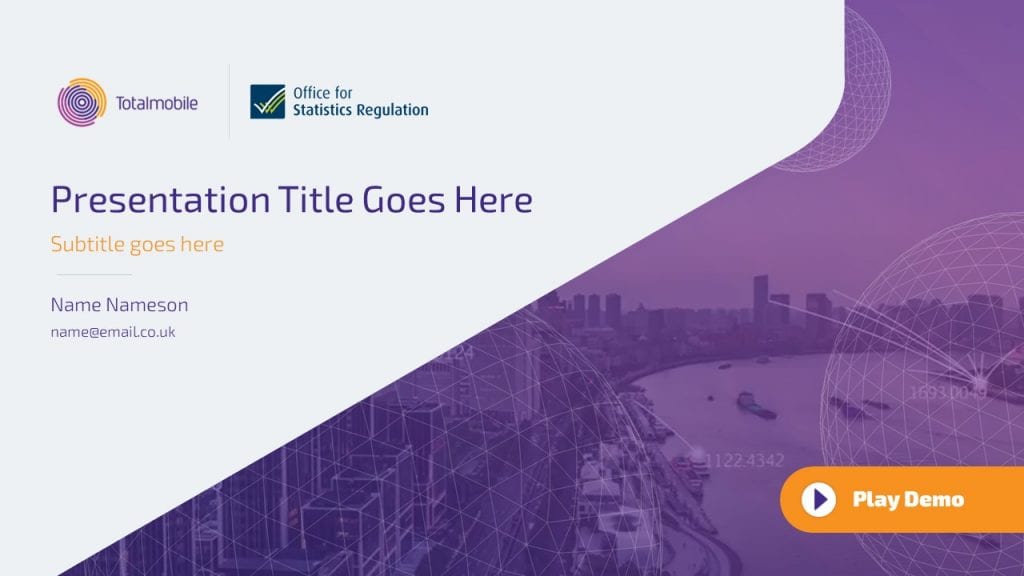 Totalmobile has some beautiful imagery, but our client still wanted to give its people the autonomy to choose how they communicate their message. The layouts we designed work just as well with imagery, as they do without. And adding or changing an image takes just a few clicks.
Data visualisation
Data is the driving force behind everything Totalmobile does, which means it often have to present data too. But this doesn't mean its audiences should be subjected to slides and slides of ugly charts and meaningless tables. We encouraged the client to put its best foot forward by providing layouts that highlight the most important statistics.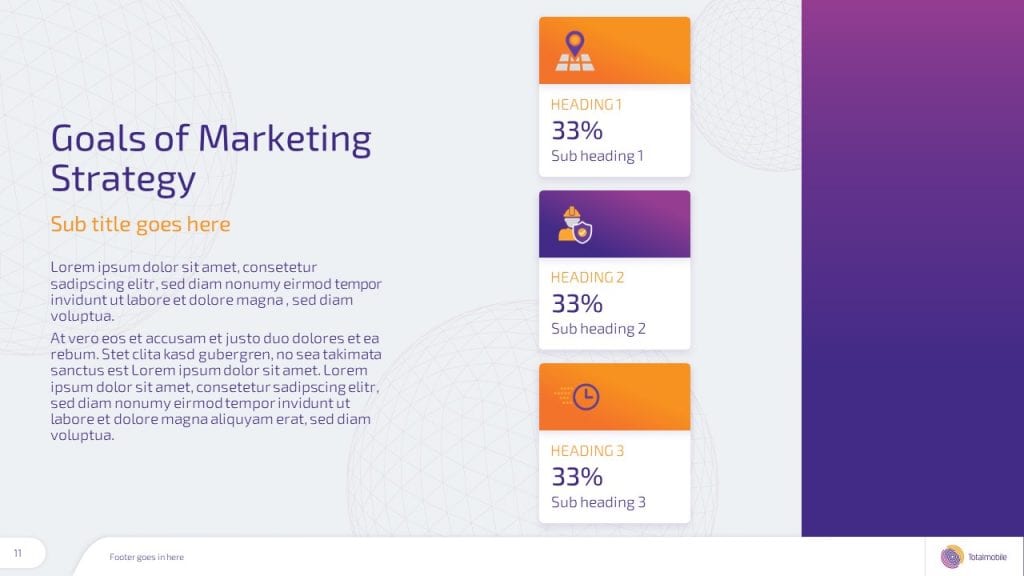 And, for peace of mind, Totalmobile can add all the excess data to a stylised chart and hide the slide in the appendix, in case any audience member would like to know more.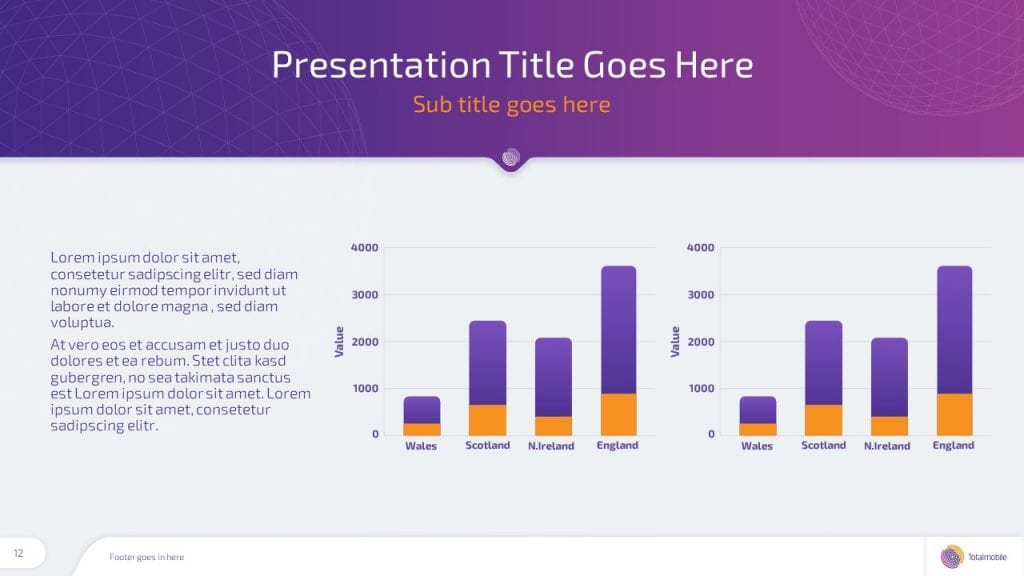 The response
Our mission to change Totalmobile's opinion of PowerPoint templates couldn't have gone better, with the client summing it up best:
"Just a really well-managed project. The final result fixed an issue the company has had for many years.

I think people don't really understand the benefits of a professionally-done template. People tend to think of it as an add-on to the end of a brand or website project."

Stephen Taylor, Head of Digital
And we hope the fantastic results continue for the teams at Totalmobile as they use their new presentation foundation to build consistent, beautiful, and on-brand presentations that are sure to persuade clients to buy into this innovative company and its core purpose.