When your presentation isn't overly corporate, using custom fonts can liven up your PowerPoint and show a bit of creativity.
Last month, we wrote a post entitled 'The Only 6 Presentation Fonts You'll Ever Need'. Now we stand by this, and if you choose one or two of these six when you're delivering a business presentation, you won't go far wrong.
However, what if you're not delivering a highly corporate business presentation?
What if it's an internal marketing presentation, and you work in one of those offices with a ball pool and a pet pug?
Or you're pitching for investment for a new piece of graphic design software you've created?
In these cases, a bit of creativity with your fonts would not go amiss.
How to install custom fonts in PowerPoint
First things first, how do you install custom fonts in PowerPoint? When you've found a custom font or two that you love – be it on Google Fonts, Adobe Typekit, My Fonts or wherever – you first need to install to your PC or Mac.
Start by downloading the font.
Windows
Find the font file that you downloaded. It's probably in a zip file and located in your downloads folder.
Double-click the font file and it will open in the Font Previewer.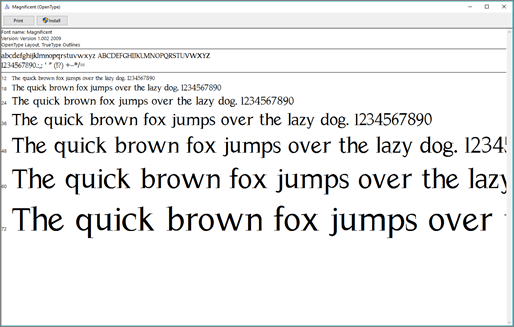 Click Install at the top left.
Mac
Find the font file you downloaded – it likely has a .ttf or .otf extension and it's probably in your downloads folder. Double-click on it.
NOTE: If the font file has a .zip extension you need to open that .zip file and open the font file from there.
It will open in the font previewer. Click Install Font. It will open in the Font Book.
In Font Book, drag and drop the font to Windows Office Compatible to make it available to Microsoft Office.
After you've installed the font(s) (be it on Windows or Mac), you need to restart PowerPoint for it to appear in your font list. You will need to install the fonts on all the devices that will show your presentation.
If you don't, font substitution will occur, and trust us – that's a nightmare you really want to avoid.
Our favourite custom fonts for PowerPoint
There are millions of fonts out there (don't quote me on that, but there's a lot), so it can be tough choosing a custom font. These are our favourites that we tend to use time and time again.
This is the go-to font for just about anything. It's beautifully designed, and there are more weights than you could ever possibly use.
You do have to pay for this one, but if you have a subscription to Adobe, you get a license via typekit, which includes Proxima Nova.
It was created by Mark Simonson in 1994 as Proxima Sans. The original six fonts in the set have since been expanded into a full family of 48. 8 weights in 3 different widths with italics.
This is the only serif font that's made the list.
We don't recommend using serif fonts for body copy, as they aren't always the clearest, but for titles (or as a supporting font) they can work nicely and liven up your slides.
Souvenir works really well with Roboto and Futura. Roboto and Futura are classic fonts, but they don't come native to Microsoft Office, so they will need downloading and installing.
First created in 1989 by Julieta Ulanovsky, it is inspired by the old posters and signs in her neighbourhood in Buenos Aires. You guessed it – Montserrat.
It's been described by one of our designers as a "reaaaaal solid font. Hipster classic." I feel like that's the only description necessary. It works well with Open Sans, Roboto and …….
We love Raleway for its diversity. It was initially created by Matt McInerney as a single weight font, but has been expanded on by other designers, and is now a 9 weight family, which is really diverse.
You can get really nice thick chunky bolds for titles and extra light for a really sleek thin body copy.
A relatively modern font, Lato was created by Lukasz Dziedzic in the summer of 2010 in Warsaw. Lato is Polish for….?
It was originally created for a large corporate client, but they decided to go in another direction, so Lukasz made the family available for public release. In body text, it can appear quite similar to many other sans serif fonts, but when used in larger sizes its original traits become more evident.
There's plenty more custom fonts we love to use in our PowerPoint presentations, but these are our favourites (at the moment). They are perfect for differentiating your presentation a bit, but without going too far.
Elegant yet quirky.