2020 hasn't been short on anxiety, so it may be difficult to distinguish exactly where the source is. But one surprising cause has been identified. Introducing 'Zoom Anxiety' – a physical feeling of distress caused by video calls. But why now? After all, many of us have been using video calls to communicate for years.
With so much of the working world moving into the home, video calling tools like Zoom, Teams and Hangouts have become vital for keeping organisations communicating. Video calling software has seen an incredible boost in demand, at a time when most other industries have been struggling to stay afloat. But not all publicity is good publicity, especially when you get a form of anxiety named after you.
Many people feel unnatural and awkward when having to speak on camera and, for some, the pressure of having to perform so frequently on work video calls has lead to the rise of Zoom Anxiety – a physical feeling of panic when called upon to talk on video.
But what are the biggest triggers when it comes to video call anxiety? We at Buffalo 7 asked over 2,000 home workers, using their responses to compile our expert tips, so that you can overcome your Zoom nerves.
73% of people have suffered from Zoom Anxiety this year
It's clear that Zoom Anxiety is on the rise. When asked, 'have you experienced Zoom or video call anxiety this year?' an enormous 73% of respondents said yes. These findings are supported by Google, with a huge 180% increase in UK residents searching for the term 'Zoom Anxiety' between March and November of this year.
Being on a video call requires more focus than a face-to-face chat or a regular phone call, which might be why 76% of people said they found that video calls made them more anxious than telephone calls, and 48% found them worse than face-to-face meetings. Working from home has brought many challenges and a steep learning curve, with adapting to video calls being one of the steepest. For the majority of people, this unknown makes it harder to relax into conversations.
Which tasks are the biggest triggers of Zoom Anxiety?
So which tasks are causing the most anxiety?
Presenting – 42%
Interviews – 25%
Client meetings – 18%
Team catch ups – 15%
Of course, these tasks can be stressful anyway, but having to do them via video can add extra pressure that no one was asking for.
The biggest triggers of Zoom Anxiety
Respondents to our survey were given the opportunity to choose multiple answers in order to reveal the biggest triggers behind Zoom Anxiety.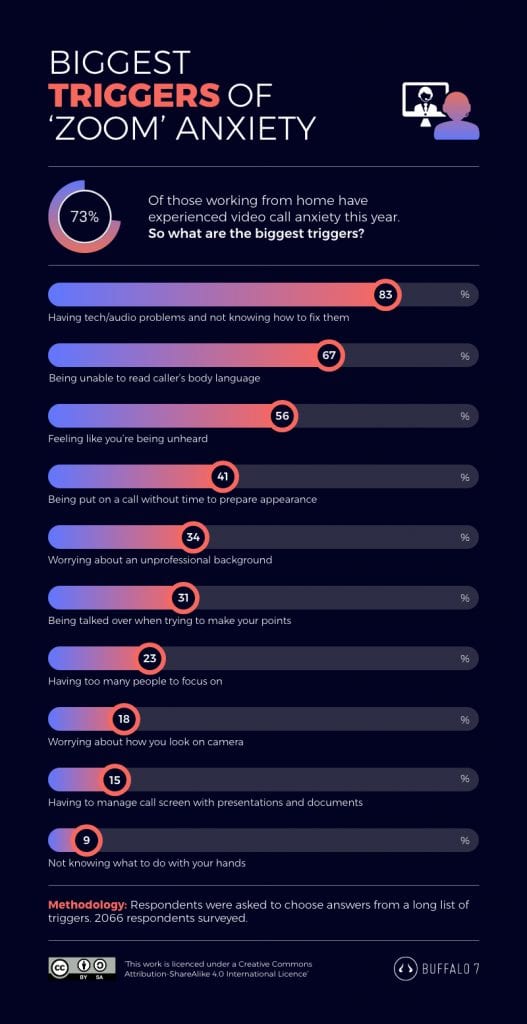 The move to home working has forced many to become their own personal IT departments, and this seems to be the cause of a lot of video call anxiety. An 83% majority highlighted having tech or audio problems – and not knowing how to fix them – as their number one trigger. Feeling like you lack the knowledge to fix the problem, with the added pressure of holding up clients and colleagues on the call as they wait for you to solve the issue, can make us feel incompetent – and enhanced levels of anxiety.
Video calls block the nonverbal cues we use in daily conversation, creating a barrier between us and the body language and facial expressions that we unconsciously use to aid our understanding, which can lead us to misinterpret the caller's tone and mood. This may explain why 67% said that being unable to read the caller's body language led to feelings of anxiety.
Scoring highly elsewhere was "feeling like you're not being heard", with 56%; "being put on a call without having time to prepare your appearance", with 41%; and "worrying about your background looking unprofessional", at 34%. It's clear from the findings that Zoom Anxiety triggers come from the removal of social norms that we're used to, as well as a blurring of lines between our personal and professional lives. As a result, the anxieties which occur naturally in conversations may be exacerbated the technology and the new situation.
It should be noted, however, that Zoom Anxiety may have extra causes. External elements, such as lockdown, Covid-19, job losses, or having to work from home may be adding to stress.
Overcoming Zoom Anxiety: our top tips for building your confidence
Presenting without anxiety
With 15% of respondents saying that having to manage the call screen alongside presentations and documents was a cause of Zoom Anxiety, and more of us than ever before now attending or conducting interviews via video, presenting through Zoom is clearly an anxiety-inducing activity. To help you overcome your nerves, consider these five quick tips:
Practice your presentation. If you're using PowerPoint to show slides, rehearse along with it so you know exactly what image is coming up next – this will help you cycle through slides smoothly. Make sure you know the basics of PowerPoint and how to solve common issues. For example, if your screen suddenly turned black, would you know to press B?
Treat video calls the same. Try and think of a video presentation as the same as a regular one, and react accordingly. If you move your hands around in real life in support of your messages, do so on the call. It will just make you feel more at ease. If interviewing, don't be afraid to exaggerate your actions. Smile more, laugh more; sell what you're feeling across the screen.
Be tech prepared. Test your presentation with a friendor colleague beforehand so that you're prepared for any potential tech and audio issues. Make sure you know how to share screens and how to fix common microphone problems. Check your internet connection before you start the real call.
Face your fears. Remind yourself that nobody ever died from doing a presentation; there is nothing to be scared of. Remember that you are coming across better on screen than you think you are, and any pauses which feel negative on the other side are probably tech related and say nothing about their mood.
Focus on the physical. If you suffer from anxiety in stressful situations, look at the things you can control. Eating healthily and exercising beforehand always help, and make sure you limit your caffeine intake before the call. The less stressed you are, the less anxious you'll be.
More tips on overcoming presentation anxiety can be found here.
Overcoming Zoom Anxiety on day-to-day calls
If you or one of your team members is suffering from Zoom Anxiety, follow some of these quick tips to help alleviate the problem:
Limit calls. Ask if a call is really necessary. It may be easier to add notes onto a shared doc, for example. Video calls may not always be the most efficient option.
Cancel cameras. Ask your boss if cameras are required on every call. If they are, try putting your camera on a side angle not face-on – you'll focus less on yourself.
Allow recharge time. Speak to others about limiting the number of calls a day. If it's not possible, make sure there's a set time between calls to recharge.
Give notice. Never drop anyone into a call without telling them in advance. If people have time to prepare, they'll be more organised and less anxious.
Communicate concerns. Now is the perfect time to over-communicate. Talk to bosses, talk to teams – if there's an issue, you never know who else is facing it too. Encourage conversations. Ask your boss for a private chat if you don't feel comfortable speaking in front of the whole team.
We're all doing our best to adjust to this strange world. The worst thing you can do for yourself, your colleagues, and those around you, is add undue pressure to an already-stressful situation. If you are kind to yourself, not only will you be happier, but every other area of your life, including your work, will be improved. Most of all, remember that we're all in this together and you're doing great.
Methodology
We surveyed 2066 who worked from home. Respondents were able to choose multiple responses when we asked about the biggest triggers of Zoom Anxiety, and these were then ranked.