Don't make your virtual AGM just another company meeting. Pull out all the stops to bring the party to your people.
Businesses around the world are showing incredible resilience, not only adapting to survive in this new working environment, but innovating to improve. If you're anything like us, your team has now truly found their groove. We've settled into new schedules, reinvigorated our productivity levels, found new sources of inspiration, and adopted seamless ways to communicate. Video communications software, like Zoom, has become part of our daily lives, bringing us closer to our friends, clients and colleagues, no matter the distance between us. Virtual company meetings are now part of the fabric of our businesses.
As we continue to keep the wheels in motion, many companies are turning their attention to the upcoming Annual General Meeting (AGM) season. It's inevitable that we'll need to adapt once again, marking the occasion with another digital meeting invite landing in inboxes company wide. But this shouldn't be just another digital meeting.
For many, the AGM is a special event: a chance for everyone to come together under one roof and celebrate successes, while looking forward to what's next. Team members that rarely have the chance to work together can catch up, employers find fun ways to encourage team building and idea generation, and everyone gets to dress up and enjoy the free bar.
This year, we may not be able to come together under one roof, but you shouldn't cancel all your big plans yet. With just a little creative thinking, careful consideration, and attention to detail, you can still pull off one hell of an event.
If you've come looking for practical tips to run a slick AGM, this isn't the article for you. This article on creating the perfect webinar is probably more suited. If you want to create a visual story that will inspire your team to go bigger and better next year, you should get in touch with us here. But if you want to make your virtual AGM as extra as Kanye West on a diamond throne, surrounded by peacocks, this is the article for you.
Be prepared
Of course, you should prepare, plan, and rehearse as much as you would for your usual AGM. In fact, more than you would usually, if you're one of the people we surveyed who only practice their presentation on the day of the event – but it's just as important that you give your team ample time to prepare as well. They may not be expected to stand up and deliver a slick and inspiring vision of the future, but the beauty is in the build-up, and getting that event invitation is the starting pistol for excitement.
But don't assume that if you choose an evening to run the AGM, they'll be in a position to just drop everything and turn up in the right mindset to make real, valuable contributions.
How you choose to announce the event is important in showing your team that this night is going to be just as classy, fun, and well thought out as previous AGMs, and the devil here is most certainly in the details.
Consider sending each team member an invitation pack, straight to their front door. Have real invitations printed, that they can stick on the fridge in anticipation. Include all the housekeeping, agenda, and preparation information they'll need, but also consider what you can include that will make them, and the night, feel special. Create simple goody bags, with a bottle of wine to make up for the lack of free bar, the ingredients and recipe for the meal you would've served, and decorations to hang in their own homes, in full view of their webcam.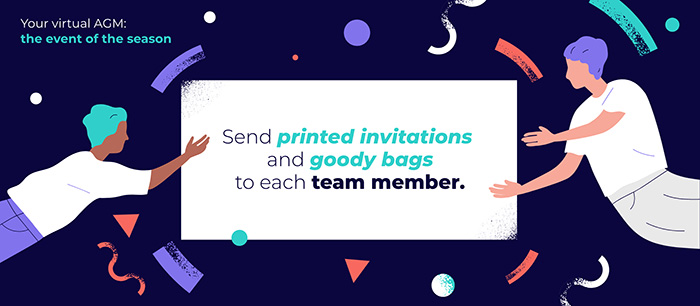 By considering each employee's experience from the very first communication, you're showing them you care about nurturing their existing excitement for the yearly get together and pulling out all the stops to ensure no one misses out.
Set a dress code
For many of your team, getting dressed up is one of the most exciting things about the AGM. Most will start planning their outfit as soon as the date is set, revelling in the opportunity to show how well they do, in fact, scrub up. Coincidentally, due to Zoom only capturing our image from the waist up, many of them will currently be struggling to muster the enthusiasm to even put on pants, so this aspect of your AGM is more important than ever.
Make sure you include details of the dress code in your invitation packs. Of course, if you're a trendy tech start-up, you don't have to go black tie, but choose your dress code and give your team the opportunity to scrape the working-from-home grime off and emerge from the shower, reborn and feeling good. You could even pick a theme for the event and tie the dress code in with that for beautiful cohesion.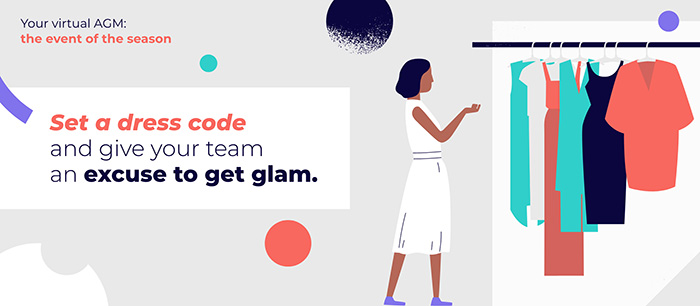 Include a plus one
For a lot of us, the line between professional and private has become blurred over recent weeks. Keeping curious kids, busy spouses, and oblivious housemates out of our makeshift offices during working hours is difficult enough, but extending that 'do not disturb' time into the evening can be close to impossible. Don't fight it, invite it.
We're not suggesting you invite the world and their wife to listen in as you impart company secrets and exclusive insights. For one thing, they're probably not interested if it doesn't involve them. However, adding a pre-presentation drinks section to the agenda, where your team can bring along members of their household, shows you've considered their home life, respect the additional pressure they're currently under and your company values of family extend to their family as well.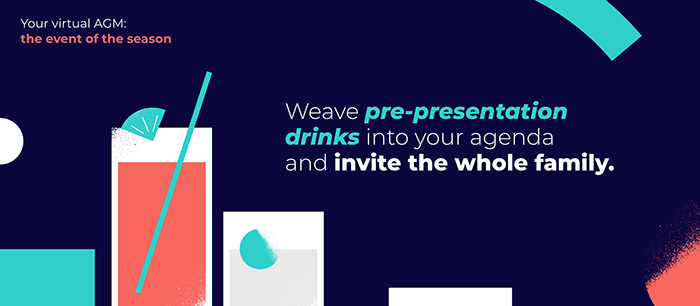 Dress the stage
Stepping onto a stage indicates to an audience that they should stop chatting and direct their attention in your direction. Without the luxury of a stage, presenters still need to command attention, respect, and demonstrate credibility.
At a minimum, make sure your video, lighting, and audio quality are top-notch. Don't wear checked shirts or stripes that could interfere with the visuals. If possible, stand to deliver your presentation, allowing your body language and movement to enhance your message. And consider creating a pop-up banner for each speaker, colour coded to match the presentation design, to be positioned behind them, covering the inevitable disarray of a remote-working household. This will add an instant air of professionalism to proceedings, as well as create a brand identity for the event.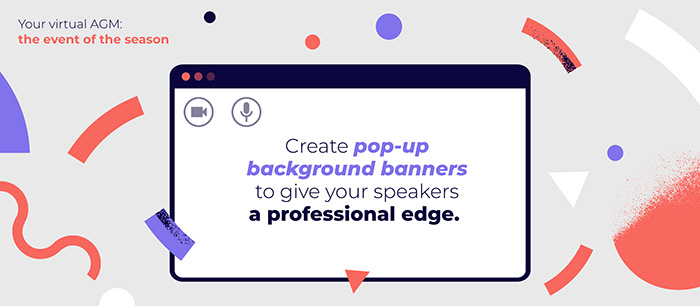 Be more interesting than a pile of washing
Making your AGM more inspiring than a basket of laundry may sound like an easy task, but the endless distractions in any home need to be considered when planning your event. Attending a meeting via VC makes it all too easy to check an email or reply to a text, instead of giving the speaker your full attention. As presenter, you need to make the meeting so engaging, they forget about all the chores waiting for them on the other side.
If you're just speaking at your team for twenty minutes, they may as well watch the virtual AGM as a video recording when they have some free time. You need to make it interactive and make it about them. Having your team all in one (Zoom) room, inspired about the future success of the collective, is the perfect time to encourage idea generation.
Use software, such as MURAL, to brainstorm process improvements, or form sites, such as Survey Monkey, to set up anonymous feedback forms and encourage no-holds-barred reviews. You can even integrate polling tools, such as Vevox, to gain instant insight into the temperature of the company.
No matter the activity you had planned for your face-to-face AGM, with just a little lateral thinking, you can recreate the magic virtually. A successful leader doesn't tell their team what the next steps are, they figure them out together. Don't lose sight of this now, as strong teams are more likely to successfully navigate the unknown roads ahead.
Don't forget the evening's entertainment
Many organisations take the opportunity to turn their AGM into the biggest event on the company's social calendar. And there's no reason this year should be any different. You just need to be careful how well your chosen entertainment will translate across the airwaves. Sure, music can be played via Zoom. But just because it's possible, doesn't mean it's a good idea. Paying a band or comedian to 'entertain' your team during a virtual AGM will only be met with awkward chair shifting and a poorly-concealed look of horror in the eyes of everyone involved.
Instead, consider inviting a guest speaker to inspire them. Choose someone they respect, and who can impart wisdom that's relevant and interesting to them. And make sure you leave enough time for a Q&A, so they can feel as though you were really thinking about them and not just what would make your company look good in the press release.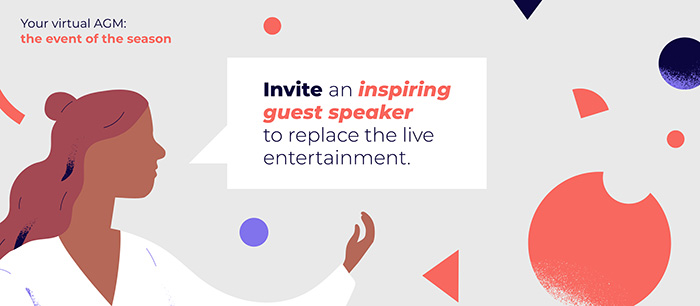 Alternatively, check out our PowerPoint party ideas to create your own entertainment and keep the party going, well into the night.
Your virtual AGM is the perfect opportunity to set the tone for the year to come. This year, show your team that you're prepared to go the extra mile, and encourage them to do the same.