For thousands of years, men dominated the history books and women were forgotten. While most influential women were overlooked by the history scribes, every so often a woman came along who no one could ignore. Now when we look back through history, we can see an abundance of powerful female figures who positively changed the world and left their own unique, indelible mark.
International Women's Day is all about celebrating such women and shining the spotlight on the social, economic, cultural and political achievements of women globally. We're going to take a look at some of the most formidable women in history, their powerful quotes and why they're so significant in the records of women's achievements.
Emmeline Pankhurst
Radical feminist and leader of the British suffragette movement, Emmeline Pankhurst was a major influence in the achievement of women's right to vote. Remembered for her unwavering courage and commitment to the cause, Manchester-born Pankhurst was arrested, force-fed and tortured numerous times. But she never gave up and her suffering wasn't for nothing. After years of frequent imprisonment, torture and resistance, her campaign for women's suffrage achieved success just after she passed away in 1928. She revolutionised the lives of women and has secured her spot as one of Manchester's greats.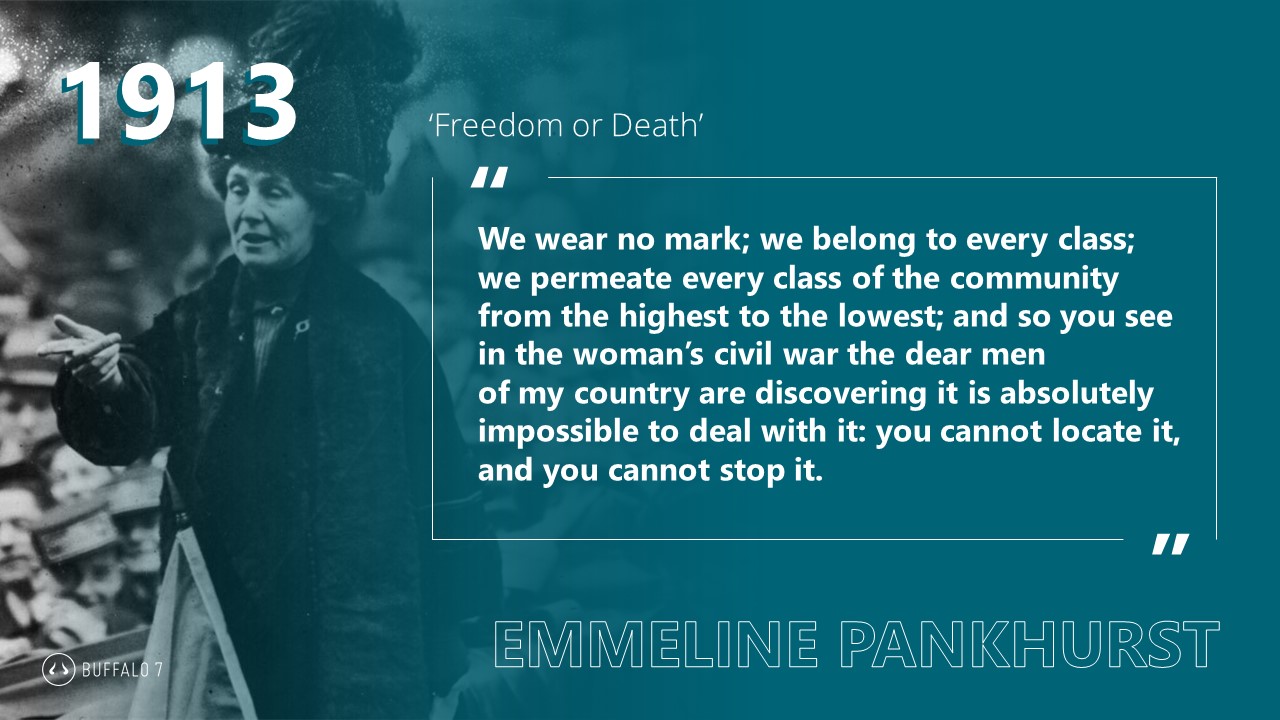 We teamed up with Dr Lanie Preswood, communication professor at Hollins University in Roanoke, VA and a national champion in competitive public speaking, and asked her to examine each of these quotes. Dr Preswood said: "Pankhurst's speech combats the assumed inferior status of women with the inevitability of progress. By creating a united front of women across class, nationality, and other status markers, she conveys an aura of empowerment that emboldened her suffragette listeners."
Virginia Woolf
The woman behind pioneering feminist works in literature and a key figure in the modernist movement. Virginia Woolf's literature was groundbreaking; she lived in a time when women were granted few rights but she didn't let that hold her back. She rejected the limitations placed on her as a female writer and proceeded to publish a range of literary works, some of which are considered cult classics. Virginia pushed the boundaries of being a female author and is largely responsible for overturning societal attitudes about women's intellectual capacity. Her feminist essay 'A Room Of One's Own' examines women's role in literature and puts forward ideas about female independence. It's so great we're quoting it.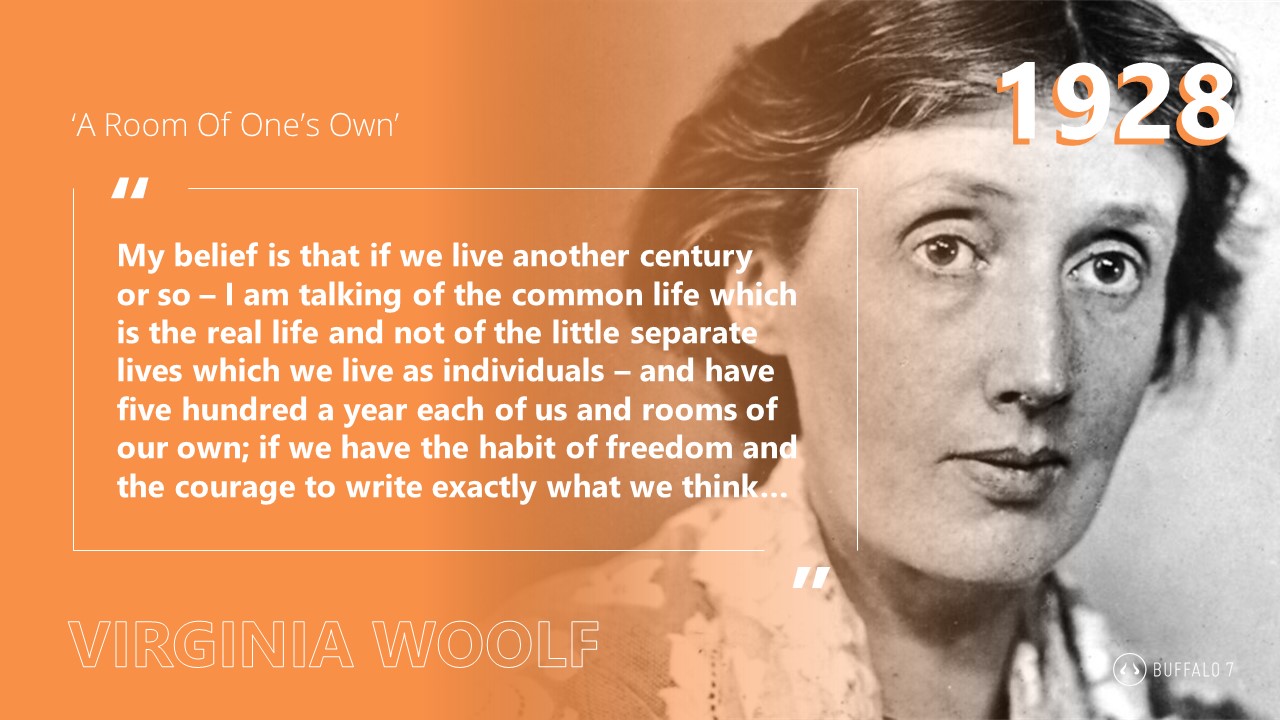 Lanie Preswood commented: "Woolf uses a dramatic device here known as a caesura, an extended pause in between two segments of connected thought (signified in text by hyphens or em dashes). Purposeful silences are a critical part of a strong public speaker's toolbox; they allow the audience to reflect on and analyze what they have just heard, and they give the speaker time to collect herself, breathe, and focus. A Room of One's Own originally was delivered as a lecture at Cambridge University. Woolf shows an acknowledgement of the educational setting by considering the needs her listeners might have to take notes and process their thoughts."
Betty Friedan
Betty Friedan was a queen of the second-wave feminism movement. Her book 'The Feminine Mystique' refuted gendered stereotypes about the roles and responsibilities of women. The book explored the idea that women can find fulfilment outside of their traditional role. She played a huge role in helping advance the movement and was a co-founder of the National Organisation for Women. The work she started is still in development by the women's organisations that she helped establish.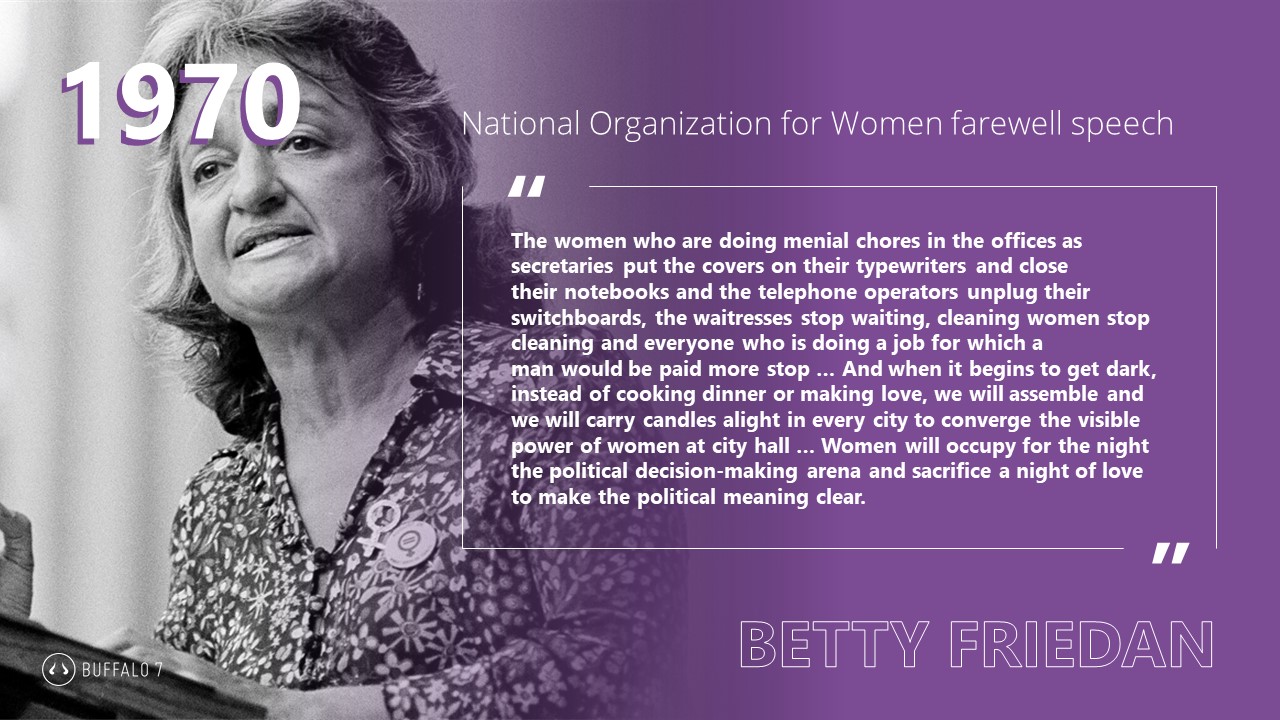 Dr Preswood said: "A good speaker knows that to make her message the most persuasive, she must craft a scenario that every listener can easily imagine and insert herself into. To achieve this, Friedan uses the technique of amplification; she provides more and more detail to the scenario she is describing, bringing it to life and making it as easy as possible for listeners to "see" what she is describing. Through effective amplification, listeners may feel that they are personally involved in the message."
Gloria Steinem
Gloria Steinem is a leading spokeswoman of the feminist movement and has been a devoted activist throughout her life, travelling up and down the US to give inspirational talks. As a writer and a journalist, she's the brains behind a wave of articles that carried her to national fame as a feminist leader. Her article 'After Black Power, Women's Liberation', published in her New York magazine column, catapulted her work into the limelight and she became one of many faces of women's rights in America. She has founded and co-founded a number of charitable centres and continues to lecture about women's issues all over the world.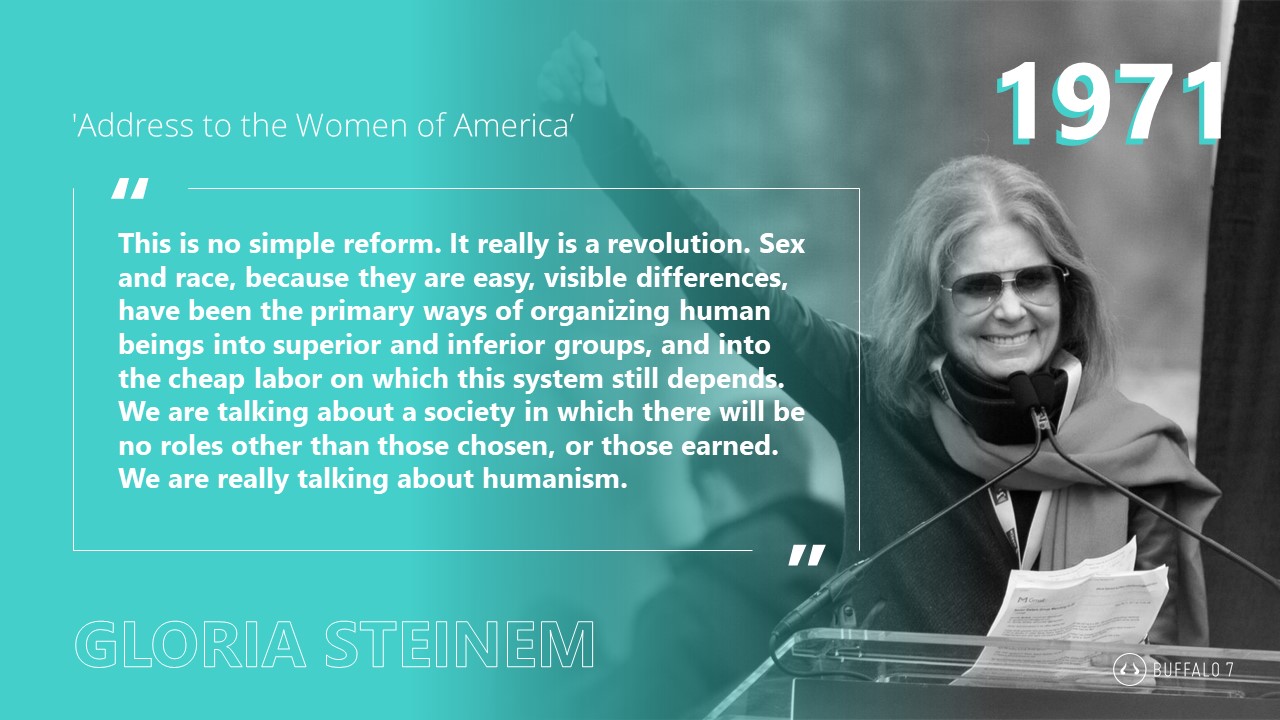 Preswood commented: "Despite the seriousness of her subject – centuries of women's oppression – Steinem's speaking style became characterized by her humor and witty approach to difficult subjects. She proves that women do not need to look or sound like men when they speak in order to make an impact; rather, a feminine style of address can be equally or even more powerful in some situations. This approach let her subvert the "angry woman" stereotype associated with second-wave feminism and reach a broader audience."
Hillary Clinton
Secretary of state, senator for New York, first lady of the United States, first lady of Arkansas, lawyer, law professor, activist and presidential candidate. Mother of dragons? No it's Hillary Clinton. Hillary has dedicated to her life to public service and has received a number of accolades for her services over the years. She is a proud champion of human rights, internet freedom, opportunities for women and girls, LGBTQ people and young people. Her campaign message was that we are all stronger together and it's a message that people all over the world believe in. Even though she didn't win the election, she founded Onward Together, an organisation working to advance progressive values by encouraging activism.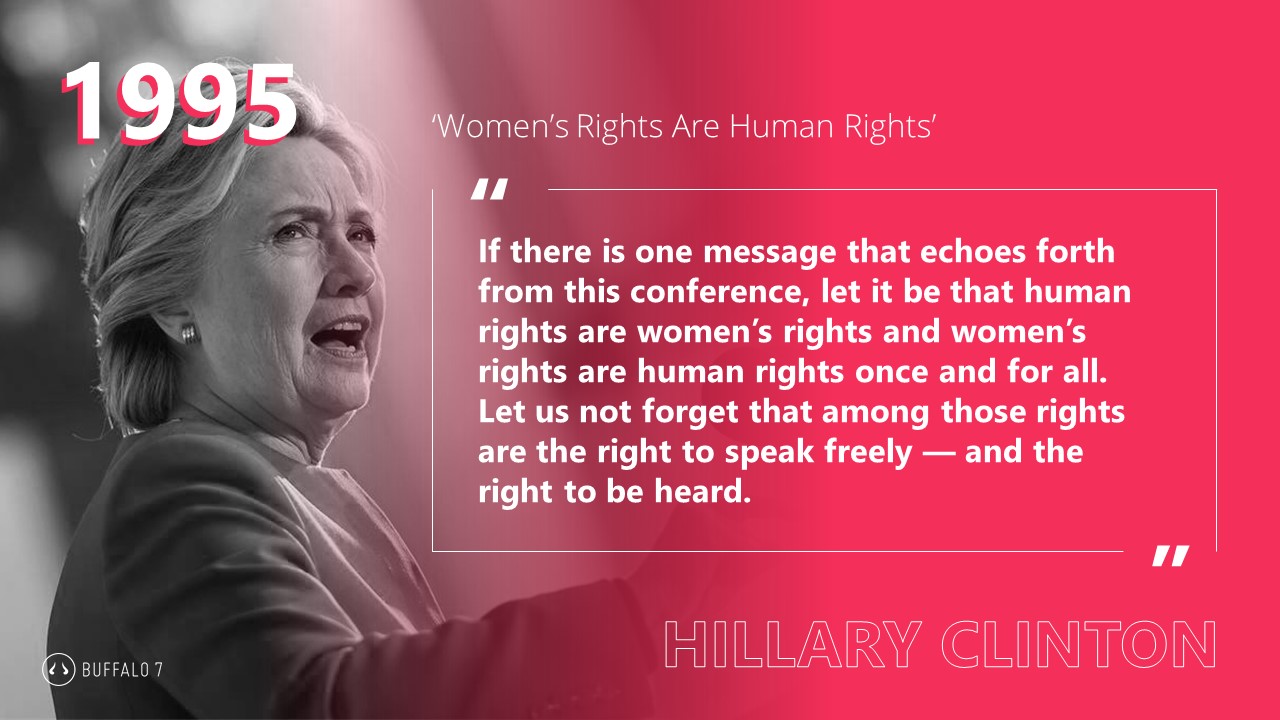 Preswood siad: "The fancy term for what Hillary is doing here is creating consubstantiality. She's taking two categories, women and humankind, and explicitly linking them together as equals. This may seem like a no-brainer to us now, but for most of human history – and even today in many nations – women were dismissed as inferior. By explicitly challenging that, Clinton highlights the lingering assumptions and stereotypes many of us are still holding onto."
Nora Ephron
The woman behind Oscar-nominated screenplays for When Harry Met Sally and Sleepless in Seattle, Nora Ephron is one of the women who broke that infamous glass ceiling in the film industry. She was a woman of many talents: starting her career as a journalist and becoming an essayist before getting into screenwriting. Witty, eloquent and satirical, Ephron's work is known for being unpredictable, but a joy to watch. The majority of her work explores the differences between men and women, the women's movement and the evolution of women in Hollywood. The excellence of her work earned her three Oscar nominations and a legion of fans.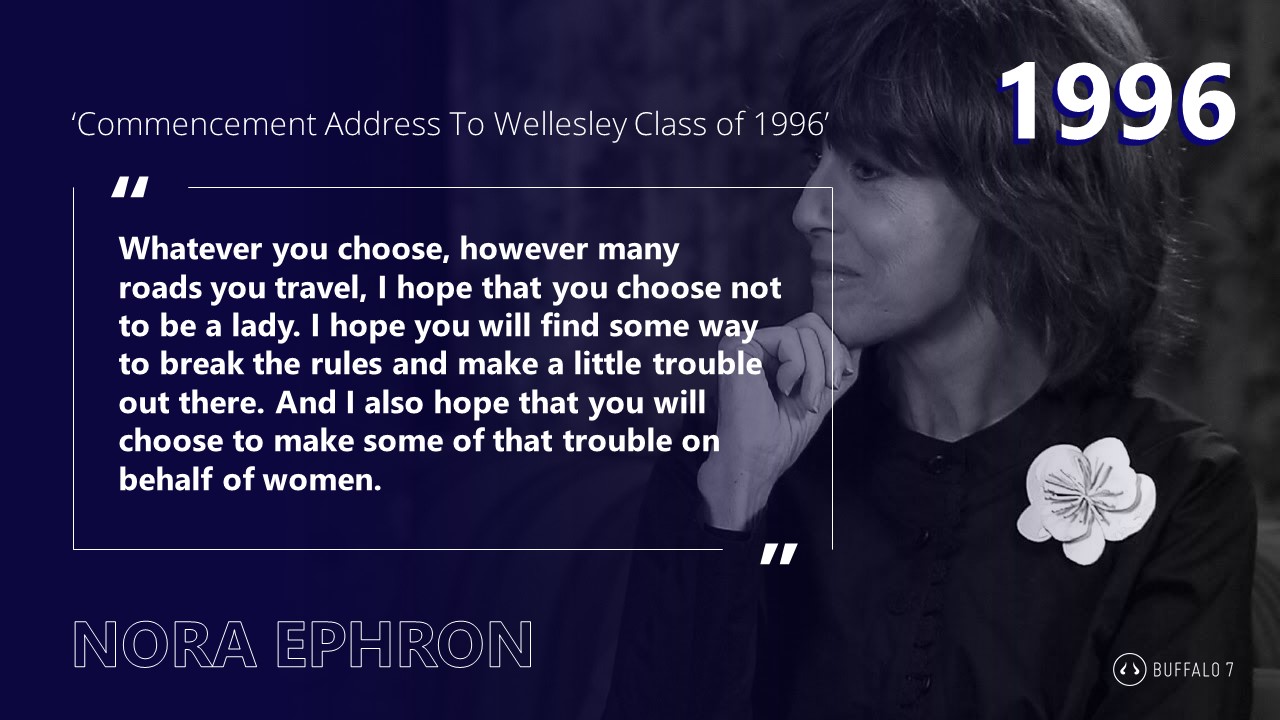 Preswood commented: "Ephron relies here on cognitive dissonance: introducing an idea to the listener that seems at odds with what the listener already knows. According to normal social rules, behaving "like a lady" is assumed to be a positive trait; Ephron flips that assumption around to create a persuasive case that audiences will have no trouble remembering."
J.K. Rowling
We all know what she's famous for. J.K. Rowling is the creator of one of the most popular book and film franchises in history and one of the richest women in the world. The first Harry Potter book was rejected by 12 major publishing houses but when it finally achieved publication… well, the rest is history. Her fortune is estimated to be a mammoth £650 million but it would be much higher had she not donated vast sums to charity. Her own rags to riches story has inspired her to live a charitable life and give back to communities through many weighty donations. She's a popular role model and has created strong female characters such as Hermione Granger and Molly Weasley who are beloved around the world.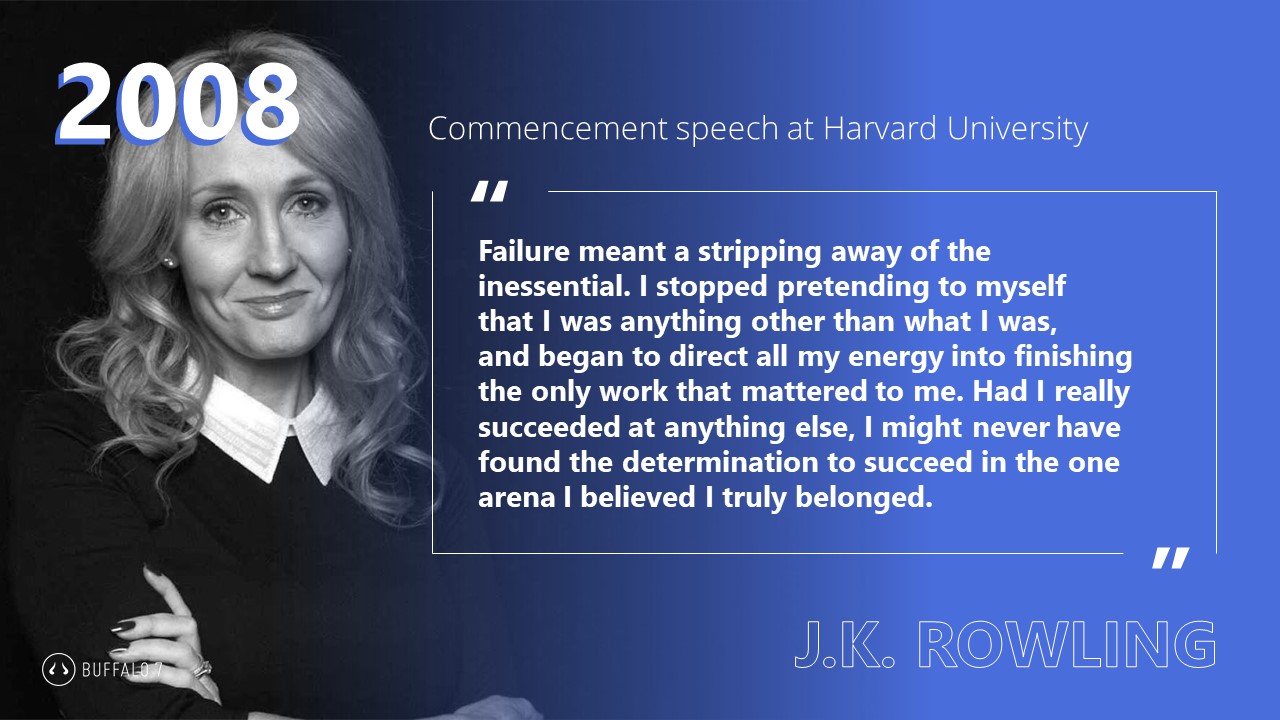 Preswood said: "Rowling here is reframing what it means to "fail." Rather than counting up and feeling angry or disappointed at the times she did not succeed, she is purposefully choosing to define failure as a necessary transformative experience, in which all the ideas and obstacles that were previously preventing success must be removed. This tactic helps the speaker make sense of their own experiences and leads the audience toward a consideration of how they might conduct a similar reframing effort in their own lives."
Marie Colvin
In a journalism career spanning 30 years, Marie Colvin was a devoted reporter of the realities of war and the effects on civilians. Twice named foreign reporter of the year, she was renowned for her compassion and commitment to broadcasting the truth. Never interested in politics, strategy and weapons, she only covered the horrors inflicted on innocents. In 2001, while covering the conflict between government forces and rebels in Sri Lanka, she lost her left eye to shrapnel. In 2012, she illegally entered Syria to cover the civil war. She was killed in an explosion but her legacy lives on through the thousands of people she touched through her honest journalism.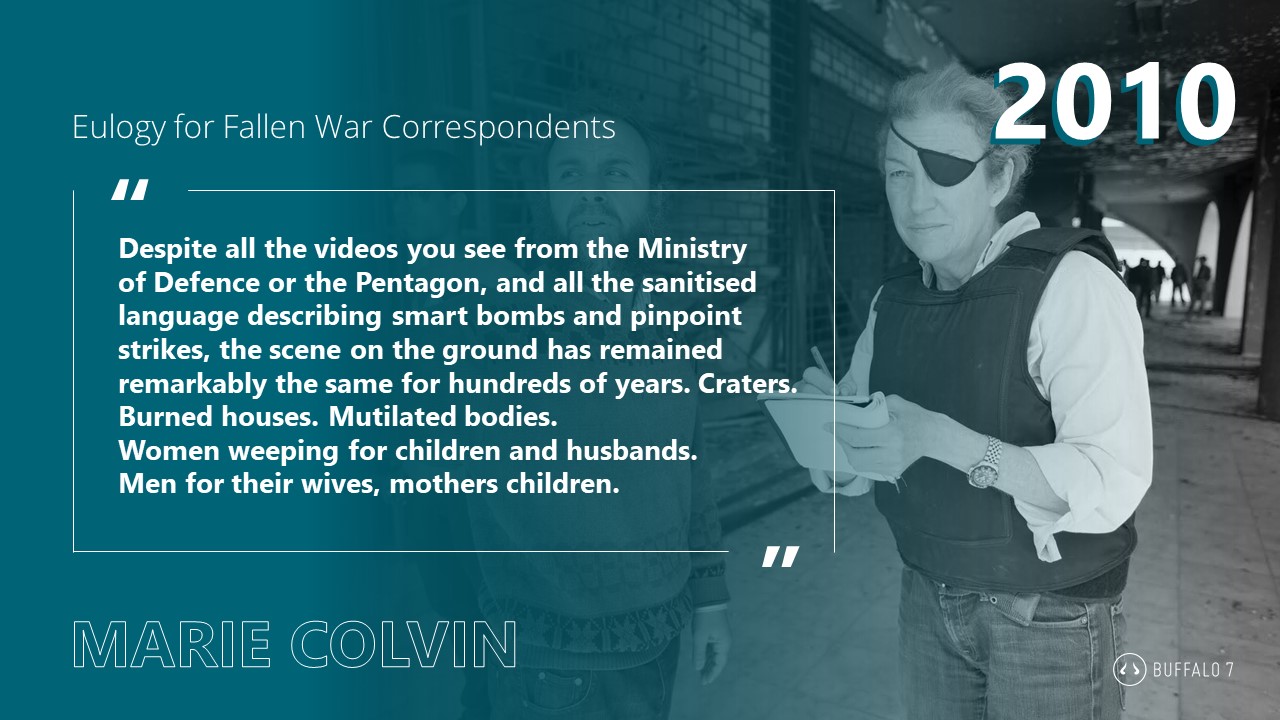 Preswood commented: "Marie Colvin's speech shows what an excellent appeal to pathos can look and sound like. Pathos refers to the use of emotions within a public address, and how we can use emotions to shape opinion. Colvin is highlighting the tragedy and the loss of war in order to persuasively counter against the clean, impersonal professional accounts that listeners might be more familiar with."
Amy Cuddy
Amy Cuddy is a renowned social psychologist who has published a number of works on the behavioural science of power, presence and prejudice. In her early twenties she suffered a severe head injury in a car accident and doctors said she would struggle regaining mental capacity. She proved them wrong and went on to become a high-achieving academic with a PhD from Princeton and who now teaches leadership at Harvard University. Her research on body language puts forward the idea that we can change other people's perceptions by changing our body positions. Her TED talk on the subject has been viewed by over 45 million people.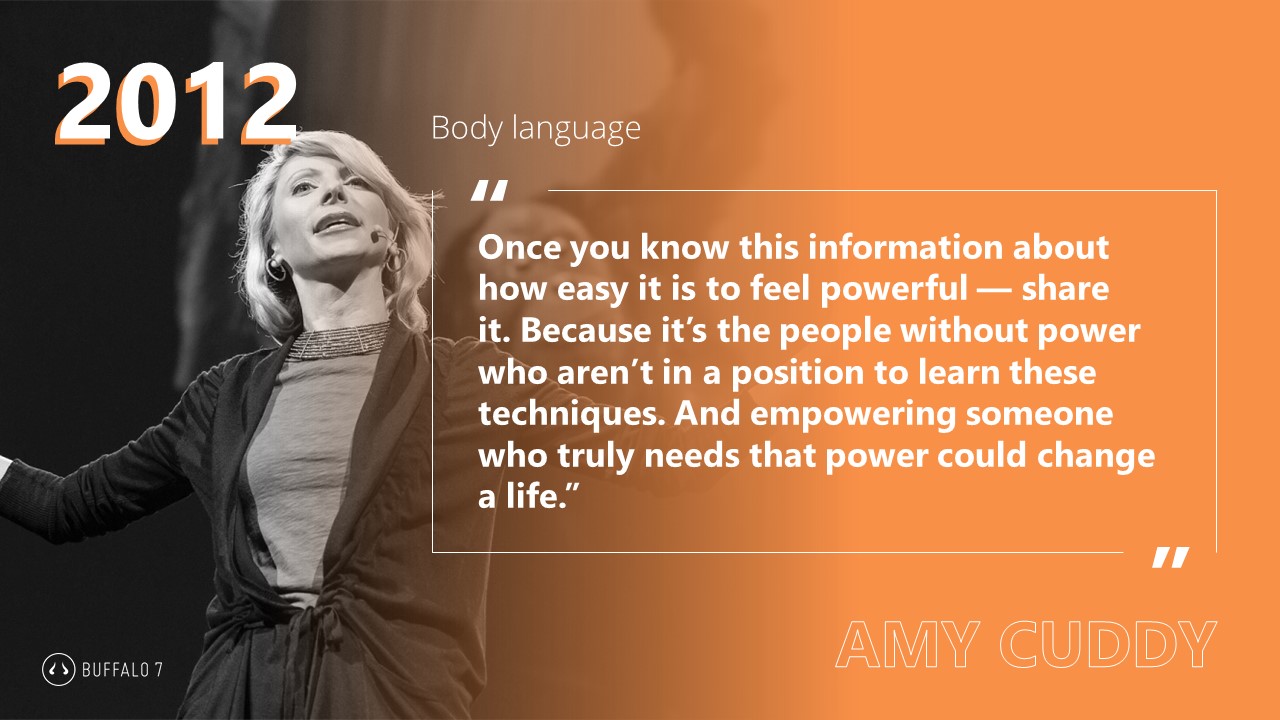 Preswood commended: "Scholars across a variety of fields (communication, psychology, sociology) all agree that the way we use our bodies has a profound impact on the way we think, so there's a good reason why Cuddy's TED talk remains one of the series' most-watched videos. For women especially, who have long been raised by society to make themselves smaller – sitting with legs crossed, folding their hands in their laps, behaving deferentially to others – Cuddy's explanations of how the body can literally create empowerment and voice have been invaluable."
Julia Gillard
Australia's first female prime minister and first lady in Australian politics. When she entered parliament she was mocked for her voice, hairstyle, dress sense and failure to embrace domestic life. Unmarried and childless, she fell victim to a torrent of abuse from politicians and the public but her willingness to stand up for herself prevailed. Her speech on misogyny and double standards has been viewed more than 2 million times and found resonance with women of all ages.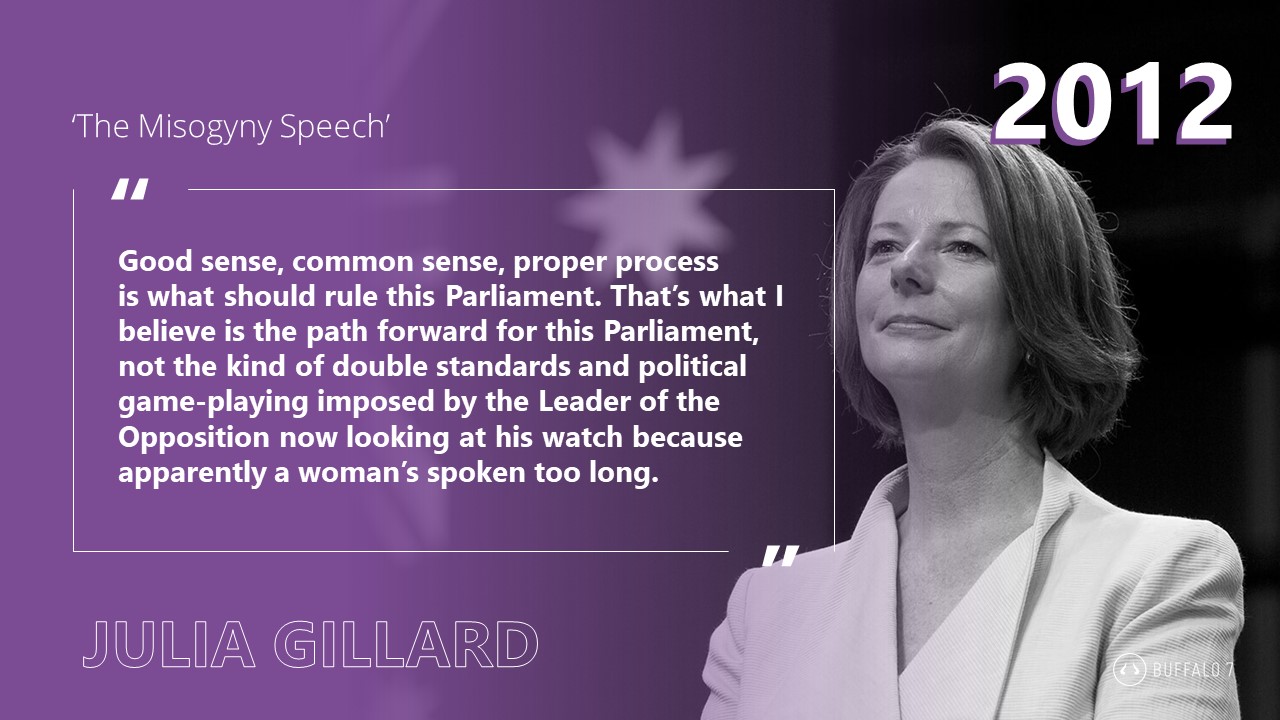 Preswood said: "By juxtaposing the concepts of "common sense, proper process" against "political game playing," Gillard reinforces her opinions of the value behind both ideas to the audience. Rather than elaborating on why she doesn't approve of Parliament's behavior, Julia lets the structure of the speech lead the audience toward the conclusions she is building."
Malala Yousafzai
As a young girl, Malala made international headlines for being shot in the head by a Taliban gunman. She demanded that girls be allowed equal rights to education and the brutal regime tried to silence her through murder. After surviving, she went onto receive the Nobel Peace Prize, becoming the youngest recipient in history. She is now an advocate for girls rights and a soon-to-be Oxford undergrad. Her amazing work has led the UN to pronounce July 12th as 'Malala Day' in her honour.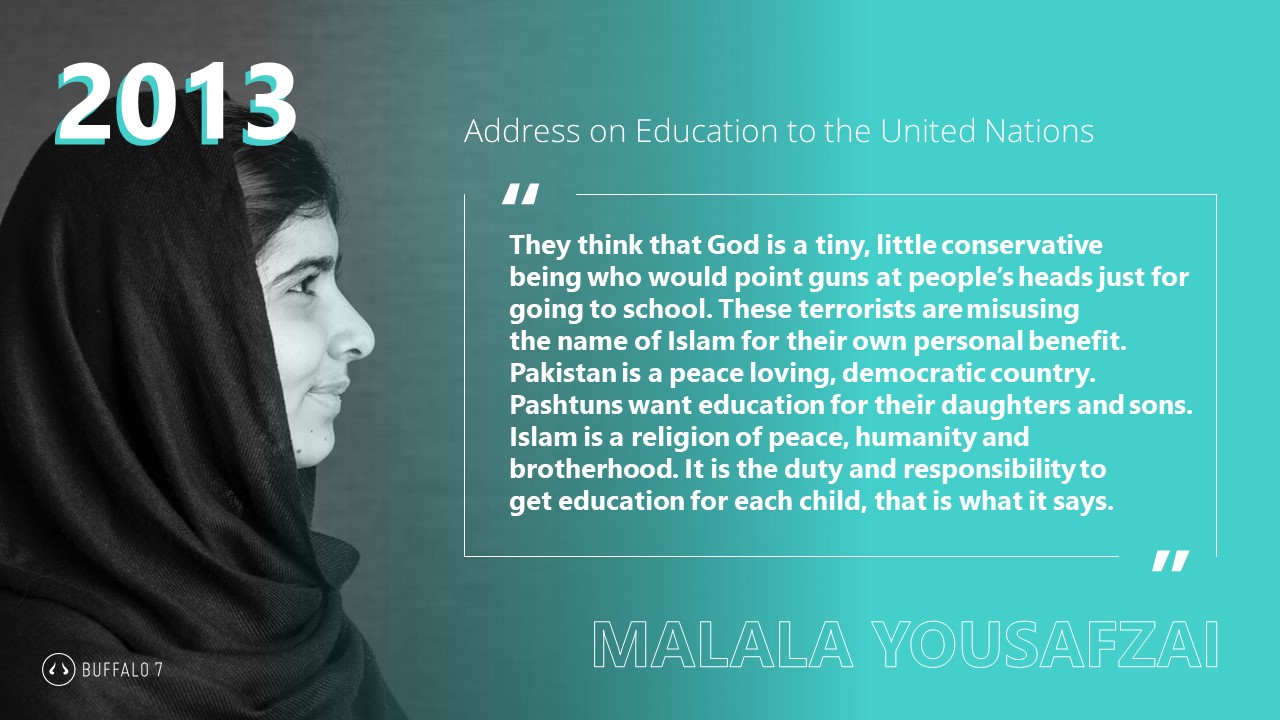 Preswood commented: "Malala is a perfect example of how anyone can be an inspirational speaker if they pay attention to their ethos. Ethos describes a speaker's credibility; it's the sum of all the little ways in which we decide whether we want to trust and believe a speaker or not. Despite Malala's youth, she has direct, incomparable experience in the field in which she speaks – women's education reform in the Middle East. Her traumatic past and her bravery in facing the situation head-on build a strong ethos, capable of overcoming many objections."
Emma Watson
Known worldwide for her portrayal of the cherished and iconic character Hermoine Granger, Watson is now the UN's Women Goodwill Ambassador. Her commitment to the empowerment of young women led her to establish the HeForShe campaign that aims to galvanise men into supporting gender equality by showing them how patriarchal constructs also affect them. She is actively involved in various projects that promote the education of girls and frequently vocalises support for feminist campaigns.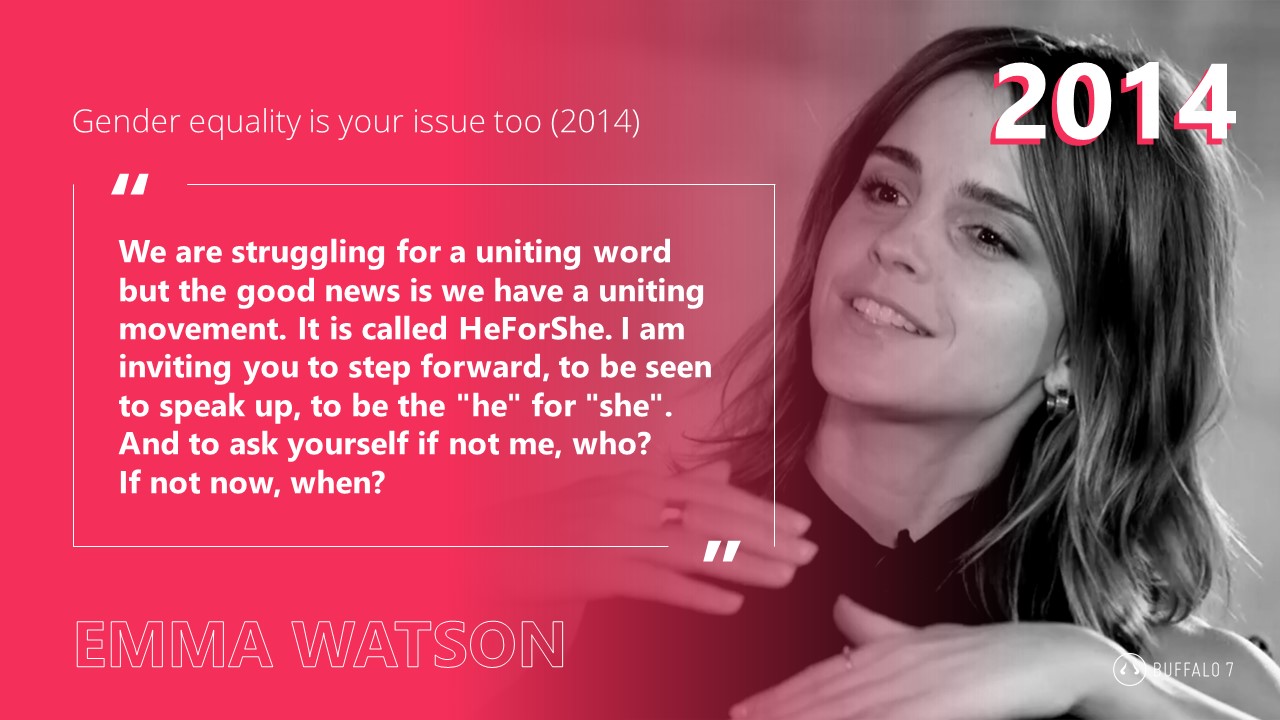 Preswood said: "Emma uses repetition in several different ways to create a stirring moment in this speech. She contrasts "uniting word" against "uniting movement," uses the triad structure of "to step… to be seen… to be," and the directly contrasting questions at the conclusion of this paragraph. All of this repetition builds momentum, like a drumbeat, readying the audience to hear that final call to action. Bonus fact – President Obama famously used this sort of repetition in most of his campaign speeches."
Michelle Obama
When Barack left the White House, millions of people were saddened, not just for him but also for Michelle. In 8 years, Michelle took being First Lady to the next level, and what a First Lady she was. While Barack was doing his thing, Michelle was carving out her own legacy. She started the 'Let Girls Learn' initiative to help educate the 62 million girls around the world who aren't in school. Even though she's free of her First Lady duties, she still travels round American colleges to give inspirational talks to young people. She's also continuing her work for the 'Let's Move' campaign to reduce childhood obesity by keeping kids eating healthy and staying active.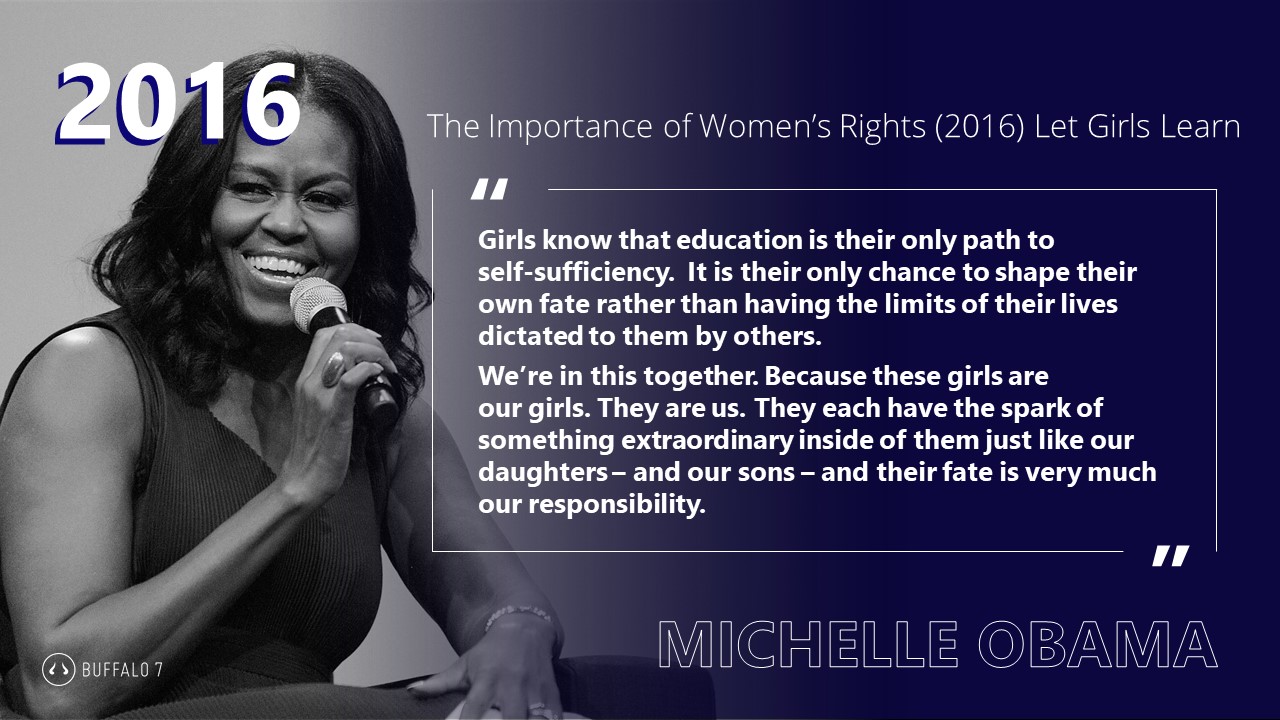 Preswood commented: "Research on political speech has suggested that first ladies are historically disadvantaged by the way the media and society forces them to combine their personal and public lives. Mrs. Obama, however, as the first woman of color to fill the role of first lady, knew from day one that she could not follow the patterns of other first ladies. All of her speeches, therefore, purposefully subvert that archetype in some way by explicitly focusing on family: she explores military families, healthy families, disadvantaged families, families of all types, sizes, and colors. In doing so, she defined her role in the White House as America's "Mom-in-Chief," and found a unique way to speak directly to other American women and get her message heard."
Oprah Winfrey
Talk show host, actress, producer, philanthropist and all round good person. Oprah Winfrey is an American sweetheart who is adored throughout the nation for her honest candour and empathetic nature. She's known for calling out the bad people and championing good people (remember the Golden Globes?). Her philanthropic work focuses on encouraging women to break gender barriers and chase their dreams. She is a vocal supporter of 'Women for Women International', which supports financial, educational and interpersonal needs of women survivors of war, poverty and injustice.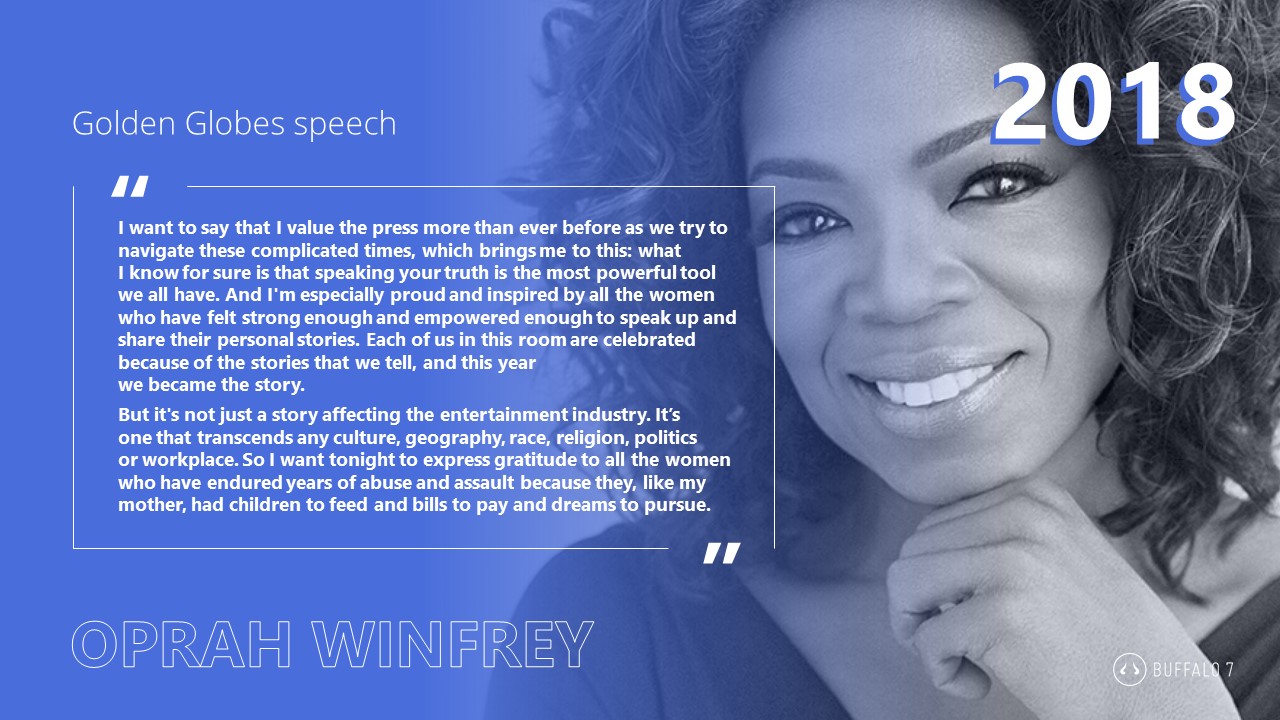 Preswood commented: "Oprah's speech at the Golden Globes falls into the category of epideictic rhetoric, a speech designed specifically to commemorate or celebrate an occasion. In this case, Oprah's speech became so wildly popular because she linked the commemoration of her own lifetime achievement award to the ongoing struggle for women's equality; she made herself both a relatable figure to the group and an icon for the group. Quite an impressive feat!"
We combined these quotes into a video (made in PowerPoint of course ?). Check it out below.