Hear arguments from both sides and reach your own verdict as to whether Google Slides or PowerPoint is the best program for you, using our free cheat sheet.
Google Slides vs PowerPoint: Opening statement
In the Buffalo 7 studio, not a week goes by where we aren't approached by a client with the question: "Can you make our presentation in Google Slides?". And, of course, the answer is yes. But the real question is, will Google Slides allow us to create a better presentation for you than PowerPoint?
Both Google Slides and PowerPoint have arguments for and against their use, so it's our job, as presentation experts, to listen to our clients, ask the right questions and find the perfect solution for them.
When you're deciding which program is best for your project, consider the evidence from both sides to help you in the role of judge, jury and executioner.
Case for the prosecution: Google Slides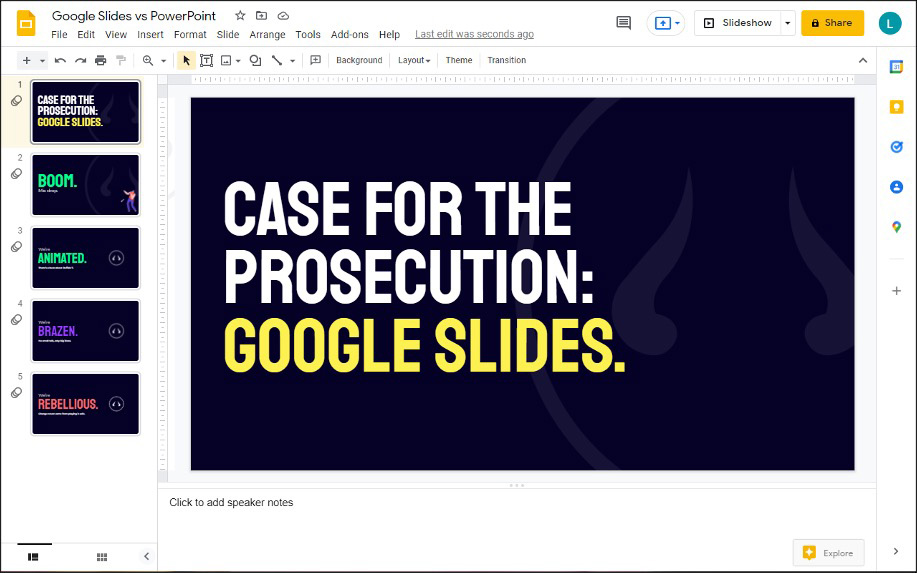 Aiding and abetting
At the heart of every Buffalo 7 project, is collaboration. We have so many bright minds in our studio, we make a point of bringing them together at every opportunity.
Google Slides allows teams to work together seamlessly, regardless of whether they're in the same room or separated by oceans. As remote working is becoming increasingly common, more and more tools are coming to market to close the distance between co-workers. Google Slides is at the forefront of this movement when it comes to presentation software.
Within the program, you can chat, comment, and make edits to the same file, at the same time. But don't worry about too many cooks spoiling the broth, as Google Slides saves automatically, while retaining a full version history, so you can just revert back to a previous version if one of your colleagues gets too animation-happy.
All changes are instant and, as the program lives in cyber space, you don't have to worry about the colleagues on legacy versions of the software not being able to access all the features. Google Slides is a consistent, equal experience for all.
Access all areas
Migration to the cloud has allowed for incredible freedom for businesses, and the teams within them. No longer do you have to transfer slides to a USB in order to present to a client or send yourself files by email, when you need to work away from your usual computer.
Google Slides allows you to access your presentation from any device, anywhere, at any time. All you need is internet access.
And it's free. As part of Google's suite of apps, as long as you have a Google account, you're free to use Slides as much as you like, making powerful presentation tools accessible to more people, regardless of where you work, or what your income is. In comparison, Microsoft Office packages start from £59.99 a year, or £119.99 if you want to pay upfront.
Avoid temptation
As a specialist presentation agency, we'll never actively choose to use software with fewer features, but we do understand that the wealth of options within PowerPoint can be overwhelming.
With this in mind, it's no wonder that some users cite the reduced number of features as one of the top reasons they choose to use Google Slides. Not only are they not wasting precious time sorting through the options, they find that their end results are sleeker, simpler slides because they're not being tempted to add every single animation, or use every built-in asset.
Closing statement
Google Slides is like PowerPoint Lite, for users who prioritise easy-to-use, fully-accessible presentation tools that allow for seamless collaboration.
Case for the defense: PowerPoint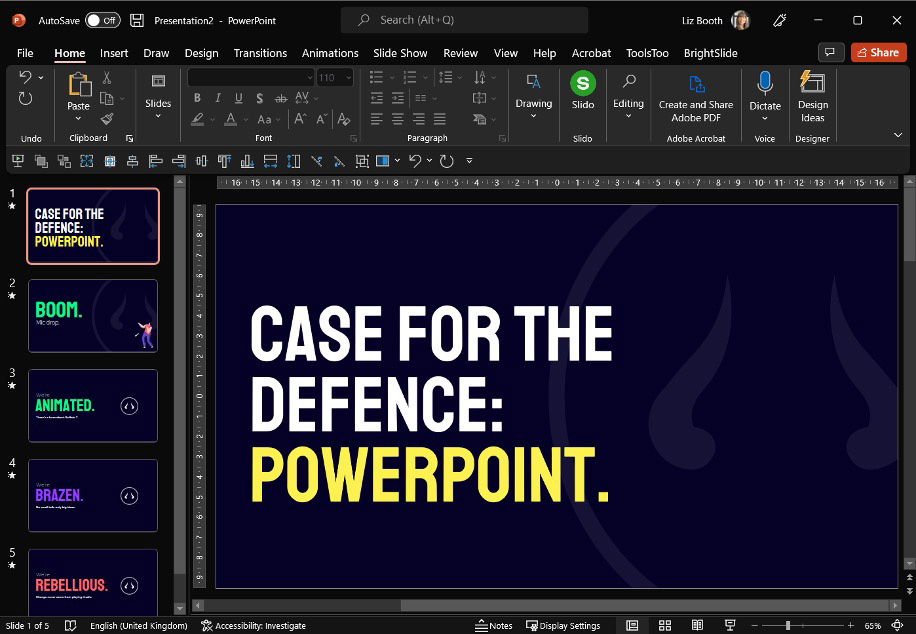 Is it a crime to want more?
It's no secret that Google Slides just can't do everything that PowerPoint can. As we've already mentioned, those with less experience in building presentations may see this as an advantage, but more advanced PowerPoint users may find themselves craving something more substantial. The minimalism of Google's cloud-based software comes at the expense of advanced features, the sort that are built into paid, professional tools, such as PowerPoint.
PowerPoint allows you to embed videos from anywhere, not just YouTube, and you can add audio tracks for narration, as well as music and sound effects (should you be so inclined). You have more options when it comes to animations and transitions, as well as graphic elements, such as 3D objects and reflections.
There's also far more scope for customisation when it comes to matters such as creating shaped text boxes, aligning objects and merging shapes.
And if you want to work between the two programs, be careful. While you can easily upload your PowerPoint files to Slides, you'll lose the carefully-crafted transitions and animations that don't feature in both programs.
The right type
While Slides allows instant access to all Google fonts from within the program, that's all you're getting. There's no option to install custom fonts for use in Slides. Yes, the in-built font selection may be considered more interesting than PowerPoint's, but with just a quick browse and download, PowerPoint allows you to install any font you want, meaning that expensive bespoke typeface you had developed specifically for your business won't sit gathering dust.
A template for success
Templates are the foundation of any easy-to-edit presentation and one of the best tools we can give our clients, so that they don't have to come back to us every time they need a small change, or a new presentation. While templates are possible to create in Slides, they are nowhere near as comprehensive, and therefore useful, as those possible in PowerPoint.
PowerPoint allows you to adjust theme colours, insert default table styles into the Master Slides, add animation to placeholders, or even set a simple instruction to format a text placeholder in all caps. Google Slides can't do any of those things.
Both programs do have built-in galleries of ready-to-use templates for various purposes, but PowerPoint has the edge on template diversity, as it's been around longer. A simple web search will turn up thousands of custom templates and graphic elements, created especially for PowerPoint.
On the record
Despite what people believe, Slides isn't the only program that creates automatic copies of your files for safe keeping. Subscribers to Office 365 gain the advantage of AutoSave within PowerPoint. If the option is chosen, PowerPoint will save a copy of your document every few seconds onto your OneDrive. The software also has an AutoRecover option, even if you're not an Office 365 subscriber. This feature allows you to recover your presentation, if you are a survivor of the dreaded PowerPoint crash.
Closing statement
PowerPoint allows those with more experience to be as creative as they want, and use their skills to craft the best possible presentations, with no barriers and no limitations.
Google Slides vs PowerPoint: The verdict
So, who's the winner in Google Slides vs PowerPoint? The truth is that both programs serve a purpose, just make sure you choose the right one for each individual project you're working on, and don't forget to save our Google Slides cheat sheet below, to print out and stick on your bedroom wall, like all perfectly-normal adults…right?
Google Slides cheatsheet