Keeping your brand consistent is a relatively simple action that businesses of any size can take, but it can make a HUGE difference to getting qualified leads and sales.
In our on-demand webinar, we'd like to share a few ideas with you that can help with your brand consistency, whether you're starting a brand from scratch, or just looking to tighten it up.
Because a solid, consistent brand can help get you noticed.
Help you stay memorable.
And ultimately, turn pitches into wins.
Brand consistency webinar agenda
How branding is the very essence of your business.
Why keeping it consistent is vital to grabbing your audience – and holding their attention through the entire sales funnel.
And finally, why it's absolutely critical that you keep it going to the very end of the journey, and smash your pitch to turn them into WINS.
About the speaker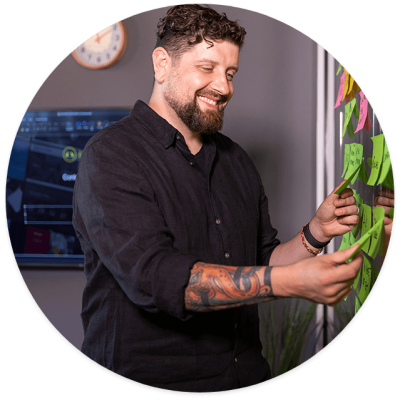 Chris Tomlin is a content development expert, presentation strategist and Storytelling and Discovery Director at specialist presentation design agency, Buffalo 7.
Chris has provided storytelling expertise for clients around the globe, including Sony, Dell, Unilever, Epson and the BBC.
Alongside crafting storyboards for presentations and video, Chris delivers storytelling training workshops and talks, challenging audiences to rethink what it is to communicate.
Watch our brand consistency webinar