Following on from the success of the inaugural event in June, 7 Stories once again hosted seven inspirational speakers who presented stories about overcoming regret and failure. In a packed LEAF Manchester, with over 100 people in attendance, we were all treated to a night that one of the speakers, Rob Cowen, described as "somewhere between a stand-up night, a TED talk, and a support group." Which is pretty spot on.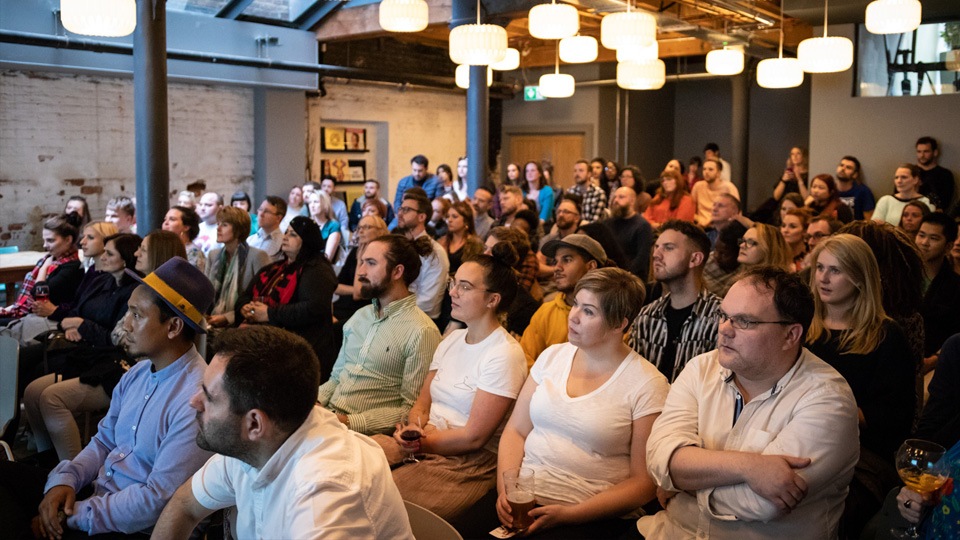 All photos by Adam Astley
Madeleine Penford, a photographer and content creator, said, "Speaking at 7 Stories was a real honour. To be able to share my story of my charity work in the Gambia, and see it so well received, has motivated me to take it even further. The other speakers were fab, it was all round a pretty inspiring event!"
We heard from…
Madeleine Penfold (@madz_photo)
Madeline is a creative photographer and content producer, working alongside some of the world's most forward thinking brands. She spoke about working with charities in Africa, and what it was like to live on just £1 a day for an entire month.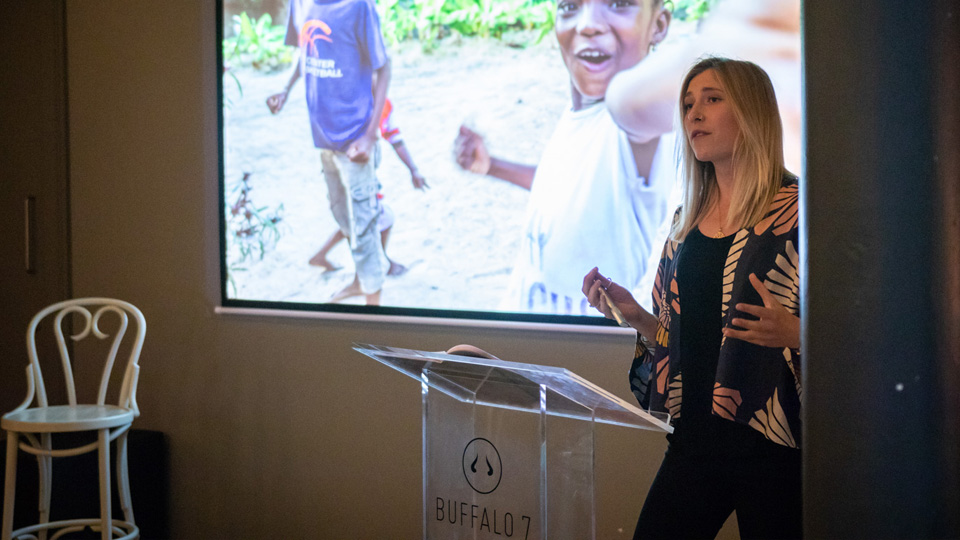 Madeleine Penfold, Creative Photographer & Content Producer
Chris Tomlin (@ChrisBuffalo7)
Chris is the Head of Storytelling at Buffalo 7, a storyteller, copywriter, content development coach and public speaker. His story was about regret, realisation, and reinvention, and what happens when you you find yourself stuck in an industry you loathe before you even find your calling.
Aleks Certa (@Aleks_SocialWay)
The founder of The Social Way, Aleks is also a mum, carer and entrepreneur who believes that all brands need cheerleaders around them. Her talk was about lemonade (or rather deciding what to do when life drops some lemons into your lap) and how success and failure are partners and constantly interlink.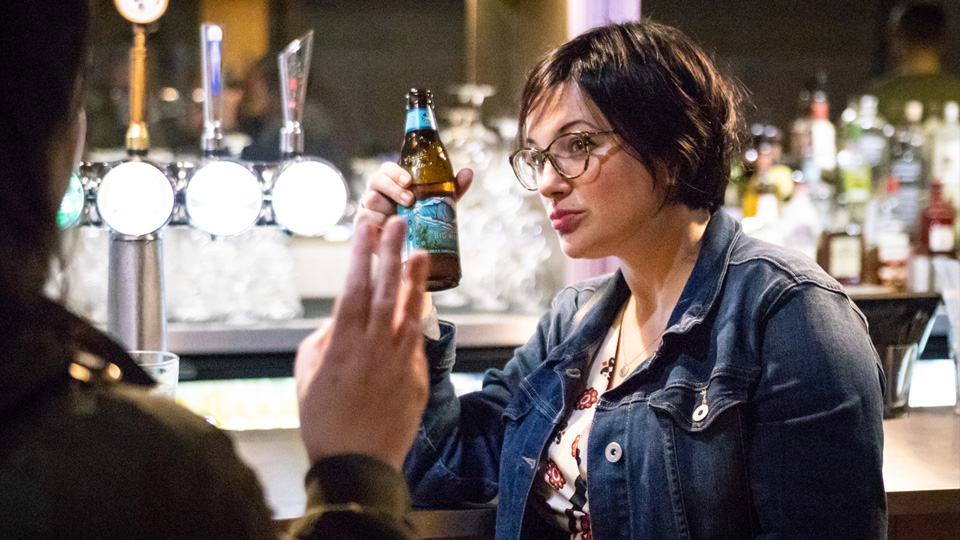 Aleks Certa, Founder, The Social Way
Rob Cowen (@robbiecowen)
Rob is Director at UNTOLD, a multi-award winning storytelling agency, as well as author of the best-selling Common Ground. His talk detailed losing his sense of belonging which led him to explore a new world and move from London to Yorkshire.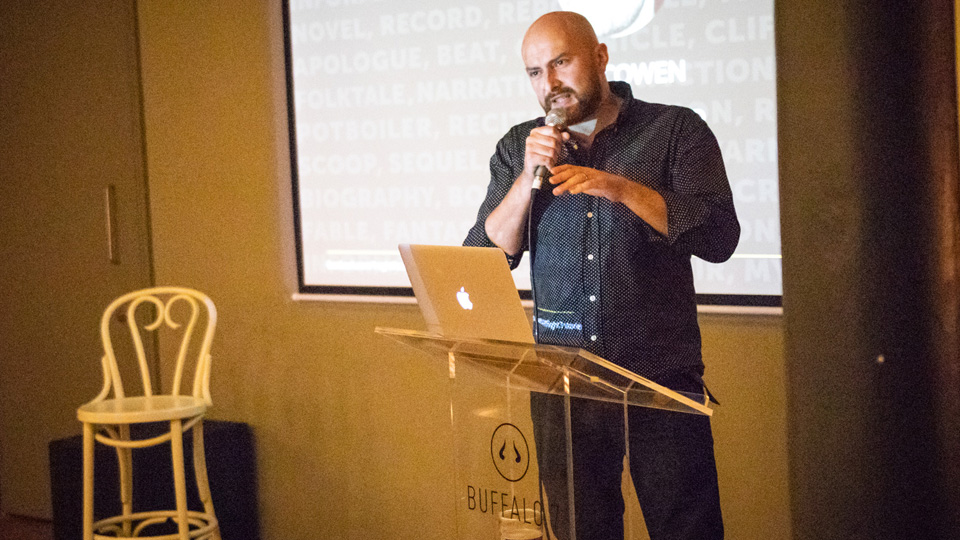 Rob Cowen, Director, UNTOLD
Gemma McCall (@Gezzabelle)
Gemma is a director at branding and digital agency Trust, which builds brands based on values. She spoke about her days as a business development professional, owning her own agency, and juggling the demands of work life with those of being a mum.
Alex Epstein (@alex_epstein)
Alex has spent the last ten years leading the Marketing for some of the UK's fastest growing technology businesses, appearing in The Apprentice, and is currently the Chief Marketing Officer of BigChange. His talk detailed moving on from a failed reality TV career and all the mistakes he's made since.
Angga Kara (@innerfire_coach)
Angga is an executive inner-fire coach, TEDx speaker, social entrepreneur and creative consultant. He spoke about his quarter-life crisis, burnouts and more, and how it led him to a career helping high performers to achieve their greatest level of success and prevent their own burnouts.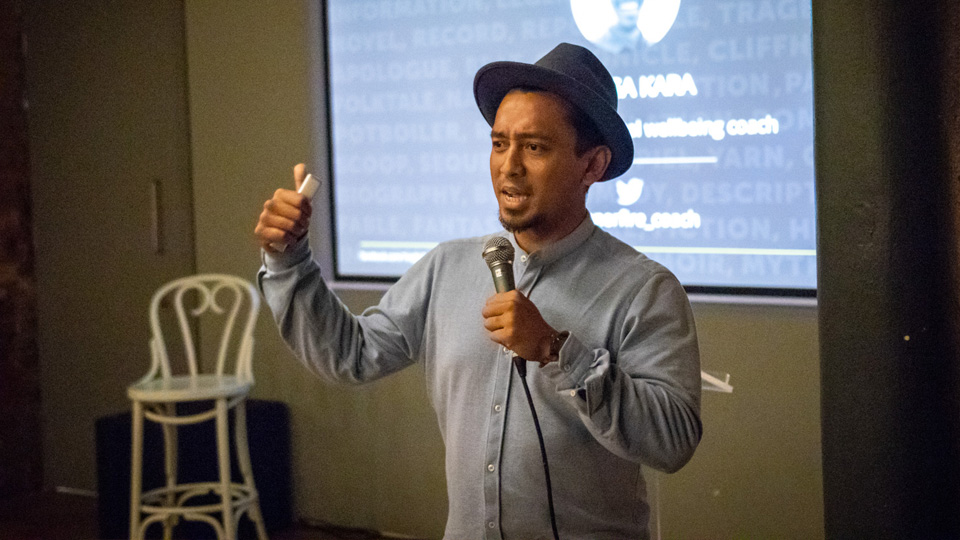 Angga Kara, Resilience & Mental Wellbeing Coach
After his talk, Alex Epstein commented: "There is nothing more stirring and intriguing than a well-told story. In our technology, 'phone' obsessed lives, it's so refreshing to hear about someone else's life experience first hand and face to face. 7 Stories is a terrific concept, and I joined as a speaker after attending the first event. Manchester needs more social events like this." Which we thought was a very nice thing to say.
If you'd like to come to the next 7 Stories, taking place at LEAF Manchester on 21st November, book your place right here.
Get updates about speakers and future events at 1night7stories.co.uk and follow #1night7stories on social.