Fortunately, no-one at Buffalo 7 suffers from triskaidekaphobia, so we chose Friday 13th October to move to our shiny new office in the heart of our home city of Manchester. While some superstitious folk lock themselves away in fear of encountering some bad luck, we were climbing the stairs of 127 Portland Street to our new home on the top two floors of the building – more commonly known as 'The Treehouse Suite.'
This would be our third new office this year, having moved our London office at the beginning of the year and opening our first York office in September. This was by far our biggest move to date.
Why did we move?
We grew.
While we have offices in London and York, Manchester is our head office, and where the majority of our team is based. We outgrew our first Manchester office in 2015 and moved to Amazon House on Brazil Street, but by the summer of 2017, we were completely at capacity. We're growing rapidly and not being able to hire any new staff was a major hindrance for us.
Amazon House had been a great home to us but it was time to move on.
The search began.
Why 127?
Rich (our Creative Director) began the search for our new home. The new studio had to fulfil a number of criteria.
Firstly, it had to be in the city centre. We wanted to remain in the city for a variety of reasons:
We needed the new office be just as simple to get to as the old one for our staff and clients so there's no better place to be than the city centre for transport links.
There's a great social element to working at Buffalo 7, and going out after work is a regular (though not every night) occurrence.
We didn't want to change that, so having a city centre office means the whole team can socialise together before going their separate ways.
Secondly, it had to be big. We didn't want to have to move again next year, so the new studio had to big enough that we were able to substantially grow our team. Obviously, the space itself had to be large enough to house lots of new employees, but we also had to have the infrastructure in place to be able to cope with all the Buffalos of the future.
Thirdly, it had to be an inspiring creative space. We wanted our team to be excited to come to work every day. It needed to have that wow factor. There needed to be plenty of space for break out sessions and collaboration. It just needed to feel right.
The Treehouse at 127 had all these things.
What have we done with the space?
The critical objective was to create an environment where our staff come, giving them a space where they can thrive and feel at ease enough to concentrate on doing what they do best. Secondly, we wanted to create a lasting positive impression to anyone who walks through the door. This formed the basis of the brief we gave to our wonderful interior designers- Franky Rousell and Chloe Cotard at Jolie Studio.
The office up is split up into zones, each creating a different experience for those that inhabit it: something Jolie Studio call 'Sensory Zoning'. Franky gives an example of this 'Sensory Zoning';
"The host space on the ground floor should allow its occupants to feel impressed, confident and trusting. We have achieved this through the use of colour, fragrance, texture, lighting and biophilia. The commercial team who sit near this area will feed off of this atmosphere, whilst their own space allows them to feel focused, healthy, comfortable and productive. We believe it is important to focus all of our design decisions on the occupants of a space, as it is now known that we spend 90% of our life indoors."
Franky Rousell, Creative Director, Jolie Studio
Downstairs, as well as our hosting area and commercial team, we also have our three meeting rooms and our kitchen. The extra meeting rooms we now have are going to make things so much easier. We do lots of our meetings via Zoom (our online conferencing platform) and it can be difficult doing these from your desk, especially if the designers have decided they're having a whistling competition while you're on the phone to your biggest client (this actually happened). Our meeting rooms have been set up so that at the click of a button you can join or host a Zoom meeting.

Research provides us with a staggering insight into how plants effect our psychological and physiological wellbeing; as such, our office is full of them. The Human Spaces Global Report states that the presence of plants in an office environment can increase feelings of relaxation, calm and productivity in its occupants by 40%. As our world becomes increasingly digitalised, we are somewhat losing our connection with nature. We embrace the digital revolution, but feel that our environments have to make up for the imbalance.
In our kitchen, we've put in a huge dining table and a wellness bar which is always full of fresh fruit, flavoured water and that kind of thing. This sits just above our (primary) beer fridge.
"We have breakfast together every morning. We've done this for years and it's maintained as we've grown. It was getting a little difficult in the last office and we were sharing chairs by the end, so having this space for breakfast and lunch is great.
I've always made sure that culture is the heartbeat of the agency. It's important that teams mix and match and socialise together. Many say that the kitchen is the heart of the home. In our case, it's the heart of the office."
Richard Barnes, Creative Director, Buffalo 7
Upstairs is the home of our creatives and Project Managers. There's loads of breakout areas with whiteboards and chalkboards for scribbling down ideas. This too is where Rich's office is, along with our BuffalOdeon – an area for us all to gather around with a top-of-the-range projector for all team meetings.
Throughout the office, there's a combination of aromatherapy and perfumery to work with the other curated senses to create the desired ambiances. Around the office, Jolie Studios have introduced bespoke aromatherapy blends in areas where our Buffalos spend the majority of their time. Whether this is the kitchen to encourage digestion, boost immunity and naturally combat food smells, or the work area to reduce stress, fatigue and headaches. In the host space, we have carefully selected a subtle fragrance that is so unique, it can be used as a memory trigger, but also invokes a sense of comfort and confidence.
OK, time to mention the pièce de résistance. The treehouse starts on the bottom floor and goes through to the top floor where you can climb the small steps and chill out for a bit or do some work that requires a bit of quiet. We hold the occasional internal meeting up here too.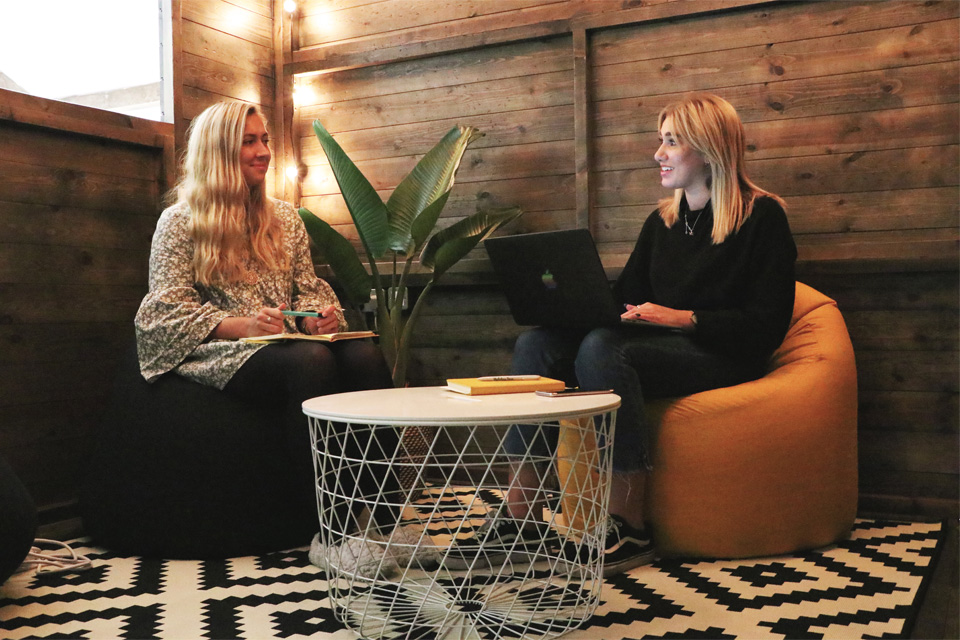 We love our new home in Bruntwood's West Village and look forward to creating some great memories here over the coming months and years.
#WeAreBuffalo7