22 presentation tips
Working on a crucial presentation? Don't deliver until you've checked off every presentation tip on our comprehensive cheat sheet.
When you're working on an important presentation, there's a lot to cram in. Are your typefaces legible? Do your images look sharp? Oh, and speaking of cramming a lot in, have you left enough white space? This may be simple stuff, but it's a lot of simple stuff to remember.
To save you from switching on the projector only to discover that you've omitted images and included placeholder text, we've assembled a comprehensive list of everything that should go into your presentation – plus a few things that shouldn't. Bookmark this page and use it time and time again, or at least until you know all of its presentation tips off by heart. Welcome to Presentation Design 101.
Presentation design tips
Ditch the stock template. Stock templates are generic, boring and overused. If you don't have the time to customise a PowerPoint template, download a free custom template that your colleagues won't have seen 1,000 times before.
Up the contrast. If you're overlaying text against an image or coloured background, make sure it's readable. If not, adjust the contrast or colours accordingly.
Choose colours that complement. There are no prizes for completing the rainbow: three or four complementary colours should suffice.
Choose colours that stand out. There's no need to deploy the neon pink, but make sure your colours stand out. Avoid using competing colours in bar charts and don't place yellow or light blue against a white background.
Go easy on the transitions. Think of slide transitions as makeup: they exist to enhance your presentation, not overload it. Less is more.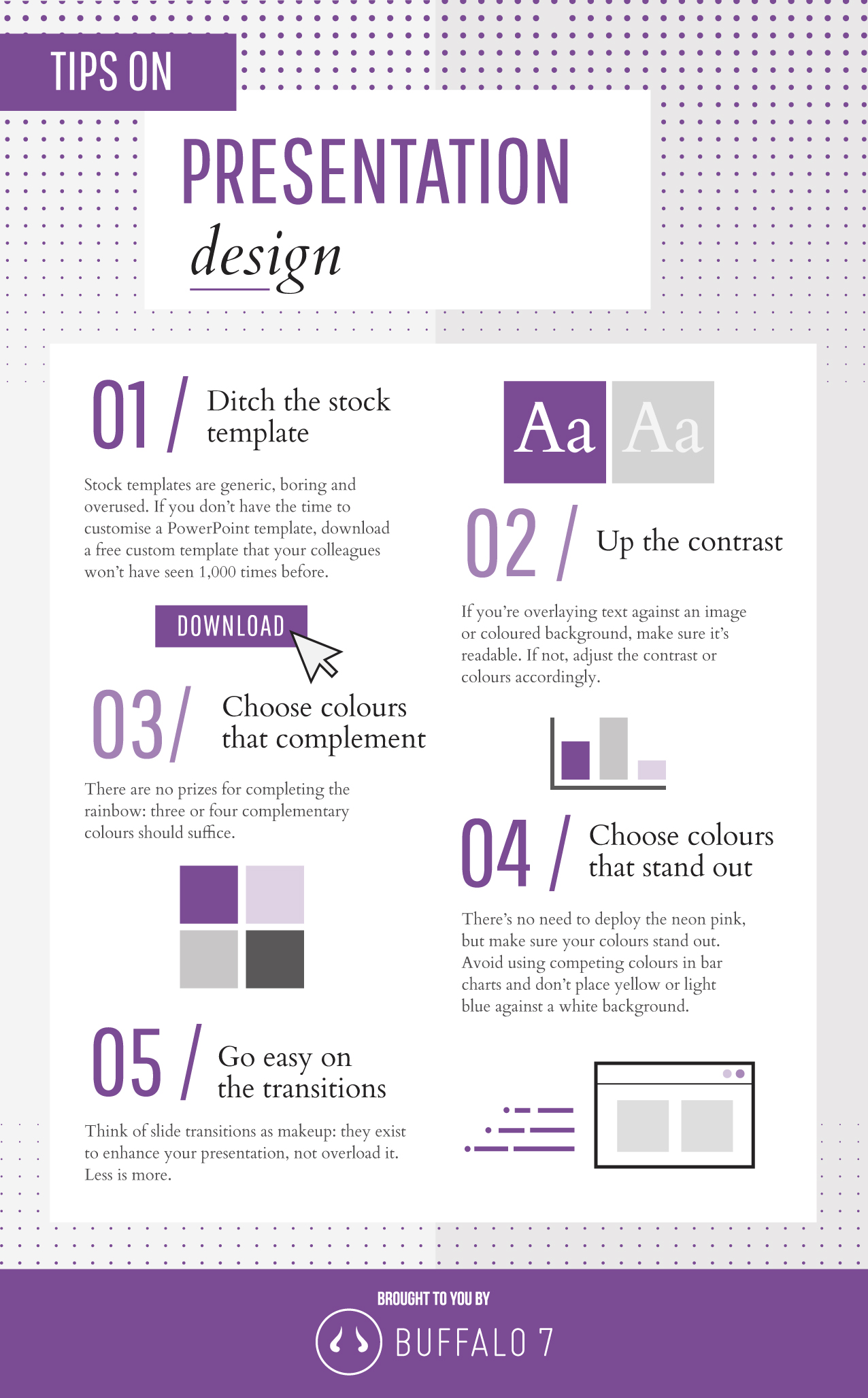 ---
Presentation tips on choosing text
6 lines of text is enough. If your audience have to read and listen to you at the same time, one of the two is going to be ignored. Go easy on the text, using slides to display key points only.
Bomb the bullets. Bullet points are great for highlighting key points, but if you're going to deploy them for every line of text on every slide, you may as well not have them at all.
Left is best. Left alignment looks best in presentations; avoid centring body text.
Use sans serif. For body text, sans serif fonts are more legible. Save the serifs for titles and headers if you must, but don't go wild – two or three fonts at the most is all you should need.
Size fonts sensibly. The size of your font will naturally affect its legibility, but you also need to think about the ratio between your header and body text. Bear in mind the size of the room you'll be presenting in. Will those at the back be able to read it?
Be consistent. Don't chop and change between fonts: the font you choose for your headers and body text should be the same from start to finish.
Use bold and italics in moderation. Highlighting certain words or phrases can help your audience focus on key points. Highlighting entire sentences is just messy.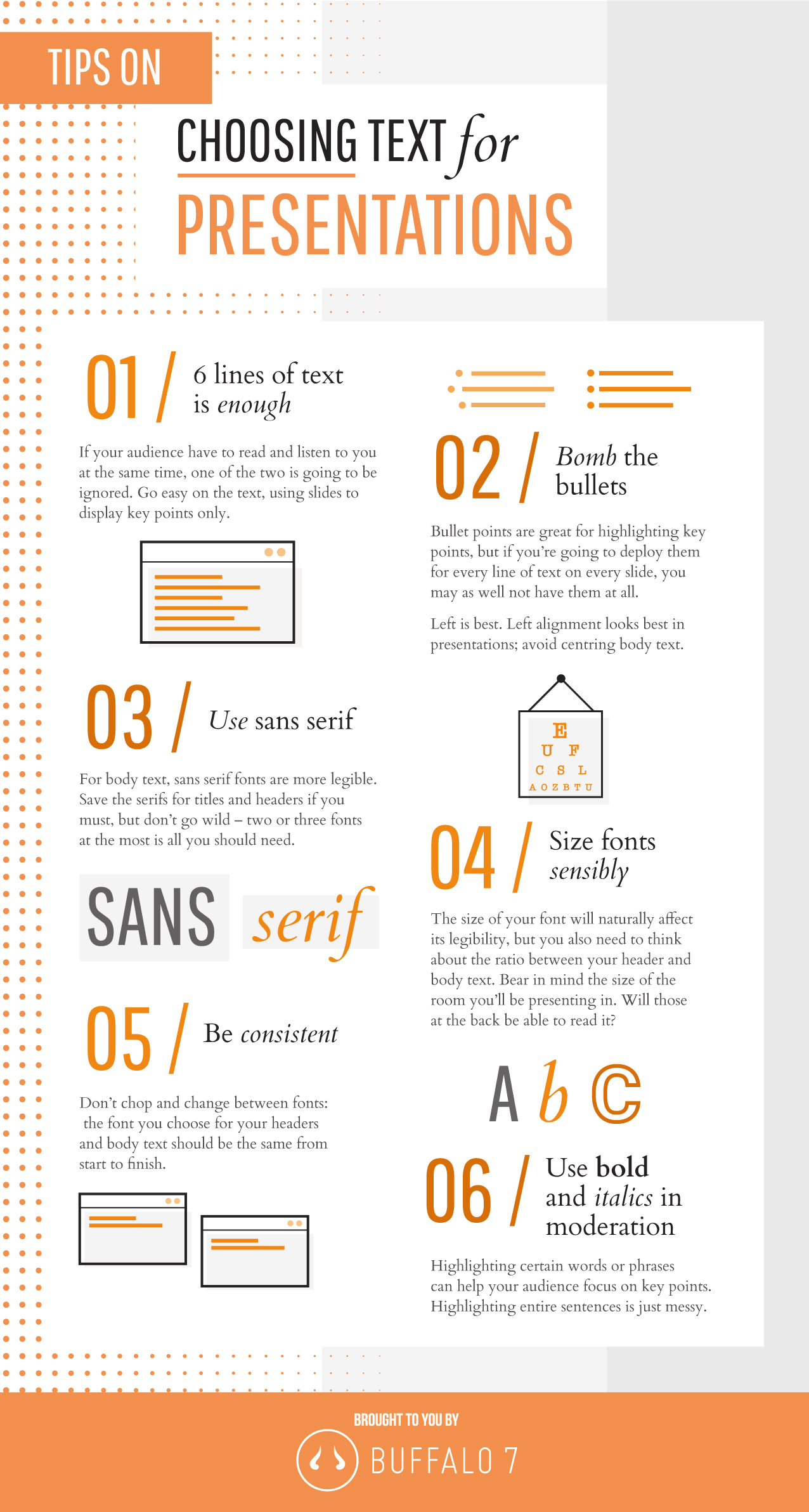 ---
Presentation tips on choosing images
Avoid cliched stock photos. Stock photos are great, but cliched ones are worse than PowerPoint clipart. Sites like Unsplash, Pexels and Death to the Stock Photo can provide a refreshing alternative to the usual stock photo galleries.
One image per page. Pictures are nice, but you're creating a presentation, not a photo album. Stick to one image per page – and that doesn't mean one image on every page.
Images don't have to be photographs. Pie charts, arrows, completion bars and other graphics can all enhance your presentation when used effectively.
Filters are nice. If you have the time and inclination, applying the same filter to all of your images will give your slideshow a harmonious and professional sheen. Use web-based software such as Canva to batch apply filters.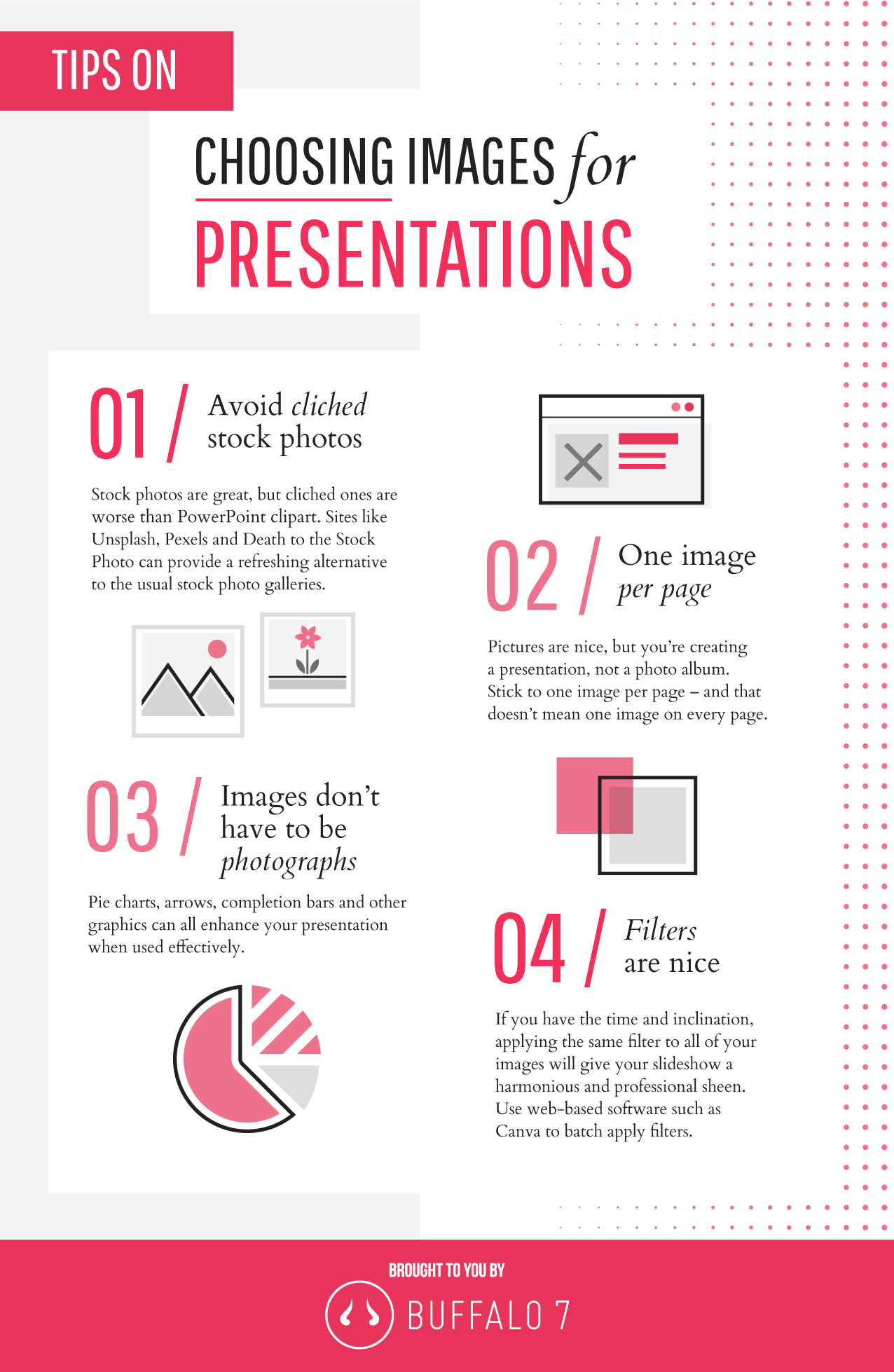 ---
General presentation tips
Keep it simple. At the risk of stating the obvious, clean and simple beats complex and convoluted every time.
Stick to one key idea per slide. This notion is as old as PowerPoint itself, but it still holds true.
Let the slides be your guide. You don't have to spell everything out. Place key points and figures on your slides and then elucidate on them.
Don't overload on data. Pie, line and bar charts will break up a presentation and make stats easier to grasp. Avoid cramming in too much data however: if you have to explain a chart to your audience, there's probably too much going on.
Sort your slides. Before you print or save your presentation, spend some time in the slide sorter, making sure that slides are presented in a logical order. Your presentation should flow.
End with a strong call to action. What would you like your audience to take away from your presentation? Your CTA is the last slide they'll see. Better make it a good one.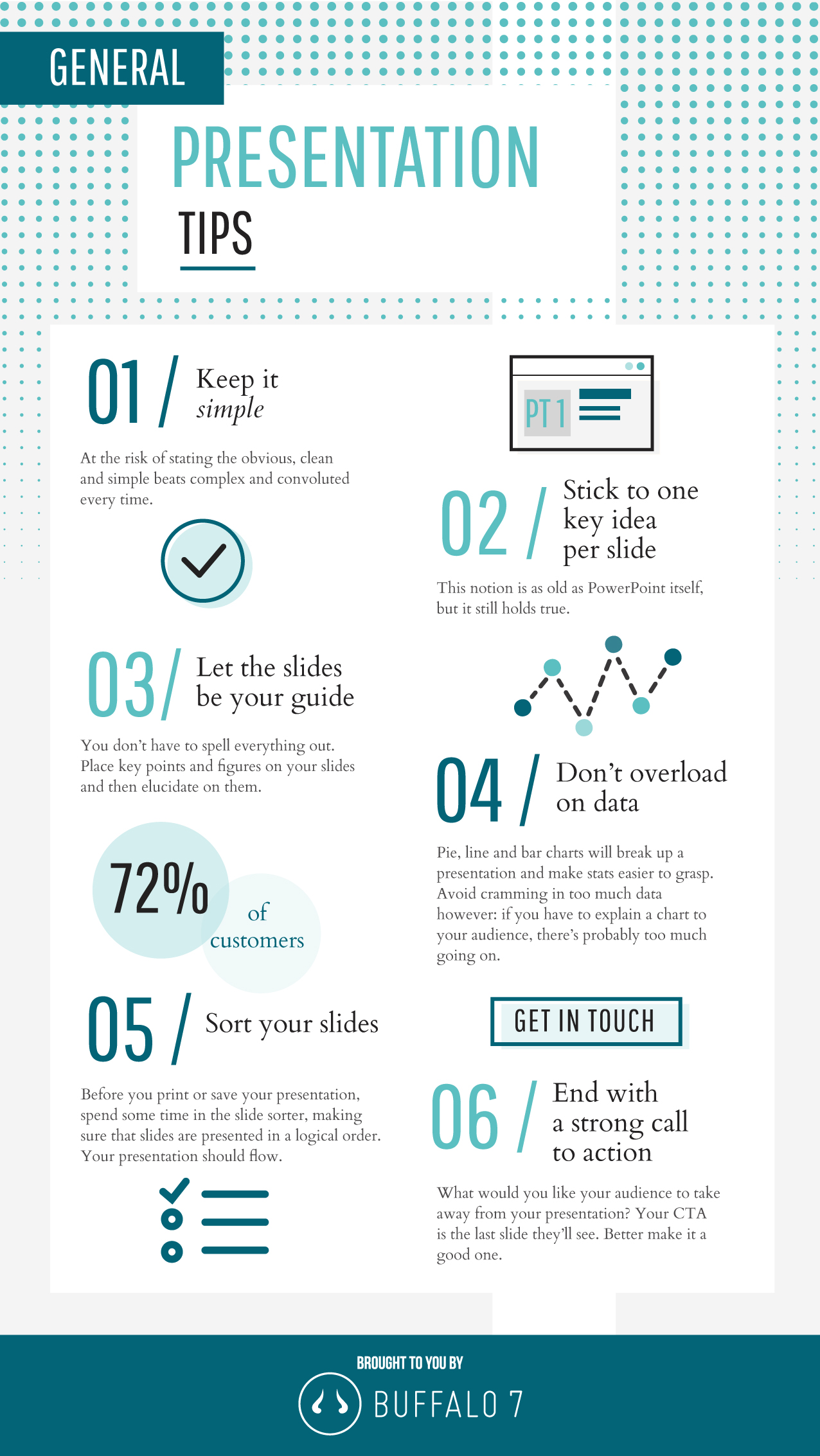 That might seem like a lot of do's and don'ts, but in practice you'll already have incorporated the bulk of these presentation tips. If there are a few pointers in there you'd overlooked, however, this list will have done its job, helping you apply the finishing touches that can be the difference between a good presentation and a great one.